Indiabulls Housing Finance Q4 Review: Profit Jumps Two-Fold Aided by Stable Asset Quality
May 20, 2021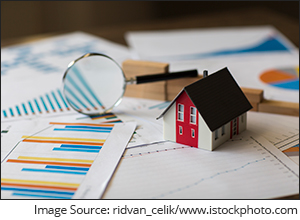 Mortgage financier Indiabulls Housing Finance on Wednesday reported a two-fold jump in its profit after tax (PAT) to Rs 2.8 bn in the quarter ended March 2021 helped by stable asset quality.
The lender had reported a profit after tax of Rs 1.4 bn in the corresponding quarter of FY20.
For the full financial year 2021, the company's net profit was down at Rs 12 bn from Rs 22 bn reported in the last year.
On a consolidated basis, total income came in at Rs 24.2 bn for the quarter under review, down 18% from Rs 29.5 bn in FY22.
Its total income for FY21 was down at Rs 100.3 bn, compared to Rs 132.2 bn in the previous fiscal year.
Indiabulls recorded highest ever sales traction in projects of wholesale borrowers leading to highest ever collections in escrow accounts of projects.
Q4FY21 performance has put the company firmly on track to reduce wholesale book by 33% by March FY22.
Cost to income ratio declined to 12.8% in FY21 from 16.2% for FY20 on the back of measures taken to improve cost efficiency.
--- Advertisement ---
FREE Event on Equitymaster's New Project

On July 29 , we are holding a FREE event to reveal Equitymaster's Great Indian Wealth Project.

At this event, we'll reveal the details of your first stock for a potential Rs 7 crore in long-term wealth.

Seats for this event are filling up fast.

Since there are limited seats, we urge you to register at the earliest.

Click here for free sign-up
------------------------------
The lender's funding costs have moderated with incremental funds being raised at sub 8% per annum levels.
This has helped bring down the cost of funds on books to 8.5%. Its spread on the book has expanded to 2.7%.
Overall, in FY21, it raised over Rs 340 bn through equity, bank lines, bonds, and loan sell downs.
The company's loan book shrunk to Rs 660.5 bn in March 2021 from Rs 730.7 bn in March 2020.
The capital adequacy ratio improved to 30.7% for the year ended 31 March 2021 from 27.1% in Mach 2020.
Stable Asset Quality and High Provision Levels
The lender's net non-performing assets (NPAs) were stable at 1.6%. Net NPAs was down to Rs 12.9 bn in Q4FY21 from Rs 15.2 in Q1FY21.
Total provisions stood at Rs 24.6 bn (3.7% of loan book), which is 2.7x times of the regulatory requirement.
Credit costs were 1.1% of the loan assets for FY21.
Average vintage of the retail loan book is now 45 months - as loans have run down, borrower equity in the financed property has significantly increased leading to low current loan to value (LTVs).
Asset quality levels have hence stabilised for the portfolio, increasing resilience to the economic consequences of the second wave of Covid-19.
Note that if the company had not chosen to de-grow its book in the past 1 year, the gross NPAs of 2.7% would have been at 2.31%.

Equity Dividend
The board of directors at its meeting held on 19 May 2021 has recommended a dividend of Rs 9 per equity share having face value of Rs 2 each for the year ended 31 March 2021.
Scalable Retail-Focused Asset-Light Business Model
As Indiabulls Housing Finance pursues an asset-light model. With co-lending partnerships in place, retail disbursal growth will gain momentum in FY22.
The company will continue with its strategy of letting high-ticket commercial real estate (CRE) loans and business loans run off/re-finance.
Free Signup: The Smallcap Revival Summit
In April 2021, Indiabulls Housing Finance entered into co-lending agreement with HDFC for sourcing home loans.
The company will originate retail home loans as per jointly drawn up credit policy and retain 20% of the loan on its books and 80% will be on HDFC's books.
It will service the loan account throughout the life cycle of the loan and will earn a trail income over the life of the loan.
Integration with HDFC will give Indiabulls the benefit of a large franchise, scale and a robust credit appraisal process.
It will give Indiabulls Housing Finance the ability to price home loans for all customer segments and cater to the entire market.
Indiabulls Housing Finance Shareholding Pattern as on 31 March 2021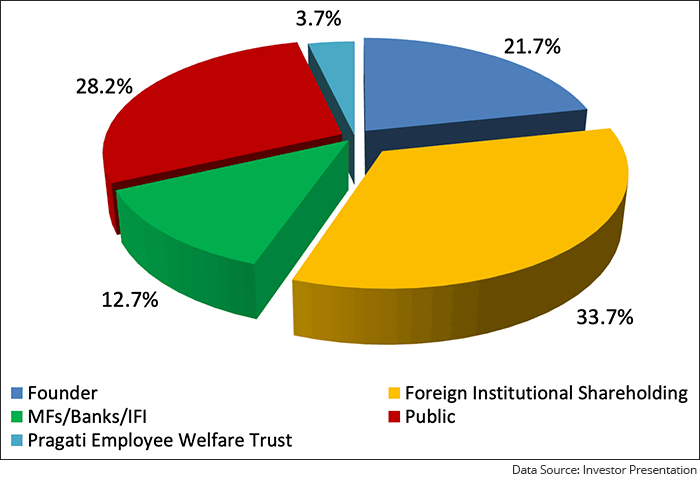 Growth of India's Home Loan Market
India home loan market is anticipated to grow at a brisk rate of around 22% during 2021 - 2026 on account of increasing urbanisation and affordable mortgage rates.
Housing loan rate is low in India when compared with developing economies, presenting opportunities for the growth of home loan market in the country.
Moreover, government push towards affordable housing coupled with acute shortage of housing is further expected to drive India home loan over the next five years.
India's Housing Finance Sector
According to the India housing finance report, the industry has been on the fast lane. It has been growing at 18% in the last seven years.
The home loan-to-gross domestic product (GDP) ratio in India is currently at 9%.
The Indian housing finance sector may consist of more than 80-plus players, but the industry is dominated by a select few.
They are: HDFC, Dewan Housing Finance, Indiabulls Housing Finance, PNB Housing Finance, and LIC Housing Finance. Together, they command a 78% market share.
Equitymaster's View on Housing Finance Sector
We reached out to Tanushree Banerjee, Co-Head of Research at Equitymaster, and Editor of the premium stock recommendation service, StockSelect, for her view on the sector.
Here's what she has to say -
Housing finance companies are expected to see a rise in gross NPAs in the coming quarters due to the second wave of Covid, as individual borrowers face strained cash flows.

Nevertheless, healthy provision coverage maintained by most of the entities, is expected to provide cushion and protect the profitability of most entities in FY22.

Investors should look for entities with a track record of good asset quality across cycles.
How the Stock Markets Reacted to Indiabulls Housing Finance Q4FY21 Numbers Today
Shares of Indiabulls Housing Finance opened the day at Rs 198 on the BSE and Rs 197.5 on the NSE.
Indiabulls Housing Finance share price closed at Rs 209.3 (up 8.3%) on the BSE and the NSE.
At its current price, it is trading at a P/E of 8.5.
The share touched its 52-week high of Rs 263.6 and 52-week low of Rs 113.9 on 23 June 2020 and 26 May 2020, respectively.
Over the last 30 days, the Indiabulls Housing Finance share price is up 21%. Over the last one year, the company's share price is up 63.7%.
About Indiabulls Housing Finance
Indiabulls Housing Finance is a mortgage lender headquartered in Gurugram, Haryana, India.
It's India's second largest housing finance company and is regulated by the National Housing Bank.
The lender is part of Sameer Gehlaut's Indiabulls group and contributes approximately 80% of the group's turnover.
The company provides home loans and loans against property. They also offer plot loans and loans against residential commercial and rental property.
For more details about the company, you can have a look at Indiabulls Housing Finance factsheet and quarterly results on our website.
And to know what's moving the Indian stock markets today, check out the most recent share market updates here.