JK Tyre and Industries Stock Jumps on Strong Operational Performance
May 20, 2021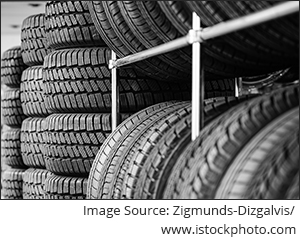 Shares of one of the country's leading tyre maker JK Tyre and Industries rose as much as 6.2% to hit an intraday high of Rs 131.3 per share on the BSE a day after it reported March quarter earnings.
The stock of the auto tyres and rubber products maker has rallied 161.3% over the last one year.
Financial Highlights
JK Tyre and Industries on Wednesday reported a consolidated profit after tax of Rs 1.9 bn for the March quarter of the previous fiscal against a consolidated net loss of Rs 472 m in the year-ago period.
For FY21, the tyre maker's net profit spurted 134% to Rs 3.3 bn, compared to Rs 1.4 bn recorded in the previous fiscal year.
The company posted a pre-tax profit of Rs 2.8 bn in Q4FY21 compared with pre-tax loss of Rs 824 m in Q4 FY20.
Operational Performance
Revenue from operations climbed 63% to Rs 29.3 bn during the quarter under review as against Rs 17.9 bn in the year-ago period.
For the full financial year 2021, the company's total income stood at Rs 91.5 bn, up 4% as against Rs 87.5 bn in the last year.
--- Advertisement ---
This is a Powerful Mega Trend Playing Out in India

We have uncovered a powerful mega trend that is playing out in India right now.

It could potentially generate immense wealth for early movers.

Our co-head of research Tanushree Banerjee has also zeroed in on one specific stock riding this mega trend.

It's her #1 stock pick right now.

And she believes, this could be one of the top stocks to get to potential Rs 7 crore wealth over the long term.

Tanushree will reveal all the details about this mega trend and her #1 stock at her special online event on July 29.

At the event Tanushree will also show you, how to potentially accumulate Rs 7 crore in wealth over the long term.

What you learn at the event could possibly change your financial fortunes forever.

Click here to reserve your FREE seat.
------------------------------
On a consolidated basis, earnings before interest, tax, depreciation, and amortisation (EBITDA) came in at Rs 4.7 bn for the quarter under review, recording an increase of 119% year on year (YoY). The company saw a margin expansion of 400 basis points (bps) in Q4FY21 over Q4FY20.
EBIDTA stood at Rs 13.5 bn for the year ended 31 March 2021, up 33% with margin expansion of 310 bps.
The company's standalone revenue came in at Rs 20.2 bn, up 9.2% year on year, on the back of healthy volume growth.
It has also reported earnings per share (EPS) of Rs 13 for the 12 months period ended 31 March 2021 as compared to Rs 6.1 in FY22.
Dr Raghupati Singhania, Chairman and Managing Director commented on the results.
The year began with India in lockdown due to COVID-19 pandemic and the economy grinding to a halt with Q1FY21 almost a wash out. Economy started opening up gradually from mid-May.

As a result of several initiatives taken JK Tyre recovered fast and achieved highest Sales in Q3FY21 & Q4FY21 increasing its market presence.

With high capacity utilisation, control on costs and reduced working capital, special focus on customer outreach and premium products offering, profitability improved significantly.

Similarly, JK Tyre subsidiaries - Cavendish Industries and JK Tornel also added to substantial overall improvement in the profitability of the Company.
Segment Wise Revenue of the Company
The company operates its business through three operating segments, representing business on the basis of geographies which are India, Mexico and others.
For the company's international business, its Mexico operations outperformed India, with revenues rising 103% YoY.
Free Signup: The Smallcap Revival Summit
Revenue from India business rose 61% YoY in the March quarter. The operating performance of Mexico business was also better than that of India.
EBITDA on a consolidated basis for Mexico operations stood at Rs 320 m for the fourth quarter, from Rs 310 m in FY20.
On the flipside, its Q4 consolidated margins took a sequential hit of around 250 basis point (bps) at 15.5%. Gross margins slipped by nearly 370bps.
Apart from that, analysts caution that given the steep rise in costs of key inputs such as natural rubber and carbon black, margins are likely to remain under pressure.
It should be noted that larger peers MRF and Apollo Tyres have taken prices hike of around 4.5% in recent months. These companies have guided for a further increase in prices in the coming months.
Meanwhile, the demand outlook for the entire sector remains uncertain due to covid restrictions in various states.
Equity Dividend
The board has recommended a dividend of Rs 2 per equity share having face value of Rs 2 each that is 100% for the financial year ended March 2021.
Disruptions Led by Pandemic on Company's Business
The business in the March quarter of last year was impacted adversely due to the strict lockdown imposed by the government to curb the spread of Covid-19.
The pandemic has caused serious disruptions on the global economic and business environment.
Consequent to this, upon restrictions being eased, the production of the company resumed at all plants in stages considering necessary statutory approvals and precautions.
Resumption of operations and improved business environment from second quarter onwards resulted in company attaining healthy sales and profitability.
An Overview on India's Tyre Industry
The Indian tyre industry is an integral part of the auto sector - It contributes to 3% of the manufacturing gross domestic product (GDP) of India and 0.5% of the total GDP directly.
The top four companies - MRF, Apollo Tyres, CEAT, and JK Tyres - have 67% of the market share in terms of revenue.
According to a leading financial daily, over the last 4 years, tyre companies have made huge capital expenditures (capex) in expectation of growth, but due to a decline in original equipment manufacturer (OEM) volumes as well as lower GDP growth, industry volume growth was tepid over the last few years.
Further, due to the Covid-19 impact this year, Q1FY22 sales are likely to be lower and hence no further capex may be coming at the current rate of sales growth till FY24 or FY25.
How the Stock Markets Reacted to JK Tyres Q4FY21 Numbers Today
Shares of JK Tyre opened the day at Rs 129 on the BSE and Rs 129.5 on the NSE.
JK Tyre share price closed at Rs 125.9 (up 1.9%) on the BSE and Rs 125.6 (up 1.5%) on the NSE.
At its current price, it is trading at a P/E of 37.3.
The share touched its 52-week high of Rs 146.8 and 52-week low of Rs 31.5 on 25 January 2021 and 24 March 2020, respectively.
Over the last 30 days, the JK Tyre share price is up 19.1%. Over the last one year, the company's share price is up 160.7%.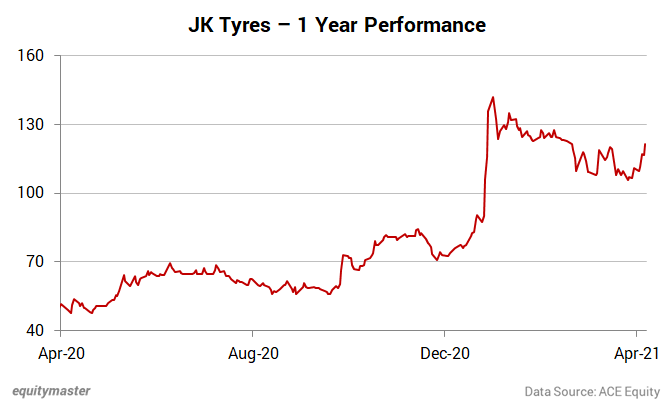 About JK Tyres
JK Tyre & Industries is one of the leading automotive tyre manufacturers in India.
The company mainly develops manufactures markets and distributes automotive tyres tubes flaps and retreads.
It markets tyres for sale to vehicle manufacturers for fitment as original equipment and for sale in replacement markets.
JK Tyre has manufacturing plants located in India and Mexico with worldwide distribution.
The tyre maker has 134 sales service and stock points located throughout the country. They have over 3500 dealerships across India.
The company's customer base covers virtually the entire original equipment manufacturers in India together with replacement market for four-wheeler vehicles, defense, and state transport units.
Besides India they have a worldwide customer base in over 45 countries across all six continents.
For more details about the company, you can have a look at JK Tyres factsheet and quarterly results on our website.
You can also compare JK Tyres with its peers.
JK Tyres vs Balkrishna Industries
And to know what's moving the Indian stock markets today, check out the most recent share market updates here.