Havells India's Stock Fell Over 4% Despite a Strong March Quarter Performance
May 21, 2021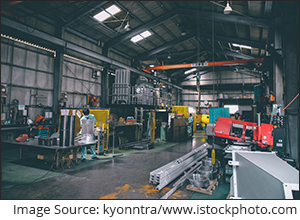 Consumer electrical goods maker Havells India on Thursday reported 71% rise in consolidated net profit at Rs 3 bn for the fourth quarter ended 31 March 2021.
The company had posted a net profit of Rs 1.8 bn in the year-ago period.
For fiscal year 2020-21, Havells' net profit was up 42% at Rs 10.4 bn. It was Rs 7.4 in the previous year.
Revenue from operations was up 50.6% to Rs 33.4 bn during the period under review as against Rs 22.2 bn in the corresponding period of 2019-20.
The company's revenue from operations for the year ended 31 March 2021 stood at Rs 104.6 bn, compared to Rs 94.4 bn reported in the last year.
Havells' total expenses in the quarter under review were at Rs 29.2 bn as against Rs 20.4 bn.
It has also reported earnings per share (EPS) of Rs 16.7 for the 12 months period ended 31 March 2021, compared to Rs 11.8 in FY20.
--- Advertisement ---
REVEALED: 3 "Super Smallcaps" You Didn't Know About

You may not have heard of these 3 "super smallcaps" ever before...

The mainstream press doesn't cover them... Most brokers don't know about them either...

Stock like these 3 "super smallcaps" only come to your notice when they have rallied by hundreds or even thousands of percent... and are all over the news!

However, thankfully, our top analyst Richa Agarwal is ready to reveal their details at her Super Smallcaps Summit on 11th August...

Make Sure to Grab Your Free Spot Right Now
------------------------------
Segment Wise Revenue of the Company
The company witnessed growth across all segments with consumer products leading the pack.
Revenue from switchgears segment was Rs 4.6 as compared to Rs 3 bn in March quarter a year ago.
Its cables segment's revenue was at Rs 10.3 bn, up 50.9% from Rs 6.8 bn in the year-ago period.
Revenue from lighting and fixtures in the quarter was higher at Rs 3.4 bn as against Rs 2.4 bn in the corresponding period of the previous year.
Electrical consumer durables (ECD) was up at Rs 7.1 bn as against Rs 4.2 bn in the year-ago period.
Revenue from Lloyd Consumer, a company which Havells acquired in 2017, was higher by 29% to Rs 5.9 bn during the quarter as against Rs 4.6 bn in the same period a year ago.
Havells' revenue from other segment was at Rs 2.1 bn as against Rs 1.2 bn in March quarter 2019-20.
Note that 'other segment' include motor, pump, solar, personal grooming and water purifier businesses.
Revival in government and private capex resulted in good performance of Industrial and Infra portfolio.
Revenue Breakup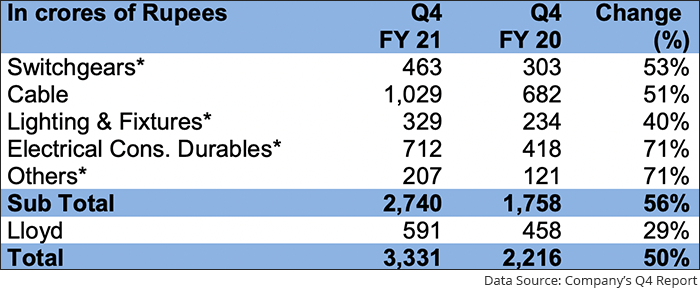 Equity Dividend
The company's board in a meeting held on Thursday approved a final dividend of 350%, which is Rs 3.5 per equity share of Rs 1 each for 2020-21.
With this, the total dividend for the year is Rs 6.5 per equity share, including the interim dividend of Rs 3 per equity share, declared earlier during the financial year.
Watch Now: Get Details of Richa's 3 Dark Horse Stocks
Key Highlights From Management's Statement
Q4 sustained the growth momentum gained in Q3 with the highest quarterly sales.
The structural shift and market share gains in favour of organized sector seems to be further consolidating.
Investments in e-commerce and rural are paying off with high growth, visibility and distribution expansion.
Finance act 2021 enacted in March 2021 has disallowed depreciation retrospectively from 1 April 2020 on goodwill for tax deduction and consequently, the tax expense for the quarter is higher by Rs 329.6 m due to the said amendment.
The onset and ferocity of second wave is impacting the growth. From second week of April, the growth has slowed with further deceleration in May.
Havells India's Shareholding Pattern as on 31 March 2021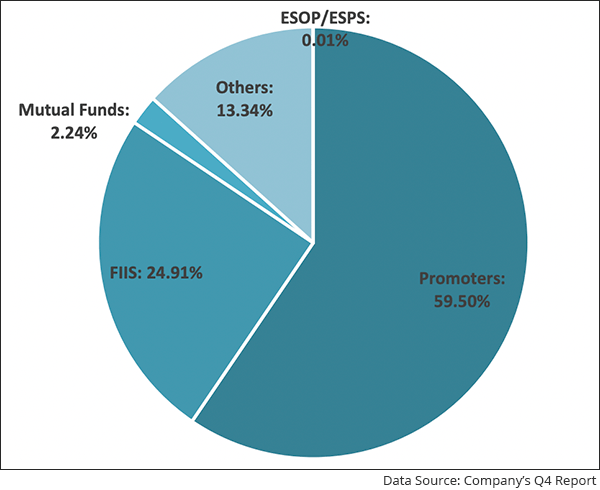 How the Stock Markets Reacted to Havells India Q4FY21 Numbers Today
Shares of Havells India opened the day at Rs 1,077 on the BSE and Rs 1,072.5 on the NSE.
Havells India share price closed at Rs 1,027.9 (down 4.2%) on the BSE and Rs 1,028.3 (down 4.1%) on the NSE.
At its current price, it is trading at a P/E of 70.1.
The share touched its 52-week high of Rs and 52-week low of Rs on 26 April 2021 and 18 May 2020, respectively.
Over the last 30 days, the Havells India share price is up 2.8%. Over the last one year, the company's share price is up 120%.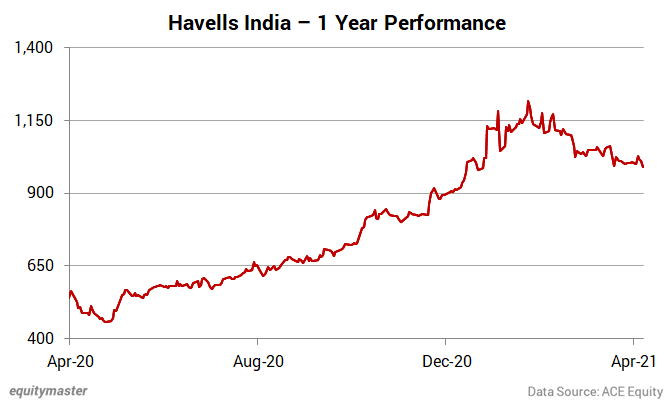 About Havells India
Havells India was incorporated as Havells Private Limited in August 1983 and converted into a public limited company in March 1992.
It is a leading fast moving electrical goods company with presence across India.
The company's product range includes industrial & domestic, circuit protection, switchgear, cables & wires, motors, fans, power capacitors, luminaires for domestic commercial & industrial applications, modular switches, water heaters and domestic appliances covering the entire gamut of household commercial and industrial electrical needs.
Havells owns prestigious brands like Havells Crabtree and Standard.
The company has 12 state-of-the-art manufacturing units in India located at Haridwar, Baddi, Noida, Sahibabad, Faridabad, Alwar and Neemrana and it has 43 branch offices.
For more details about the company, you can have a look at Havells India factsheet and quarterly results on our website.
You can also compare Havells India with its peers.
Havells India vs Siemens India
Havells India vs Bharat Heavy Electricals (BHEL)
And to know what's moving the Indian stock markets today, check out the most recent share market updates here.