HPCL Reports Its Highest Annual Profit
May 21, 2021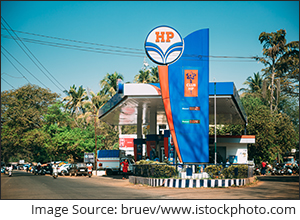 Following good results of Indian Oil Corporation (IOC), state-owed refiner Hindustan Petroleum Corporation (HPCL) reported a net profit of Rs 106.4 bn on a standalone basis for the fiscal ended 31 March 2021.
This is 304% higher than the profit posted a year ago and also its highest annual profit.
The rise in profit was due to improvement in refinery margins, inventory gains, and favourable exchange rate variations.
Revenue fell 5.6% year-on-year (YoY) in FY21 to Rs 2.73 lakh crore. Meanwhile, expenses, which comprise mostly of crude oil purchase, fell at a sharper rate of 9.7% to Rs 2.59 lakh crore.
Rise of global crude oil prices during FY21 meant that by the time HPCL sold its products after processing crude, retail rates had increased.
HPCL's inventory gains in FY21 was Rs 53.5 bn against an inventory loss of Rs 12.9 bn in FY20.
The company has also recommended equity dividend of Rs 22.75 per equity share of face value of Rs 10 each for FY21.
HPCL reported its results a day after IOC reported its all-time high annual net profit of Rs 218.4 bn.
--- Advertisement ---
[Alert] Sell These 3 Stocks Immediately

These 3 stocks are ticking time bombs in your portfolio.

It is very likely that you could be owning these 3 overvalued...

fundamentally weak... ready to crash stocks... in your portfolio today.

Because many stock brokers have painted rosy pictures of these stocks. But the reality is starkly different.

If the market crashes, then these stocks could wipe out your wealth.

You should get rid of these stocks as soon as possible.

We are going to reveal details of these 3 landmines at our upcoming special event at 5 pm on September 24.

You can click here to sign-up. It's free
------------------------------
HPCL's Quarterly Results
HPCL reported a massive jump in net profit for the fourth quarter ended 31 March 2021. The company posted a net profit of Rs 30.2 bn in March 2021 as against Rs 268 m profit in March 2020.
It also reported an increase in net revenues to Rs 857.5 bn. HPCL's net revenues were Rs 719.8 bn in March 2020.
The company earned US$8.11 on turning every barrel of crude oil into fuel during the quarter under review. This is compared with a negative gross refining margin (GRM) of US$1.23 per barrel.
Inventory gains are booked when crude oil prices rise by the time a company processes oil into fuel. Losses are booked when the reverse happens.
During 2020-21, HPCL refineries at Mumbai and Visakhapatnam achieved a combined refining thruput of 16.4 m tonne with capacity utilisation of 104%.
Commenting on the performance, HPCL Chairman and Managing Director M K Surana said,
Outbreak of a pandemic led to significant demand contraction in the first quarter of the year which was followed by a smart recovery in the latter part of the year leading to an aggregate demand contraction for the petroleum products of about 9% in 2020-21 over the previous year.
Successful Buyback
HPCL had announced the buyback of 100 m equity shares representing 6.56% equity stake at Rs 250 per share in November 2020.
Under the buyback programme which ended on 14 May, HPCL has bought back 105.2 m shares for Rs 29.5 bn, including tax expenses.
--- Advertisement ---
INSIDER SECRET: An Astonishingly Easy Way to Pile Up Potentially 40-60% Gains in Just 1 Year

India's most well-connected trader with over 35 years of experience just confessed...

"This Lucrative Market Segment Could Leapfrog Over Nifty in The Next 12-16 Months"

... thanks to a massive and irreversible mega-trend fueling its growth!

In fact, he and his partner have already identified 2 spectacular stocks from this segment... which are ready to rake in potentially 40-60% gains in just 1 year... and make you big, fat profits!

The best part of them all...

Their Details Are Packed in This Special Report (Discover How to Claim it for Free)
------------------------------
Update on Mumbai's Revamped Refinery
HPCL's chairman said it's Mumbai refinery will start full scale operation at a higher capacity of 190,000 barrels per day (bpd) by end-June or in July.
HPCL had fully shut the 150,000 bpd Mumbai refinery in western Maharashtra from 1 April for maintenance and capacity expansion.
Surana also said the company is operating its 166,000 bpd Vizag refinery in southern India at full capacity.
HPCL is in process of raising the capacity of the Vizag refinery to 300,000 bpd. Surana said the expansion will be completed in this fiscal year to March 2022 while the residue upgradation facility at the Vizag plant is also likely to be completed in 2022.
In addition, HPCL is building a 180,000 bpd refinery and petrochemical plant in desert state of Rajasthan.
RESPONSE PENDING: Your Invitation to Attend the Super Smallcaps Summit
Crude Oil Prices During the Year
Brent crude prices have jumped more than 180% during fiscal 2021. They were up about a quarter during the Jan-March 2021 quarter.
Rise in global crude oil prices during FY21 meant that by the time HPCL sold its products after processing crude, retail rates had increased.
This helped HPCL in reporting huge inventory gains.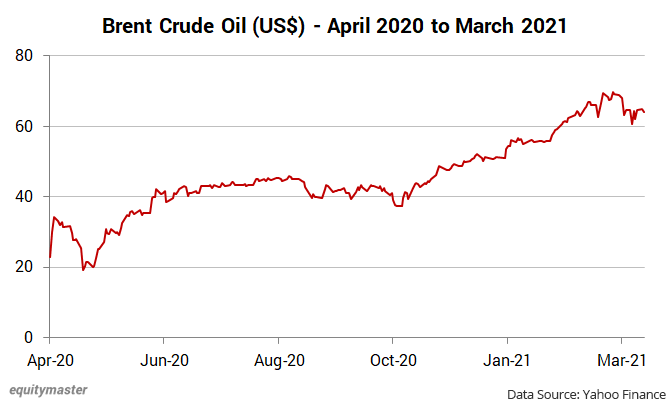 How the Stock Markets Reacted to HPCL's Q4FY21 Numbers Today
Shares of the HPCL scaled fresh 52-week high of Rs 288.15 on the BSE, up 7%.
At the current market price, the stock commands a market cap of Rs 394.3 bn and is part of the oil refining and marketing industry.
Promoters held 54.9% stake in the company as of 14 May 2021. FII and MF ownership in the company stood at 16.11% and 13.49%, respectively.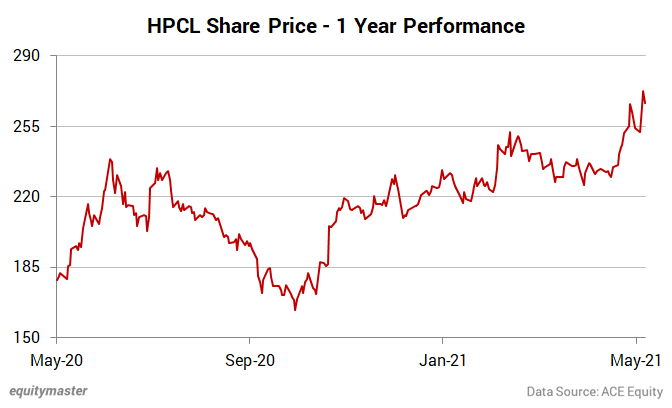 Over the past one year, HPCL shares have gained about 54% compared to 62% gains in benchmark BSE Sensex.
Note that shares of oil marketing companies (OMCs) have seen an up move in their share prices recently after petrol and diesel prices were hiked.
Earlier this month, Maharashtra joined Rajasthan and Madhya Pradesh in the league of states where petrol rates breached Rs 100 per litre.
Fuel prices differ from state to state depending on the incidence of local taxes such as value added tax (VAT) and freight charges.
About Hindustan Petroleum Corporation (HPCL)
Hindustan Petroleum Corporation (HPCL) is a mega public sector undertaking (PSU) with Navratna status.
HPCL in collaboration with M/s Mittal Energy Investments Pte. Ltd. operates 11.3 MMTPA capacity refinery at Bathinda Punjab with 49% equity stake.
Besides, the company also holds an equity stake of 16.96% in Mangalore Refinery & Petrochemicals Ltd (MRPL) a refinery at Mangalore with a capacity of 9 MMTPA.
The company's products and services include refineries, aviation bulk fuels & specialties, international trade, and liquefied petroleum gas (LPG).
The company is mainly engaged in the business of refining of crude oil and marketing of petroleum products production of hydrocarbons as well as providing services for management of exploration and production (E&P) blocks.
The company was incorporated on 5 July 1952 with the name Standard Vacuum Refining Company.
For more details about the company, you can have a look at HPCL company fact sheet and HPCL quarterly results on our website.
For a sector overview, you can read our energy sector report.
You can also compare HPCL with its peers on our website.
To know what's moving the Indian stock markets today, check out the most recent share market updates here.