Torrent Power Results: Why the Stock Hit a New 52-Week High
May 21, 2021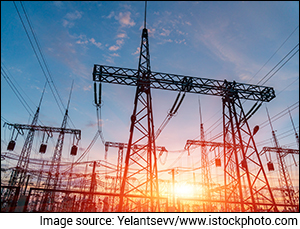 Torrent Power has posted a consolidated profit after tax (PAT) of Rs 4 bn for the quarter ended 31 March 2021.
The company had incurred a net loss of Rs 2.7 bn in Q4 of previous fiscal year 2019-20.
In March 2020 quarter, the company took an exceptional write off to the extent of Rs 10 bn on account of its impairment assessment of the 1,200 megawatt (MW) DGEN mega power project located at Dahej in Gujarat. This resulted in net loss in Mar-20 quarter.
However, due to the Covid-19 pandemic and stress in the power sector, the company's consolidated income rose marginally by 3% to Rs 31.2 bn for the quarter, from Rs 30.2 bn in Q4 of last year.
On an annual basis, Torrent Power registered a near 10% growth in its consolidated PAT for the full fiscal year 2020-21 at Rs 13 bn, as against Rs 11.8 bn in previous fiscal year 2019-20.
The impact of the pandemic was visible in the nearly 11% dip in its consolidated total income for FY21 at Rs 123.1 bn, down from Rs 138.2 bn in FY20.
The company's consolidated earnings before interest, tax, depreciation, and amortisation (EBITDA) in the quarter rose 10% year on year (YoY) to Rs 9.5 bn, compared to Rs 8.6 bn recorded in the last year.
For the full fiscal year 2021, EBITDA stood at Rs 36.1 bn, down 3%, compared to Rs 37.3 bn reported in the previous financial year.
Meanwhile, Torrent Power had a net debt reduction of Rs 10.9 bn during the year, with borrowings at Rs 78.1 bn as on 31 March 2021. It's debt equity ratio is 0.7 and net debt to EBITDA ratio is 1.9.
Torrent Power has also reported earnings per share (EPS) of Rs 26.9 for the 12 months period ended 31 March 2021, compared to Rs 24.4 in FY20.
--- Advertisement ---
Replay Available: The Great Indian Wealth Project

Watch Tanushree Banerjee reveal the details of first stock to potentially accumulate Rs 7 crore long-term wealth.




Watch Now
------------------------------
Overview of Operations - FY 21
Torrent Power's total comprehensive income of the company stood at Rs 13 bn in FY21 compared to Rs 11.5 bn in FY20, up by 13%.
The major reasons for improvement in the total comprehensive income (TCI) for the year are:
Higher recovery of carrying cost pertaining to earlier years compared to previous year due to favourable orders from the appellate tribunal for electricity.
Higher gain from trading of liquefied natural gas (LNG) partially compensated by lower contribution from merchant power sales.
Decrease in interest cost, due to lower debt and reduction in interest rates.
After the lockdown and related disruptions, the revival in economic activity resulted in increase in demand for electricity in all of Torrent distribution areas.
Due to this Q4 of FY21 registered higher demand compared to Q4 of last year.
Key financial Indicators
| Particulars (Rs in bn) | Q4FY21 | Q4FY20 | Growth | FY21 | FY20 | Growth |
| --- | --- | --- | --- | --- | --- | --- |
| Revenue from operations | 30.8 | 29.8 | 3% | 121.7 | 136.4 | -11% |
| EBITDA | 9.5 | 8.6 | 10% | 36.1 | 37.3 | -3% |
| Profit Before Tax (PBT) | 4.6 | -6.9 | | 15.5 | 4.8 | 227% |
| Profit After Tax (PAT) | 4 | -2.7 | | 13 | 11.8 | 10% |
| Total Comprehensive Income (TCI) | 4.1 | -2.9 | | 13 | 11.5 | 13% |
Data Source: Investor Presentation
Commenting on the results, Torrent Power chairman, Samir Mehta said that despite the impact of Covid-19 pandemic and significant stress in the power sector, the company continued to deliver industry leading returns in the private sector.
Watch the Replay: The Smallcap Revival Summit
This was due on account of its strategy to pursue risk-adjusted profitable opportunities, strong execution capabilities, and focus on operational excellence.
With the company's strong balance sheet, Torrent Power will continue to pursue profitable growth opportunities across the entire value chain of the power sector.
Equity Dividend
The board at its meeting held on 20 May 2021, has approved total dividend of Rs 11 per equity share including interim dividend of Rs 5.5 per share.
Torrent Power Clears Rs 20 bn NCD Via Private Placement
The board of Torrent Power on Thursday approved a proposal for issuance of non-convertible debentures (NCDs) up to Rs 20 bn in one or more tranches by way of private placement. This is subject to approval at the forthcoming annual general meeting.
Torrent Power Highest Bidder for Dadra Nagar Haveli, Daman & Diu Discoms
During FY21, Torrent Power had emerged as the highest bidder for the acquisition of 51% stake in the power distribution company in the union territory of Dadra & Nagar Haveli and Daman & Diu.
This acquisition will significantly boost Torrent Power's position as the leading power distribution company in the country with a presence in 12 cities across three states and one union territory.
The takeover of the operations, however, is currently sub-judice.
With the addition of Dadra & Nagar Haveli (including Silvasa) and Daman & Diu, Torrent Power will distribute nearly 25 bn units to over 3.8 m customers and cater a peak demand of over 5,000 megawatt (MW).
Major Investments and Developments in the Indian Power Sector
In December 2020, the Asian Development Bank (ADB) and government of India signed a US$ 132.8 m loan.
This is to strengthen and modernise the distribution network and improve quality of power supplied to households, industries, and businesses in Meghalaya.
In March 2020, the Central Government signed virtual agreement to conclude strategic sales in Kamarajar Port, Tehri Hydro Development Corporation (THDC) India, and North Eastern Electric Power Corporation (NEEPCO). It will receive Rs 135 bn from these deals.
In December 2019, NTPC announced investment of Rs 500 bn to add 10 gigawatt (GW) solar energy capacity by 2022.
In September 2019, Adani Transmission acquired the entire stake in Bikaner Khetri Transmission.
In FY21, Adani Transmission also acquired Warora-Kurnool Transmission (WKTL) owned by Essel InfraProjects adding 1,750 ckt kms to its total transmission network of 17,276 ckt kms.
ReNew Power and Shapoorji Pallonji will invest nearly Rs 7.5 bn in a 150 MW floating solar power project in Uttar Pradesh.
Back in 2019, the government of India expected to offer nearly 20 power transmission projects worth Rs 160 bn for bidding.
Note that Indian power sector is undergoing a significant change. This has redefined the industry outlook. Sustained economic growth continues to drive electricity demand in India.
The power exchanged in India is about 4.5% of the overall power production, as can be seen in the chart below.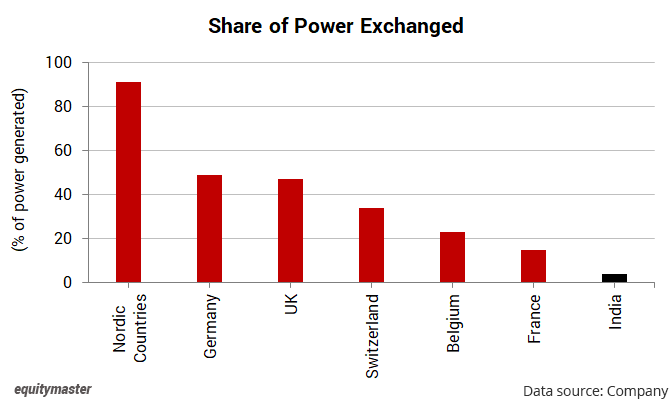 As per Tanushree Banerjee, Co-Head of Research at Equitymaster, India's power sector is currently in transition. It's driven by increasing reliance on short-term contracts and electricity spot markets.
This transition to the short-term market is happening due to quickly evolving industry dynamics.
Tanushree believes the Indian power sector will see a surge in spot power volumes due to certain factors.
In August 2020, Tanushree recommended a high-quality stock from this space. Subscribers can read the report here (requires subscription).
And if you are not a StockSelect subscriber, here's where you can sign up.
How the Stock Markets Reacted to Torrent Power Q4FY21 Numbers Today
Shares of Torrent Power opened the day at Rs 445 on the BSE and Rs 444 on the NSE.
At the time of writing, the company's shares were trading up by 5.8% on the BSE.
At its current price, it is trading at a P/E of 35.4.
The share touched its 52-week high of Rs 460.8 and 52-week low of Rs 293.3 on 21 May 2021 and 22 December 2020, respectively.
Over the last 30 days, the Torrent Power share price is up 18.8%. Over the last one year, the company's share price is up 50.4%.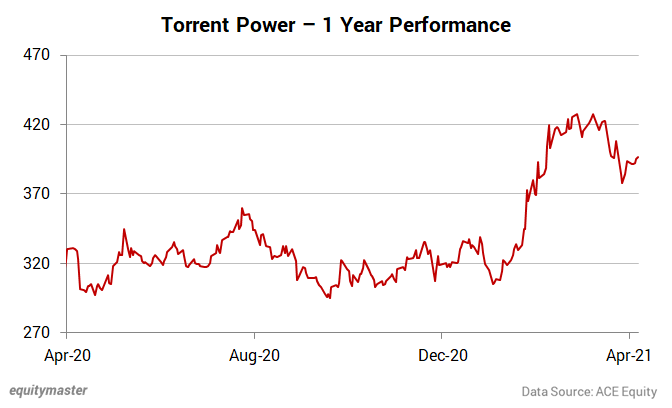 About Torrent Power
Torrent Power is an integrated power utility and is one of the largest private sector players in India.
It has interests in power generation, transmission, distribution, and the manufacturing and supply of power cables.
It has a portfolio of coal-based, gas based, and renewable power plants with a generation capacity of 3,721 MW with a mix of coal-based, gas based, and renewable power plants that use efficient technologies.
The company also has under-construction wind power plants aggregating to 1,111 MW.
Torrent Power operates 249 km and 105 km 400 kilovolt (kV) double circuit transmission lines These are for evacuating power generated at SUGEN (the 1,147.5 MW gas-based power plant near Surat in South Gujarat) and DGEN (the 1,200 MW combined cycle gas-based power plant at Dahej SEZ).
It distributes power to over 3.8 m customers annually in its distribution areas of Ahmedabad, Gandhinagar, Surat, and Dahej SEZ (Gujarat), Bhiwandi (Maharashtra), and Agra (Uttar Pradesh).
For more details about the company, you can have a look at Torrent Power's factsheet and quarterly results on our website.
You can also compare Torrent Power with its peers.
To know what's moving the Indian stock markets today, check out the most recent share market updates here.