5 Takeaways from Paytm's Q4 Results
May 21, 2022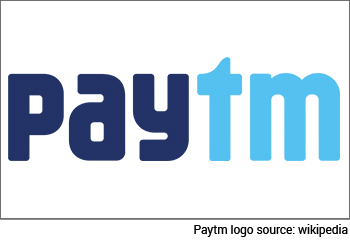 Paytm's parent company One 97 Communications on Friday reported its March quarter results.
Probably the most popular stock these days, Paytm which was listed in November 2021 has been beaten down big time and eroded more than half of its value since listing.
This erosion comes on the back of various events like the Reserve Bank of India (RBI) barring the onboarding of new customers due to suspicious activities, high valuations, and more.
The sequence of events led to brokerages downgrading the stock, and rightly so. Weak fundamentals combined with spurious activities are a sure shot recipe for disaster.
So when Paytm reported its latest results, everyone was all ears.
Here are five key takeaways from the fintech company's March quarter results.
During the March quarter, Paytm's net loss widened to Rs 7.6 bn compared to a loss of Rs 4.4 bn in the same quarter last year.

Loss widened despite the company reporting a massive jump in revenues.
Paytm's revenue from operations came in at Rs 15.4 bn as compared to revenues of Rs 8.2 bn reported a year ago. This translates into a growth of 89%.

According to the exchange filing, the increase in merchant payments processed through MDR bearing instruments (Paytm Wallet, Paytm bank account, cards, etc.) and disbursements of loans through partners on the platform were the key revenue drivers.
For fiscal 2022, Paytm posted a loss of Rs 24 bn against a loss of Rs 17 bn in fiscal 2021.

Revenues during the same period stood at Rs 49.7 bn, up 77% from the previous year.
Paytm's gross merchandise value (GMV) stood at Rs 2.6 tn for the quarter, a growth of 104% YoY. GMV is the rupee value of total payments made to merchants through transactions on Paytm's app.
Paytm is hoping to be back on track to break even at the EBITDA level by the end of the second quarter of fiscal 2023.

According to the filing, this will be driven by continued revenue growth, along with moderation in costs as operating leverage kicks in.
Ahead of its results, Paytm share price ended the day 3.9% higher on the BSE at Rs 575.35.
Paytm has been among 2022's worst performing stocks, having plunged 57% so far in 2022.
Have a look at the chart below which shows the company's turbulent performance since listing.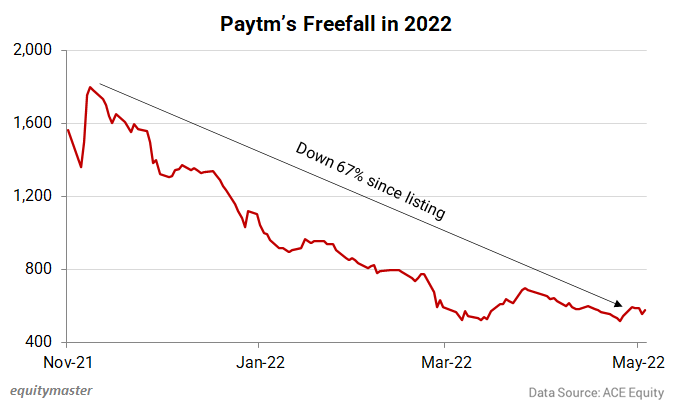 When Paytm came out with its IPO, Co-head of Research at Equitymaster Tanushree Banerjee explained with a detailed analysis why you should avoid the Paytm IPO.
Since you're interested in tracking results, check out our editorials on ITC's earnings and Dr Reddy's Lab March quarter results.
About Paytm
Paytm is one of the largest fintech companies in India.
Incorporated in 2010, Paytm is a digital platform that offers all the financial services one could imagine from insurance to equity broking.
It's the most popular payments app in the country with more than 300 m registered users and 21 m merchants as of March 2021.
For more details, check out Paytm's factsheet and quarterly results.
You can also compare Paytm with its tech peers on our website.
Here are Links to Some Very Insightful Equitymaster Articles and Videos on Paytm:
Disclaimer: This article is for information purposes only. It is not a stock recommendation and should not be treated as such. Learn more about our recommendation services here...
Yash Vora is a financial writer with the Microcap Millionaires team at Equitymaster. He has followed the stock markets right from his early college days. So, Yash has a keen eye for the big market movers. His clear and crisp writeups offer sharp insights on market moving stocks, fund flows, economic data and IPOs. When not looking at stocks, Yash loves a game of table tennis or chess.