4 Stocks Hitting 52-Week High in a Falling Market. Should You Exit?
May 21, 2022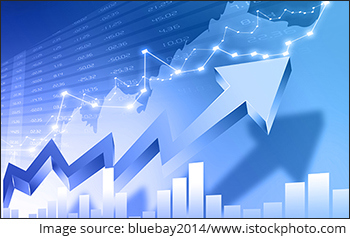 The snowball sat on top of the mountain. It was just on edge, waiting to come down. 2022 came, and the snowball started falling.
Such has been the case of share markets. 2022 started an avalanche in the share markets. Investor expectations crashed under this avalanche.
Companies with sound fundamentals, high growth aspects, all have been beaten down and big time. Even bluechip stocks are available at 52-week lows.
The Sensex has fallen 8% since the beginning of the year. The fall in individual stocks has been more severe.
One could only see red everywhere. But in between these red flags, few stocks were going against the trend.
Instead of falling, these shares are rallying. In fact, they achieved their 52-week high during this period.
Read on to know more about the four stocks that achieved their 52-week high in a falling markets and whether there's any steam left in the rally.
#1 Mangalore Refinery and Petrochemicals (MRPL)
The year 2021 was a year of rapid rise. Similarly, 2022 has started as a year of volatility. Amid this chaos, shares of MRPL have been consistent and rallied defying the market trend.
There was no rapid rise or fall. Since mid-2020, the share price traded in a rangebound fashion and moved up slowly and consistently.
The company saw a sudden spike April 2022 onwards.
MRPL shares achieved their 52-week high price of Rs 93.15 on 19 May 2022. The share price has gone up by 109% since the beginning of the year.
Multibaggers returns in 2022 so far!
The primary reason behind the massive rally is because the company's financial performance has improved.
MRPL recently published its March quarter earnings where it reported a net profit of Rs 30,081.3 m. This is 413% higher than the quarter ending December 2021.
Coming to annual profit figures, for fiscal 2021-22, MRPL posted a profit of Rs 29,552.7 m. This is significantly better as compared to the loss of Rs 7,611.7 m reported in the previous year.
Its revenue from operations went up by 69.4% compared to last year and stand at Rs 861,063 m.
There are various reasons for this improvement. Reasons like higher crude output, better gross refining margins, etc. MRPL took multiple initiatives to increase its domestic and export revenue.
The company has also been able to improve its operational performance. It had been able to achieve a capacity utilization of 100.2% in fiscal 2021-22 as compared to 76.7% in the previous year.
Another major reason for the sharp rally in MRPL shares is the merger of MRPL with ONGC Mangalore Petrochemical (OMPL). The merger will generate great synergies in the operation of the company.
Owing to all the above reasons, MRPL shares have been rising consistently.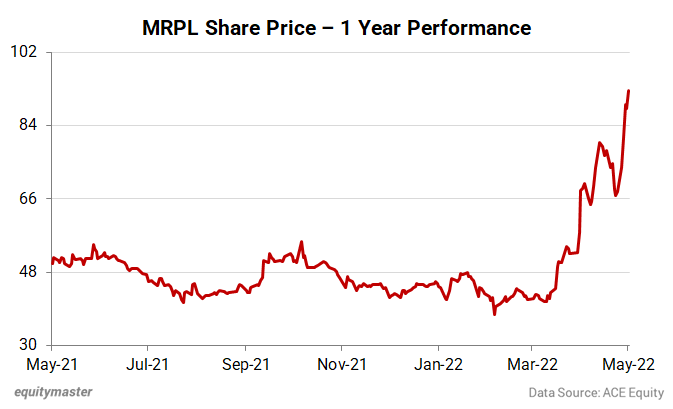 To know more about the company, check out MRPL's factsheet and its latest quarterly results.
#2 Vadilal Industries
Vadilal Industries does not disappoint. Whether it's ice cream or its share price, it is always sweet.
Even now, when share markets in general have proven to be a disappointment to investors. Those who invested in Vadilal shares would be sitting on sweet gains.
Vadilal share price hit a 52-week high price of Rs 2,069.9 on 18 May 2022. The closing share price on 19 May 2022 was Rs 1,785.
Vadilal's sales were impacted due to the lockdown. However, the company was not sweating profusely. It sustained the heat of loss of business.
However, the coming fiscal should be good for Vadilal. With the Covid-19 impact slowing down, Vadilal Industries sales may go up.
For higher sales, the company has introduced new ice cream flavours. It has also started a new ad campaign.
These strategies were very smartly implemented in March 2022. Vadilal usually generates 40% of its sales and 80% of profits in the first quarter of the fiscal.
Based on past figures, Vadilal generates 10% of its total revenue from sales to hotel restaurants and 70% from sales to caterers. These sales were also impacted due to lockdown.
But with the lockdown lifted, sales have seen an increase.
So reductions in lockdown restrictions, new marketing strategies, and record-breaking high temperatures are bound to increase Vadilal's sales.
Another reason why the stock is rallying is because FIIs have taken a little exposure. Vadilal's March 2022 shareholding pattern shows that 0.11% stake is owned by FIIs.
Note that at a time when FIIs are decreasing exposure to emerging countries like India, there are several bluechips stocks where FIIs are increasing stake.
To know more about the company, check out Vadilal Industries' factsheet and its latest quarterly results.
#3 BLS International
Shares of BLS International are swimming against the wave. All through 2022, shares have gained considerably.
BLS International announced the issue of bonus shares on 13 April 2022. This sent the share price through the roof. Shares rose by 10% in a single day after the announcement.
The past two years have been difficult for all companies. BLS International is rewarding its shareholders even after facing these difficulties.
On 9 May 2022, the company announced that it will pay a final dividend of 25% to its shareholders. (25% of face value i.e. Re 0.25/share)
The company had also paid an interim dividend of 100% to its shareholders on 11 February 2022. BLS International has been consistently paying dividends. Hence it is a dividend-paymaster.
On the financial front, the company has seen revenues and profits increase in the past couple of quarters. For the full year ended March 2022, the company's revenue from operations came in at Rs 8,498.8 m and net profit came at Rs 1,112 m.
This is a rise of 77% and 120%, respectively on a YoY basis.
Another reason what's driving the stock higher is mutual fund buying. In April 2022, Saint Capital Fund picked up a stake in the company.
To know more about the company, check out BLS International's factsheet and its latest quarterly results.
#4 Gokaldas Exports
The share price of Gokaldas Exports has been continuously rising since 2021. Even in 2022, the share price is unaffected by the market mayhem.
In 2022, shares of the company have gone up by 40%. This is in stark contrast to a fall of 7% in Sensex for the same period.
The company's consolidated profit after tax (PAT) for the quarter ending in March 2022 came at Rs 610 m. This is a growth of 281% compared to the same quarter last year.
The revenue for the quarter ending in March 2022 came at Rs 5,880 m, which is 58% higher on a YoY basis. This is also the highest revenue reported till date for the company.
Meanwhile, the company's revenue from exports increased by 58.3% on a YoY basis.
Gokaldas Exports' operating efficiencies have developed tremendously. A rapid expansion and speedy production are the cause of these developments.
The company has been able to weather production and supply chain disruptions. It has a growing demand for its products.
Due to all the above-mentioned reasons, Gokaldas Exports share price is rising.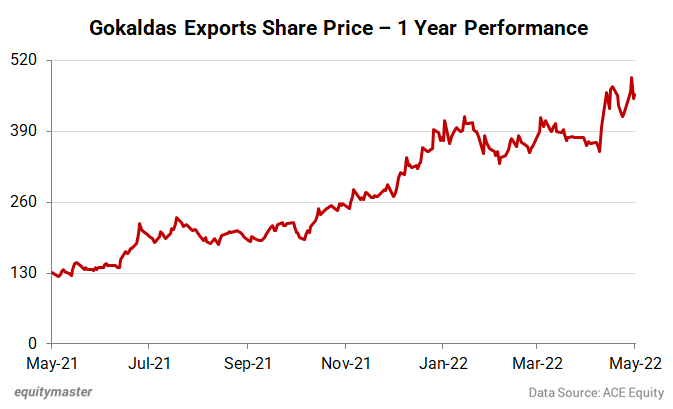 To know more about the company, check out Gokaldas Exports' factsheet and its latest quarterly results.
Should you exit these stocks?
"It is not the strongest of the species that survives, nor the most intelligent that survives. It is the one that is most adaptable to change." - Charles Darwin
This theory of evolution is apt for share markets. One can be rich and intelligent but may still be losing money if he is rigid. Changing according to the market scenario is an inevitable quality of a smart investor.
2021 was the time to harvest gain. 2022 is the time to sow the seed of investments. This was the general scenario.
So if you have invested in stocks that are showing strong performance in these weak times, then it would be wise to stay put.
The markets are volatile, and stocks may go wayward at any time. The current situation has brought down good quality stocks and even bluechips.
So instead of adding new funds to markets, you should divest from profit-making stocks. Then invest that money to buy other stocks for the long term.
This is easier said than done. But shifting your investments according to the shift in the trend is inevitable.
Investing is not as simple as picking stocks at 52-week highs and avoiding the ones at 52-week lows.
However, there's a good chance that the group of stocks trading near their 52-week highs have a better chance of doing well compared to the other.
In conclusion, rather than focusing more on the price action, your ultimate focus should be on the fundamentals and valuations.
Happy Investing!
Disclaimer: This article is for information purposes only. It is not a stock recommendation and should not be treated as such. Learn more about our recommendation services here...