Why Ruchi Soya Share Price is Rising
May 23, 2022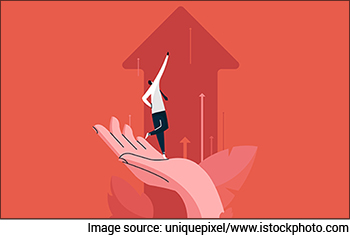 Last week, the Sensex rose over 1,000 points while the Nifty gained around 280 points. The market ended a roller-coaster ride on a positive note.
Amid this volatility, one sector has stood tall and has gained considerably. It's none other than the FMCG sector.
The FMCG sector, in the past one month, is up 22.2%.
From the lot of FMCG stocks, one company that is outperforming is Ruchi Soya Industries.
The company is one of the leading manufacturers of edible oils in India.
Ruchi Soya's share price increased 11.5% in the week gone by. In the latter part of the week, it rose considerably.
Before delving deep into why this happened, let's take a look at the company's brief profile.
About the company
Ruchi Soya is one of the top FMCG firms in India. It's a prominent maker and marketer of a healthy variety of edible oils and is a pioneer of soya foods.
Ruchi Soya possesses 22 production plants with a combined refining capacity of more than 11,000 tons per day, seed crushing capacity of 11,000 tons per day, and a packaging capacity of 10,000 tons per day.
Let's take a look at what could be the probable reasons behind Ruchi Soya's rise.
#1 India may cut taxes on edible oils
According to media reports, India is proposing to reduce tariffs on various edible oils to calm the market. This after the crisis in Ukraine and Indonesia's restriction on palm oil exports drove prices higher.
India, the world's largest importer of vegetable oils, is trying to reduce the agriculture infrastructure and development cess on crude palm oil imports from 5%.
This news came out on 6 May 2022, and soon after that, the FMCG sector is showing bullish trends.
Edible oil stocks in India started rising and gained under the current circumstances.
#2 Agreement with Patanjali Ayurved
Ruchi Soya has agreed to acquire Patanjali Ayurved's food retail business, which includes the manufacturing, packaging, labeling, and retail trading of certain food products.
Also, it will acquire manufacturing plants in Padartha, Haridwar, and Newasa, Maharashtra, subject to shareholder and other authority approvals.
On a slump sale basis, the amount of consideration for the acquisition is Rs 6,900 m. The estimated completion date is 15 July 2022.
Following the acquisition, Ruchi Soya's name would be changed to Patanjali Foods.
After the acquisition the company is expecting its combined food portfolio to contribute 18% of total revenue in 2023 compared to 6% in 2022. This will have a positive impact on the margin profile.
#3 Mutual fund buying
In the month of April 2022, Ruchi Soya was fund managers' top pick.
In March 2022, mutual funds held 42 lakh shares but the same in April 2022 rose to 48 lakh.
Mutual fund buying and selling often leads to sharp movements in stock prices. That's what appears to have happened with Ruchi Soya.
How the stock of Ruchi Soya has performed recently
Since April 2022, shares of Ruchi Soya have seen a sharp rise. From Rs 750 back in April, Ruchi Soya currently trades at Rs 1,158.
Last week, the share price saw a huge spike.
Today, Ruchi Soya shares ended 5% lower on the BSE.
In the year gone by, shares of the company have gained 8% while its 2022 is much better with gains of close to 45%.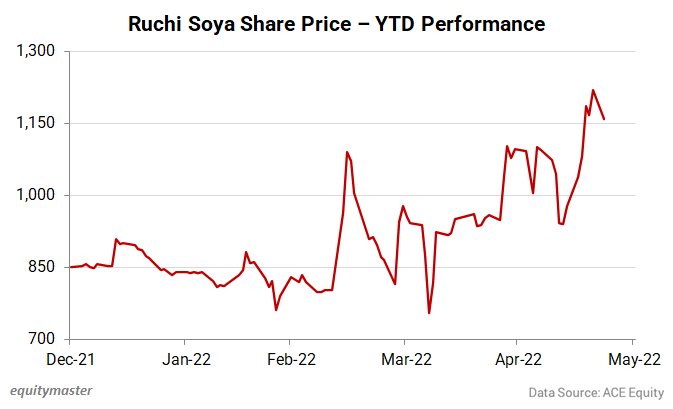 About Ruchi Soya
Incorporated in 1986, Ruchi Soya Industries, now a part of Patanjali Group, is one of the leading FMCG brands in the Indian edible oil sector.
It is the largest manufacturer of soya foods with a presence across the entire value chain in upstream and downstream businesses with secured palm plantations.
The firm operates in different verticals such as Edible oil and by-products, Oleochemicals, Textured Soya protein (TSP), Honey and Atta, Oil Palm Plantation, Biscuits, Cookies, and Rusks, Noodles and Breakfast cereals, Nutraceuticals and wellness, and wind power.
For more details about the company, you can have a look at Ruchi Soya Industries factsheet and quarterly results on our website.
You can also compare Ruchi Soya with its peers:
Happy investing.
Disclaimer: This article is for information purposes only. It is not a stock recommendation and should not be treated as such. Learn more about our recommendation services here...