Amara Raja Batteries Q4 Results: Profit Rises 38% on Robust Sales
May 24, 2021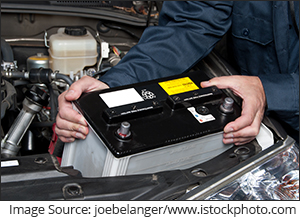 Amara Raja Batteries on Saturday said its consolidated net profit after tax rose by 38% to Rs 1.9 bn for the fourth quarter ended March 2021. This was on the back of robust sales across business verticals.
The company had reported a net profit after tax (PAT) of Rs 1.4 bn for the January-March quarter of 2019-20.
For the entire fiscal year 2020-21, the company posted a net profit after tax of Rs 6.5 bn as compared to Rs 6.6 bn in FY20.
On a consolidated basis, profit before tax (PBT) for the quarter under review stood at Rs 2.6 bn, up 44.4% year-on-year (YoY), compared to Rs 1.8 bn in the same period last year.
The company's PBT stood at Rs 8.7 bn for the year ended 31 March 2021, up 3.6% from Rs 8.4 bn in FY20.
Operational Performance
Amara Raja Batteries reported 33% YoY growth in consolidated sales revenues for the March-21 quarter at Rs 21 bn as against Rs 15.8 bn for the same period a year ago.
On a sequential basis, the top line income was up by 7.3%, compared to Rs 19.6 bn in the December 20 quarter.
Net revenue from operations for the last fiscal year 2021 rose to Rs 71.5 bn as against Rs 68.4 bn in 2019-20.
--- Advertisement ---
The Hidden Opportunity in EV Stocks No One Knows About

With today's fast-changing technology and concern about the environment, the popularity of electric vehicles (EVs) has been on the rise.

Most investors go the usual route of investing in large companies and waiting to rake in profits.

We believe that's not the best approach.

In fact, our research has uncovered a hidden way to make potentially windfall gains from this EV opportunity.

Interested to know more? You can get all details by clicking the link below:

Equitymaster's Latest Research Project - Details
------------------------------
Operating profits for the March 21 quarter were up 36.6% on a YoY basis at Rs 2.3 bn, largely on the back of better inventory management resulting in less funds locked up in the working capital cycle. This more than offset the rise in input prices that the company faced.
On a sequential basis, the operating profits were up by just about 0.7% compared to December FY21.
Amara Raja Batteries recorded an impressive revenue growth in the last quarter of FY21, which was aided by strong volume growth in both automotive and industrial applications across all customer segments.
These sectors witnessed better than expected demand in the last two quarters of the last financial year, resulting in emerging industry needs and a stronger market demand.
Consequently, Amara Raja has been keeping manufacturing operations at the optimum capacity utilisation levels while following strict employee health and safety measures, in the Covid second wave.
Key Financial Indicators
| Particulars (Rs in bn) | Q4FY21 | Q4FY20 | Growth | FY21 | FY20 | Growth |
| --- | --- | --- | --- | --- | --- | --- |
| Revenue From Operations | 21 | 15.8 | 33.0% | 71.5 | 68.4 | 4.5% |
| Profit Before Tax (PBT) | 2.6 | 1.8 | 44.4% | 8.7 | 8.4 | 3.6% |
| Profit After Tax (PAT) | 1.9 | 1.4 | 38.0% | 6.5 | 6.6 | -1.5% |
| EPS in Rs | 11.1 | 8 | 37.9% | 37.9 | 38.7 | -2.1% |
Data Source: Company's Q4 Report
Commenting on the results, Mr Jayadev Galla, Vice Chairman and MD, Amara Raja Batteries, said,
We have managed to perform better than the previous year despite the very challenging and uncertain environment during the fiscal year gone by. The last quarter of FY21 witnessed strong growth across all segments.

Our employees and business partners have responded to the challenges with greater resilience and agility.

While the second wave of covid and the resultant lockdowns currently being enforced are creating unpredictability in the product off take, we are working to ensure the product availability across all market is taken care of by dynamically managing the supply chain.

We continue to take all possible measures to safeguard health and well-being of our employees in the current pandemic situation.
Mr Galla further explained,
Our capacity augmentation projects are being implemented as per schedule in anticipation of strong revival of economic activity in the country in the near term.

While the short-term challenges posed by the second wave of Covid are being addressed with agile organisational processes, we remain focused on preparing ourselves for the future opportunities in both the energy storage and mobility energy application, by participating in advanced cell technologies and creating sustainable products.
Equity Dividend
The company's board of the directors has recommended a final dividend of Rs 6 per equity share (representing 600%) on face value of Re 1 each for the financial year 2020-21.
Revealed: Richa Agarwal's Top 3 Stocks for 2022
Amara Raja Starts Work on Lithium-Ion Cells, Sets Up Tech Hub at Tirupati
Back in February 2021, Amara Raja Batteries, India's second-largest automotive battery maker, opened the country's maiden technology hub to develop lithium-ion cells, at its Tirupati facility in Andhra Pradesh.
The advanced lithium-ion technology research hub, the pilot project located at its headquarters in Tirupati, will become the country's first lithium-ion cell manufacturing facility in the private sector over the next few years.
The company has a technology transfer agreement with the Indian Space Research Organisation (ISRO) since early 2019.
It has already invested Rs 200 m into the hub, excluding technology transfer and bidding fees paid to the ISRO in January 2019 when the company along with nine others won competitive bids from the national space agency.
The 10 companies that got the tech license are Amara Raja, Bharat Electronics Pune, Carborundum Universal Kochi, Exicom Tele-Systems Gurgaon, GOCL Corporation Hyderabad, Jyoti CNC Automation Rajkot, Nalcom Bhubaneswar, Sukhbir Agro Energy Delhi, Tata Chemicals, and Thermax.
Amara Raja Batteries Shareholding Pattern as on 31 March 2021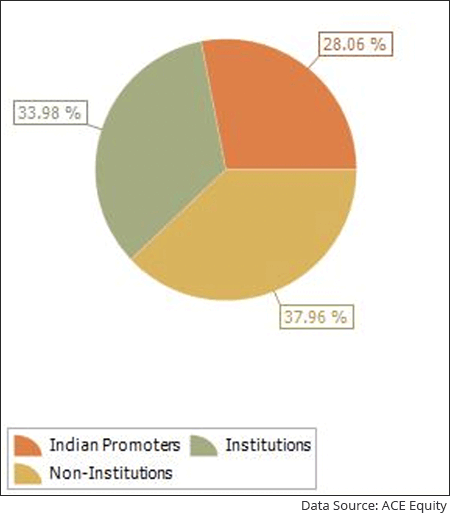 How the Stock Markets Reacted to Amara Raja Batteries Q4FY21 Numbers Today
Shares of Amara Raja Batteries opened the day at Rs 800.1 on the BSE and Rs 801.9 on the NSE.
At the time of writing, the company's shares were trading up by 0.2% on the BSE.
--- Advertisement ---
Markets in Downturn? Here's What You Must Do...

The markets corrected sharply in recent days...

And it's impossible not to be reminded of the bloodbath we saw in March 2020.

The truth is...

Stock market corrections and recessions are inevitable and painful...

But this #1 video with Rahul Shah has the power to change how you perceive corrections and crashes. In fact, you'll master the art of turning every market crash to your advantage...

Watch the COMPLETE Lazy Millionaire Summit Right Now
------------------------------
At its current price, it is trading at a P/E of 15.1.
The share touched its 52-week high of Rs 1,025 and 52-week low of Rs 536.4 on 15 January 2021 and 24 May 2020, respectively.
Over the last 30 days, the Amara Raja Batteries share price is down 1.1%. Over the last one year, the company's share price is up 39.1%.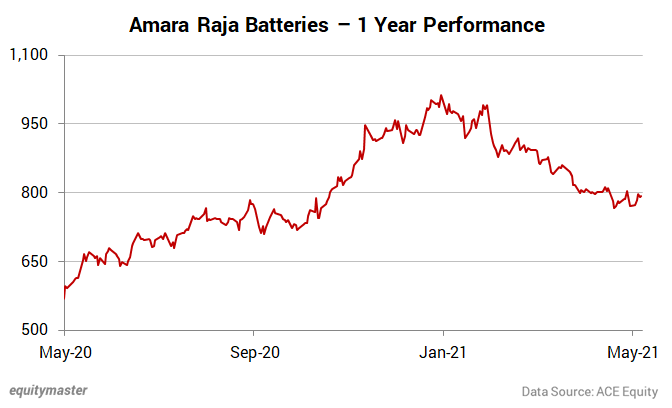 About Amara Raja Batteries
Amara Raja Batteries is the technology leader and one of the largest manufacturers of lead acid batteries for both industrial and automotive applications in the Indian storage battery industry.
In India, Amara Raja is the preferred supplier to major telecom service providers, telecom equipment manufacturers, the UPS sector (OEM & replacement), Indian railways and to the power, oil & gas, among other industry segments.
Amara Raja's industrial battery brands comprise PowerStack, AmaronVolt, and Quanta.
It's a leading manufacturer of automotive batteries under the brands Amaron and Powerzone TM, which are distributed through a large pan-India sales and service retail network.
The company supplies automotive batteries under original equipment (OE) relationships to Ashok Leyland, Ford India, Honda, Hyundai, Mahindra & Mahindra, Maruti Suzuki, and Tata Motors.
Also, the company's industrial and automotive batteries are exported to countries in the Indian Ocean Rim.
For more details about the company, you can have a look at Amara Raja Batteries factsheet and quarterly results on our website.
You can also compare Amara Raja Batteries with its peers.
Amara Raja Batteries vs Bharat Forge
Amara Raja Batteries vs Motherson Sumi Systems
And to know what's moving the Indian stock markets today, check out the most recent share market updates here.