Dr Reddy's New Covid-19 Treatment Option Puts Stock in Focus
May 24, 2021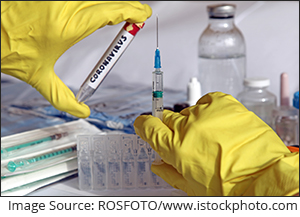 Shares of Dr Reddy's Lab edged higher in early trade today after the company said it is developing new treatment options for Covid-19.
The drug major is working on new treatment options for patients. It aims to launch these over the next few months.
The company also ensured uninterrupted supplies of its existing range of products in the market.
Dr Reddy's Lab has already launched Sputnik V vaccine. It's also partnering various organisations, including the Defence Research and Development Organisation (DRDO).
Ramping Up Remdesivir
Over the past few weeks, Dr Reddy's Lab has been ramping up supply of multiple medicines including Remdesivir to meet the surge in demand.
In analyst call, the company's Co-Chairman & Managing Director G V Prasad said:
We are motivated to serve patients in every possible way and with utmost urgency. This is reflected in the multiple collaborations we have entered to develop and commercialise a wide range of preventive and curative options for COVID treatment.
He added that the company is working on the launch of newer treatment options, which will bring to the market in the next few months.
Ramping up the vaccine supply will give a boost to the vaccination drive. India is facing a vaccine shortage during the second Covid-19 wave.
Business Opportunities & Supply of Covid Vaccines
Dr Reddy's Lab is in discussion with Russian Direct Investment Fund (RDIF) for Sputnik light as well as additional engagement for the future of India.
The company's CEO Erez Israeli said they have the rights for the first 250 m of doses for India which translates to 125 m patients.
Asked if when it would be able to supply the 250 m doses in the country, he said:
'I anticipate that between now and July, maybe August, the primary supply will be from Russia.'
The initial quantities will come from the imported route that will come out of Russia.
Apart from this, the company has tied up with six contractors to produce the product locally in India.
On the start of local production and supplies of the Covid-19 vaccine, Israeli said it would depend on the qualifications of those sites and the ability to meet the bridging studies, etc.
Muted Results
Earlier this month, Dr Reddy had reported a 28% year-on-year (YoY) decline in its consolidated net profit to Rs 5.5 bn for the quarter ended March (Q4FY21). This was sharply below analyst's expectations.
Revenues saw a marginal growth of 7% to Rs 47.3 bn, which was also below estimates.
The company's North America business reported muted sales on account of higher volumes last year due to the pandemic-related stocking up and price erosion.
However, Indian business numbers were robust compared with the year-ago period largely because of the effect of low base, due to the national lockdown and supply crunch last year.
The company recommended payment of a dividend of Rs 25 per share for the year ended March 2021 subject to the approval of members.
Latest Vaccine Updates: What's Brewing in the Pharma Space
On Sunday, it was reported that Moderna refused to send the vaccine directly to Punjab.
Punjab state nodal officer said all vaccine manufacturers were approached for direct purchase of vaccines, including Sputnik V, Pfizer, Moderna, and Johnson & Johnson. Moderna refused to deal with the state government.
Moderna and South Korea will explore potential areas of collaboration for research and development of mRNA vaccines and local manufacturing opportunities in South Korea.
Moderna and Samsung Biologics have reached a Manufacturing Services and Supply Agreement in which Samsung Biologics in South Korea will provide large scale, commercial fill-finish manufacturing for vaccine.
In another developments, for the first time since India opened Covid-19 vaccination for all adults on 1 May. Weekly doses administered last week to the 18-44-year age group far exceeded the jabs given to the 45-plus age group.
Data from the government's CoWIN portal on age-wise inoculation show in the week from 16 May to 22 May, as many as 4.2 m people in the age group of 18-44 years were inoculated compared to 3.89 m in the 45-plus age group.
The second wave of Covid-19 has pushed up sales of medicines. This has in turn resulted in growth for the pharma sector.
According to total sales audit data from world's largest pharmaceutical market research firm IMS Health, the Indian Pharma Market grew 59% YoY in April 2021 as against 16% in March 2021.
All major therapies posted high double-digit growth last month.
Dr Reddy's Lab grew the fastest at 79% followed by Cipla and Cadila Healthcare.
Sun Pharma, Lupin, and Ipca Labs were other notable mentions which reported growth of 30-52%.
Indian pharma companies are among the biggest bulk drug exporters. On the basis of this, companies might witness a rise in their volumes.
Equitymaster's View on the Pharma Sector
We reached out to Tanushree Banerjee, Co-Head of Research at Equitymaster, and editor of the premium stock recommendation service StockSelect, for her view on the pharma sector.
Here's what she has to say...
The second Covid wave has given a new lease of life to pharma stocks. As the sector continues to invest in capacities for new drugs, the profitability will depend on the companies' ability to seek USFDA approval for the plants.

Or their ability to tie up with MNC pharma for producing variants of their vaccine.
In a similar vein, here's an interesting data on the stock of Dr. Reddy's Lab. Investing just Rs 100,000 in Dr. Reddy's Labs in 1992, it would have given a whopping Rs 4.89 crores in 2014!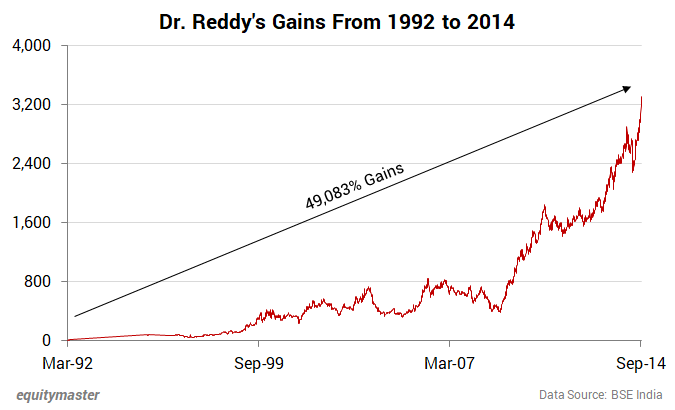 Co-head of Research, Tanushree Banerjee believes, the opportunities in the Rebirth of India are not only more profitable than the ones in 1991 but the gains could come faster too.
How the Stock Markets Reacted to Dr Reddy's News
Dr Reddy's Lab share price rose over 1% today, following the news of new treatment options.
Pharma stocks are trading on a positive note today with shares of Natco Pharma and Cadila Healthcare leading the gains.
Dr Reddy's shares have touched a 52-week high of Rs 5,515 and a 52-week low of Rs 3,815.
At its current price, Dr Reddy's shares are trading at a P/E ratio of 40 and a P/BV ratio of 5.6.
About Dr Reddy's Lab
Dr Reddy's Laboratories is a leading India-based pharmaceutical company headquartered and having its registered office in Hyderabad, Telangana, India.
Through its three businesses - Pharmaceutical Services and Active Ingredients, Global Generics and Proprietary Products, the company offers a portfolio of products and services, including Active Pharmaceutical Ingredients (APIs), Custom Pharmaceutical Services (CPS), generics, biosimilars, and differentiated formulations.
The company has key presence is in India, North America, Russia and CIS countries, Europe, and other emerging markets. The company has wide portfolio in several markets and has made several niche and Para IV launches.
For more details about the company, you can have a look at Dr Reddy's fact sheet and Dr Reddy's quarterly results on our website.
For a sector overview, you can read our pharma sector report.
You can also compare Dr Reddy's Lab with its peers on our website.
Dr Reddy's Lab vs Aurobindo Pharma
Dr Reddy's Lab vs Abbott India
To know what's moving the Indian stock markets today, check out the most recent share market updates here.