These FMCG Stocks Underperformed Sensex in the Past One Year. Can They Reverse Course?
May 24, 2021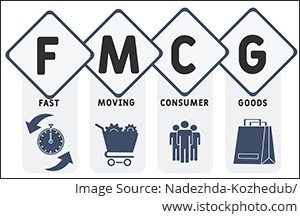 Over the past one year, many FMCG stocks have underperformed the benchmark BSE Sensex by a good margin.
Let's have a look at the top stocks from FMCG sector which have underperformed the Sensex over the past one year.
Nestle
Nestle India is the top underperformer in this list. Shares of Nestle India have gained a mere 7% over the past one year as compare to 63% gains in Sensex.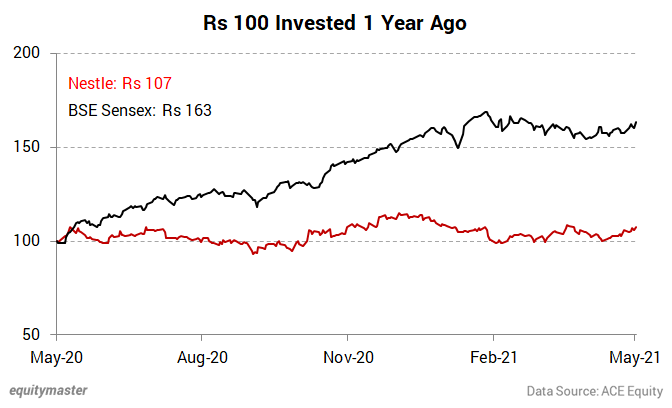 The company today said that it is in the process of setting up oxygen plants in five hospitals close to its factories in Punjab, Himachal Pradesh, Uttarakhand, Karnataka, and Goa.
On a year-to-date (YTD) basis, the stock has fallen 5% from Rs 18,392.35 touched on 31 December 2020.
--- Advertisement ---
This is a Powerful Mega Trend Playing Out in India

We have uncovered a powerful mega trend that is playing out in India right now.

It could potentially generate immense wealth for early movers.

Our co-head of research Tanushree Banerjee has also zeroed in on one specific stock riding this mega trend.

It's her #1 stock pick right now.

And she believes, this could be one of the top stocks to get to potential Rs 7 crore wealth over the long term.

Tanushree will reveal all the details about this mega trend and her #1 stock at her special online event on July 29.

At the event Tanushree will also show you, how to potentially accumulate Rs 7 crore in wealth over the long term.

What you learn at the event could possibly change your financial fortunes forever.

Click here to reserve your FREE seat.
------------------------------
Britannia Industries
Britannia Industries is another FMCG stock which has underperformed over the past one year.
Shares of the company have given 11% returns over the past one year.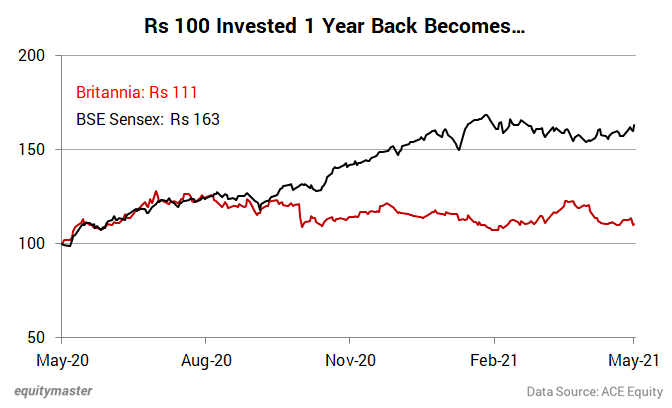 Despite the underperformance, investors were benefitted from the dividends paid by the company.
The company's upcoming dividend is Rs 12.50 a share, following on from the last 12 months, when the company distributed a total of Rs 145 per share.
At present, Britannia Industries has 26% share in the milk biscuit category and a 4% share in the milk plus glucose category.
The Indian biscuit market size is estimated at Rs 400 bn in 2020, representing approximately 5% of the global market.
Free Signup: The Smallcap Revival Summit
ITC
If there is any stock that comes to investors' mind in terms of underperformance, it is ITC.
ITC has managed to give 11% returns over the past one year, same as Britannia Industries.
The stock has traded in a tight range, hovering between Rs 150 to Rs 240.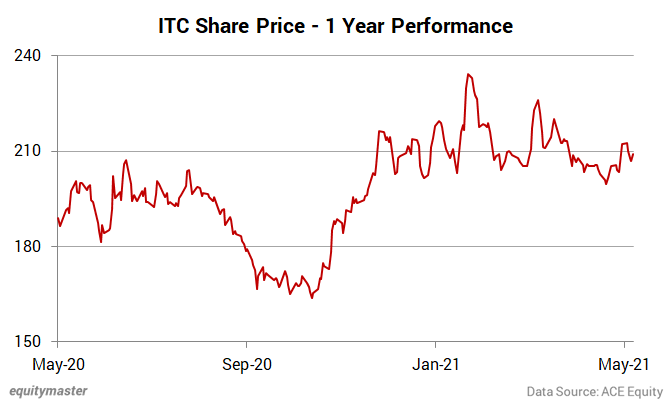 The stock of ITC has been a laggard in the past few years.
Despite the underperformance, PPFAS mutual fund has increased its stake in the company from 4.9% to 8% over the last one year.
ITC is the top player in Atta. It ranks third in biscuits and second in potato snacks. It also ranks second in shower gel and body wash.
Gillette
Gillette share price has gained 14% over the past one year.
Earlier this month, the company's standalone net profit surged 101.7% to Rs 1.1 bn on 32% jump in net revenues.
Shares of the company rose 3.5% on the day Gillette declared its results.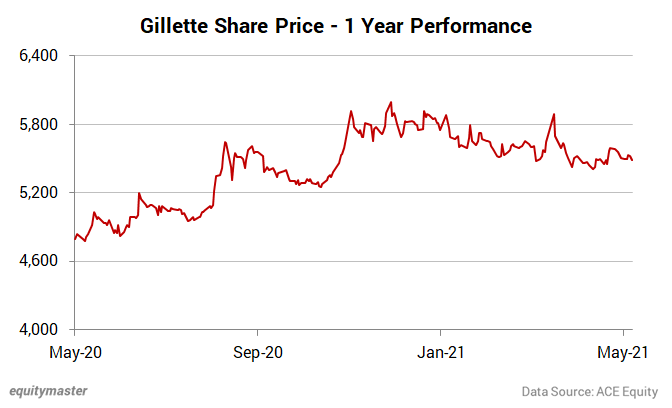 HUL
Shares of Hindustan Unilever (HUL) have performed relatively better if compared with the peers listed above.
HUL shares have given 20% returns over the past one year, compared with 63% gains in Sensex.
At the current price of Rs 2,340, the P/E ratio for HUL India stands at 69.1 times.
Speaking of HUL, here's an interesting data on the company...from 1997 to 2010, HUL's stock price went nowhere!
It was practically in a 13-year coma.
Until 2013, HUL had products and categories customised for the Indian stock market. That made it difficult for the company to sell its overseas products in the country.
Nor could it reach out enough to a global customer base with Indian products.
A change of strategy suddenly opened up Unilever's global markets to HUL for both sourcing and selling. The result was evident in profit growth and stock price over the next few years.
Which Other FMCG Stocks Have Underperformed Sensex in the Past One Year?
Apart from the above, here are few FMCG stocks that have underperformed Sensex over the past 1 year.
Data Source: Ace Equity
FMCG Sector Outlook
A year ago when India went into nationwide lockdown to curb the spread of virus, major sectors including FMCG were impacted.
The FMCG sector gradually recovered with companies seeing volume growth during the initial months.
With the Indian economy recovering gradually, cyclical sectors made a strong comeback which might be a reason to FMCG stocks' underperformance.
Even with the growth in volumes, FMCG stocks are not finding favour with investors.
Earlier this month, Jefferies warned that there is a real risk of FMCG sector underperforming the broader index over the coming years.
Here's what they wrote:
A common investor concern is the high valuation multiples (40-60 times) that FMCG companies trade at, which could de-rate going forward.

If we go back to periods of strong economic growth, the technical factor (investor preference for cyclical plays) can also drive outflows from staples and result in de-rating, which is evident from the long term PE premiums of FMCG pack vs Nifty.
How FMCG stocks perform in the coming months remains to be seen.
To know what's moving the Indian stock markets today, check out the most recent share market updates here.