Hindalco Q4 Profit Surges 189% as Demand Surpasses Pre-Covid Level
May 24, 2021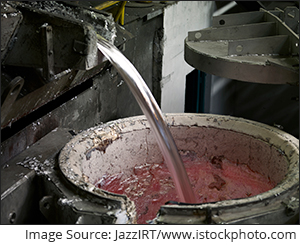 Aditya Birla Group's metals flagship Hindalco's consolidated net profit for the March quarter (Q4FY21) nearly tripled to Rs 19.3 bn over the last year.
This was mainly on account of strong performance by Novelis and India's aluminium business, supported by higher volumes and better product mix.
The bottom line was up a staggering 189%, over the corresponding figure in the year-ago period.
The company had reported a bottom line of Rs 6.7 bn in the corresponding period last year.
Hindalco's bottom line for the March quarter was strong despite increased tax expenses of total Rs 13.1 bn, almost double from last year.
Sequentially, the profit rose 3% from Rs 18.8 bn in the December quarter (Q3FY21).
Domestic business profit after tax (PAT) came in at Rs 6.5 bn, up 72% year-on-year (YoY) and 32% sequentially.
The Aditya Birla Group company's topline in the period under review stood at Rs 405.1 bn, up 38% from Rs 293.2 bn in the same period last year with Novelis (including Aleris) contributing the highest among segment contributors.
The company's consolidated earnings before interest, taxes, depreciation and ammortisation (EBITDA) stood at Rs 56 bn, up 33% YoY and up 7% sequentially.
Business Segment Performance in Q4 FY21
Novelis (Including Aleris): Novelis recorded its best-ever quarterly adjusted EBITDA of US$505 m (vs US$383 m), up 32% YoY.
This was on the back of higher organic volume, favourable metal benefits, and a US$60 m EBITDA contribution from the acquired Aleris business.
Adjusted EBITDA was at US$514 per ton in Q4 FY21 (vs US$ 472 per ton), up 9% YoY.
Novelis' net income (excluding tax-effected special items) was at US$172 m, up 12% YoY, partially offset by higher depreciation and amortization associated with the acquisition of Aleris.
Revenue was US$3.6 bn (vs US$2.7 bn), up 33% YoY, due to higher shipments, global aluminium prices and market premiums.
Total shipments of flat rolled products (FRPs) were at an all-time high of 983 Kt (vs 811 Kt), up 21% YoY, with the addition of the acquired Aleris business and strong demand across end-product markets.
Aluminium India: EBITDA was at an all-time high at Rs 16.1 bn in Q4FY21, compared with Rs 10.4 bn for Q4FY20, an increase of 54% YoY, primarily due to favourable macros, better operational efficiencies and lower input costs.
The company's EBITDA margin of 27% was the highest in the last 12 quarters and continues to be amongst the best in the industry.
Revenue from operations stood at Rs 59.7 bn in Q4FY21 vs Rs 53 bn in the same period last year.
Aluminium metal sales were higher by 5% YoY at 329 Kt (vs 314 Kt in Q4 FY20). Aluminium value-added product (excluding wire rods) sales volumes were at a record high of 92 Kt (vs 76 Kt), up 21% YoY, driven by a sharp recovery in the domestic market.
Value-added product (VAP) sales as a % of total metal sales reached an all-time high of 28% this quarter vs 24% in the same quarter last year.
Copper: Copper cathode production was at 97 Kt in Q4 FY21 (vs 75 Kt in Q4 FY20), higher by 29% YoY on account of stable operations during the quarter.
While overall copper metal sales were at 107 Kt (vs 86 Kt in Q4 FY20), copper continuous cast rod (CCR) sales in Q4 FY21 were in line with the same quarter last year, at 73 Kt.
EBITDA for the business stood at Rs 2.7 bn compared to Rs 4.1 bn in Q4 FY20. Revenue from the copper business came in at Rs 85.1 bn this quarter, up 80% YoY, primarily due to higher global prices of copper.
Debt Profile of Hindalco
In FY21, the company's gross debt declined by Rs 181.9 bn, while net debt fell by Rs 148.8 bn as of 31 March 2021 from its peak on 30 June 2020.
The company's consolidated net debt to EBITDA improved significantly to 2.6x as of 31 March 2021 vs the peak of 3.8x as of 30 June 2020.
As on 31 March 2021, the company's consolidated net debt stands at Rs 474.2 bn, while cash and cash equivalent stands at Rs 185.8 bn.

Commenting on the results, Satish Pai, Managing Director of Hindalco said,
This past year, with all its volatility and uncertainty, has underscored Hindalco's resilience and ability to deal with challenges.

Our record Q4 results have strengthened our balance sheet even further, absorbing the Aleris acquisition and restoring consolidated net debt to EBITDA ratio to pre-acquisition levels.

The Aleris business continues to positively impact the overall top line and EBITDA.
Equity Dividend
The board of directors of the company at its meeting held on 21 May 2021 has recommended a final dividend of Rs 3 per equity share that is 300% of face value of Re 1 each for the year ended 31 March 2021.
An Overview on Metal Stocks; What Really Triggered the Rally in India
The rally in the metal stocks has been witnessed by all market participants in the last few months.
The Nifty Metal Index has given a return of almost 100% in the last six months.
The global demand for steel has increased from negative 0.2% in 2020 to 5.8% in 2021. In India, the demand increased from negative 13.7% to 19.8%.
The main reason steel has been booming is because many steel companies are witnessing big profit margins as demand is more and therefore, they can charge more.
Due to prices in global markets being much higher than the domestic markets, Indian steel producers have benefitted a lot from exporting steel abroad.
However, this is also causing decrease in supply in domestic markets.
Also, Indian companies are able to get comparatively cheaper raw materials, like coking coal, especially from Australia.
Many companies are able to make profit because they own iron ore or have access to cheap iron ores which is required for steel production.
Note that steel plants have also increased liquid oxygen to cater to the needs of the Covid-19 patients in India.
In the non-ferrous metals, copper, aluminium, and nickel are at their best prices.
Demand is increasing mainly because of the electric vehicles (EVs) and green energy projects.
The budget has also been favourable for the infrastructure sector in India, which has helped boost metal prices, especially steel.
How the Stock Markets Reacted to Hindalco Industries Q4FY21 Numbers Today
Shares of Hindalco Industries opened the day at Rs 394.5 on the BSE and Rs 392.9 on the NSE.
At the time of writing, the company's shares were trading up by 0.4% on the BSE.
At its current price, it is trading at a P/E of 24.7.
The share touched its 52-week high of Rs 428.3 and 52-week low of Rs 114.4 on 10 May 2021 and 25 May 2020, respectively.
Over the last 30 days, the Hindalco Industries share price is up 6.6%. Over the last one year, the company's share price is up 217%.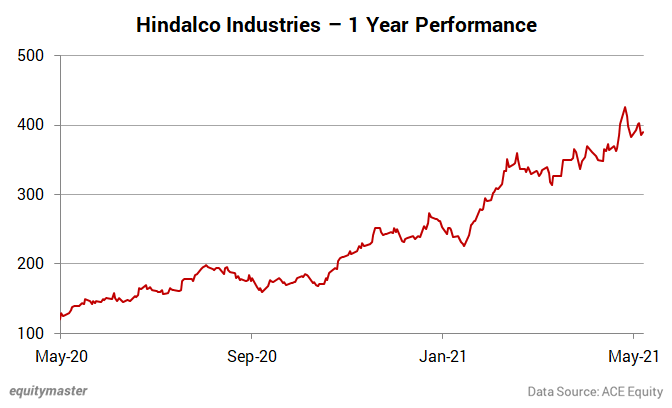 About Hindalco Industries
Hindalco Industries is the metals flagship company of the Aditya Birla Group.
An US$18 bn metals powerhouse, Hindalco is the world's largest aluminium company by revenues, and a major player in copper. It's also one of Asia's largest producers of primary aluminium.
Guided by its purpose of building a greener, stronger, smarter world, Hindalco provides
innovative solutions for a sustainable planet.
Its wholly-owned subsidiary Novelis Inc is the world's largest producer of aluminium beverage can stock and the largest recycler of used beverage cans (UBCs).
Hindalco's copper facility in India comprises a world-class copper smelter, downstream
facilities, a fertiliser plant and a captive jetty. The copper smelter is among the world's largest
custom smelters at a single location.
Hindalco's global footprint spans 47 manufacturing units across 10 countries.
For more details about the company, you can have a look at Hindalco Industries factsheet and quarterly results on our website.
To know what's moving the Indian stock markets today, check out the most recent share market updates here.