Why Godawari Power Share Price is Falling
May 24, 2022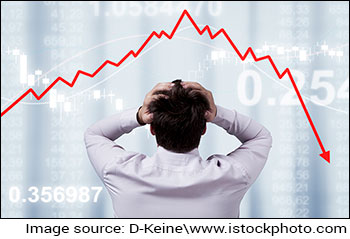 The metal sector was the best performing sectoral index in 2021 and gained 70%.
But 2022 has been a drag for the best performing sector of 2021. So far in 2022, the index is down by 4% (YTD) and 16% in the month of May 2022 alone.
According to Equitymaster's chartist Brijesh Bhatia, the fall witnessed in recent days doesn't seem to be over yet as the index is trading at the do-or-die level of 5,200.
Bigger counterparts Tata Steel, JSW Steel, SAIL, and Jindal Steel have seen a massive correction in recent days.
Tata Steel fell over 12% yesterday while others also fell in a similar range.
Among the smaller counterparts, one such metal stock is down over 34% in the past month and 25% this week.
Let's dig a little deeper into the probable causes for the fall.
#1 Sectoral Effect
If the whole sector is in a downtrend, you'd expect even the best stock from the lot to go down.
We're not implying that Godawari Power is the best stock, but you get the idea. If there're negative developments in the sector, there's a chance the whole lot would be down.
The Nifty Metal index has fallen more than 1,000 points in a month, a 16.4% fall.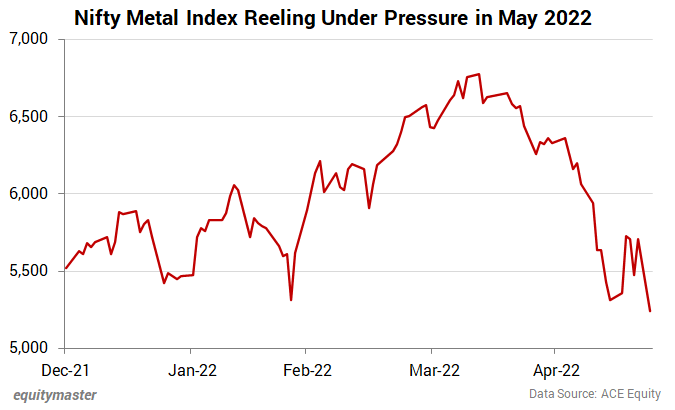 This fall has brought rust to all the big players of the metal market.
Yesterday, Jindal Steel & Power fell 15%, Tata Steel plunged 12%, the biggest drop since August 2015, and JSW Steel fell 11%, its highest loss since May 2020. Even SAIL was down 11%, the lowest it has been since May 2020.
NMDC was down 10%, its largest drop since August 2020, while Vedanta and Hindalco Industries were down 5-6%.
Yesterday marked the BSE metal index's worst day in two years as it fell nearly 8%.
#2 Government imposes export duties on iron ore
To increase domestic supply, the government increased duties on iron ore by up to 50% and on some steel intermediaries by 15% on 21 May last week.
Godawari Power being one of the largest licensed iron ore mining companies has experienced a sharp decline in its share price due to this.
Godawari Power has two captive iron ore mines (3 m tonnes), pellet plant (2.4 MT) and vertically integrated steel plant in Raipur.
The steel plant manufactures sponge iron (595,000 tonnes), billets (400,000 tonnes), MS rounds (400,000 tonnes), HB wires (150,000 tonnes), ferro alloys (16,500 tonnes), and pre-fab structures (110,000 tonnes).
So you can see the company has exposure to various iron & steel products.
Following the custom duties news, shares of the company have plunged by 25% in the past two trading sessions and are still continuing the downward trend.
Godawari Power's today tanked 5.6% to Rs 294.1 on the BSE.
How the stock of Godawari Power has performed recently
From April 2022, the stock has been all in red. Trading at Rs 481 in April, today it trades at Rs 292, translating into a loss of around 40% in over a month.
Additionally, a sharp decline from Rs 389 to Rs 292 is visible from 20 May after the imposition of export duties on iron ore.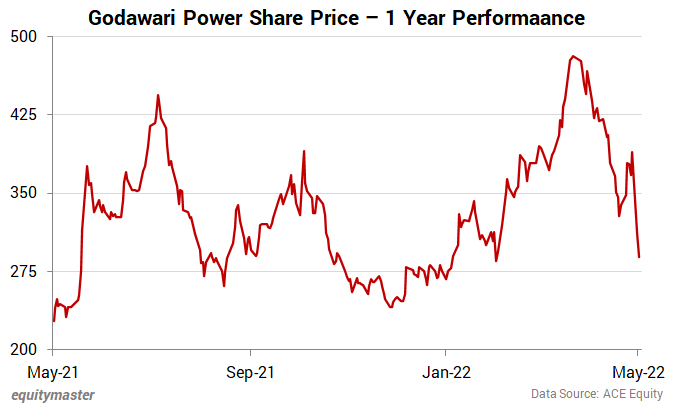 The current market capitalisation of Godawari Power stands at Rs 41,451.9 m.
About Godawari Power
Godawari Power & Ispat (GPIL) is a public limited company that is part of the Hira Group of Industries in Raipur. It was formerly known as Ispat Godawari Ltd (IGL).
The company was incorporated on 21 September 1999 to set up an integrated steel plant with captive power generation. GPIL is listed on the National Stock Exchange and Bombay Stock Exchange.
The company manufactures sponge iron, steel billets, ferroalloys, HB wires, oxygen, and fly ash bricks, and is also involved in the power business.
It has a presence of more than two decades in the steel business and is backed by the strong expertise of the promoter.
For more details about the company, you can have a look at the Godawari Power factsheet and its latest quarterly results on our website.
Happy investing.
Disclaimer: This article is for information purposes only. It is not a stock recommendation and should not be treated as such. Learn more about our recommendation services here...