Why HEG Share Price is Falling
May 24, 2023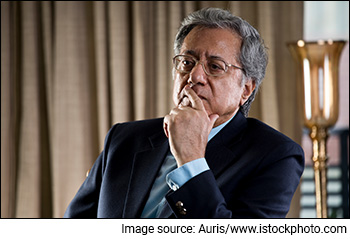 Snakes and Ladders is a very unpredictable game.
In just a few rolls of dice you could be climbing high up on top because of ladders and in the next few rolls, you could be right back to where you started because of snakes.
The unpredictable nature of Snakes and Ladders is quite similar to a company's share price movement. One moment a company's share price could be rallying high because of positive market sentiment and in the very next moment it can come tumbling down driven by negative market sentiment.
Yesterday, HEG investors experienced this unpredictability. Lately, HEG share price was on an upward trend. However, the trend changed yesterday as it took a sharp hit of more than 7%.
Read to know why the upward trend changed.
#1 Poor quarterly performance
On 22 May 2023, HEG announced disappointing quarterly results.
The company's profit after tax came in at Rs 832.3 million (m) in Q4 of the financial year 2023. This is 21.2% lower compared to Rs 1,132.5 m reported in the corresponding period of the last year.
For the quarter under review, total revenue came in at Rs 6,482.3 m, down 6.1% YoY.
For Q4 its net profit margin fell to 13.8%, down 2.6% compared to a YoY basis.
HEG Quarterly Financial Performance
| Particulars | Q4 FY22 | Q4 FY23 | YoY de-growth |
| --- | --- | --- | --- |
| Total Revenues (Rs in m) | 6,904.6 | 6,482.3 | -422.3 |
| Profit after tax (Rs in m) | 1,132.5 | 892.3 | -240.2 |
| Profit margin (%) | 16.4 | 13.8 | -2.6 |
Source: Equitymaster
The company manufactures electric furnaces that is used to produce steel. Decreasing steel demand across the globe led to fall in demand for electric furnace. Hence, a company's revenues slid.
Along with low demand, rising input cost took and low capacity utilisation a toll on company's profitability.
What next?
The company's quarterly financial figures are negative but the overall performance of the company during the whole financial year was good.
In the financial year 2023, the company's sales stood at Rs 25,763.8 m up by 12.9% on a YoY basis. The profit for the said financial year was up by 16.6% compared to the last financial year.
The company's profit margins also improved marginally on a YoY basis.
HEG Annual Financial Performance
| Particulars | FY22 | FY23 | YoY growth |
| --- | --- | --- | --- |
| Total Revenues (Rs in m) | 22,811.6 | 25,763.8 | 2,952.2 |
| Profit after tax (Rs in m) | 3,905.8 | 4,555.1 | 649.3 |
| Profit margin (%) | 17.1 | 17.7 | 0.6 |
Source: Equitymaster
Improving financial performance amid a challenging market environment indicates a strong market presence of the company.
Along with decent financial performance, the management expects the company to do well in the medium to long term on the back of multiple factors.
The company's raw material price may soften a bit due to lower demand from the electrode industry and abundant availability of coke due to the slowing down of off-take by all the major graphite producers.
The company is also diversifying into graphite anode for lithium-ion cells, which form the battery for electric vehicles and energy storage systems. Given that it's the first such plant coming into the country, the management sees a huge opportunity here in the long term.
The company has already incorporated a wholly-owned subsidiary of HEG in the name of TACC for this new business. The board has approved a budget of Rs 10 billion (bn) for setting up a manufacturing facility of 10,000 tons of anodes per annum in Phase 1, which should be in operation by Q2 of the calendar year 2025.
At present, cells and battery packs are all imported into India, and soon there will be a huge domestic demand for graphite anode as cell manufacturing shifts to India. There is good potential for this business in the next three to five years as more-and-more EVs are manufactured in India.
The company is extensively working on capacity utilisation. By 31 December 2022, the company had already incurred a capex of Rs 10 bn out of the total capex of Rs 12 bn planned for financial 2023.
It had planned to establish 5 new production facilities in the financial year 2023. Four out of these five were already operating by December 2022.
The company's biggest challenge will be demand recovery because steel demand around the globe is quite low. Europe is one of the company's key exporting markets. Recessionary fears revolve around Europe which may make hurt the company's sales once again.
How HEG share price has performed recently
In the past five days, HEG's share price fell by 8.3%. On a YTD basis, it gained 5.5%.
In the past one year, it is up 8.9%.
HEG shares touched a 52-week high of Rs 1,378 on 19 August 2022 and a 52-week low of Rs 558.6 touched today on 891.2 on 20 June 2022.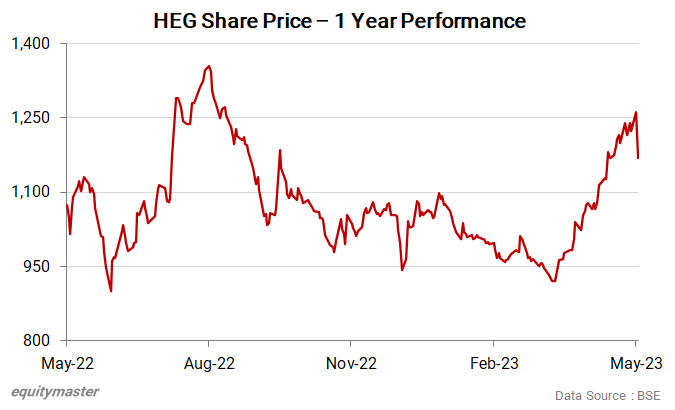 About HEG
HEG was incorporated 1972 as Hindustan Electro-Graphites. The company is among the leading graphite electrode manufacturer in India. The company owns one of the largest integrated graphite electrode plants in South-East Asia that processes sophisticated ultra-high power electrodes.
HEG is a flagship company of LNJ Bhilwara group. HEG exports over 80% of its production to more than 25 countries that includes USA, Canada, Germany, France, Italy, Australia, and South Korea.
The company has clientele including majors such as ArcelorMittal, Posco, ThyssenKrupp, US Dynamics, Nucor, Severstal, and Usinor to name few.
To know more about the company, check out the HEG fact sheet and quarterly results on our website.
You can also compare HEG with its peers:
Disclaimer: This article is for information purposes only. It is not a stock recommendation and should not be treated as such. Learn more about our recommendation services here...