Ramco Cements Q4 Profit Up 51.1% on Higher Sales & Better Cost Control
May 25, 2021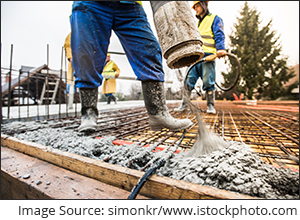 The Ramco Cements on Monday reported 51.1% rise in consolidated net profit at Rs 2.2 bn for the fourth quarter ended 31 March 2021.
This was mainly due to the growth in sales. It had posted a net profit of Rs 1.4 bn in January-March 2019-20.
The company reported 29.7% rise in consolidated net profit to Rs 7.8 bn for the year ended 31 March 2021 from Rs 6.1 bn in the previous financial year.
On a standalone basis, profit before tax (PBT) in Q4 FY21 stood at Rs 3.5 bn, up by 87.3% from Rs 1.9 bn in Q4 FY20.
Ramco Cements reported 46.7% jump in standalone net profit to Rs 2.1 bn for the quarter under review, compared to Rs 2 bn in FY20.
For the fiscal year ended 31 March 2021, the net profit was up 26.7% at Rs 7.6 bn. It was Rs 6 bn in the previous year.
Operational Overview
Ramco Cements reported 17.2% year-on-year (YoY) growth in consolidated revenues for the March-21 quarter at Rs 16.3 bn.
On a sequential basis, the total sales revenue was up 21.6% compared to total revenue in the December-20 quarter at Rs 13.4 bn.
The cement producer witnessed good traction in cement volumes as well as price realisation in the quarter.
--- Advertisement ---
This is a Powerful Mega Trend Playing Out in India

We have uncovered a powerful mega trend that is playing out in India right now.

It could potentially generate immense wealth for early movers.

Our co-head of research Tanushree Banerjee has also zeroed in on one specific stock riding this mega trend.

It's her #1 stock pick right now.

And she believes, this could be one of the top stocks to get to potential Rs 7 crore wealth over the long term.

Tanushree will reveal all the details about this mega trend and her #1 stock at her special online event on July 29.

At the event Tanushree will also show you, how to potentially accumulate Rs 7 crore in wealth over the long term.

What you learn at the event could possibly change your financial fortunes forever.

Click here to reserve your FREE seat.
------------------------------
During the quarter ended 31 March 2021, the sale of cement for the company stood at 3.2 million tons (MT), compared to 2.9 (MT) in the corresponding period of the previous year with a growth of 10%.
Earnings before interest, taxes, depreciation and ammortisation (EBITDA) for the quarter ended 31 March 2021 was Rs 4.6 bn against Rs 2.9 bn during the previous corresponding period with an increase of 58% due to improved margins and increase in sale volumes.
Blended EBIDTA per ton for Q4FY21 was Rs 1,428 as against Rs 991 in Q4 FY20.
Operating ratio for the quarter ended 31 March 2021 was 28% as against 21% in the previous corresponding period.
Total expenses were at Rs 1.3 bn in the quarter as against Rs 1.2 bn in March quarter of 2019-20.
The operating performance was achieved through better cost controls. While revenues were up by 17.2% YoY, operating costs were up by just about 6.3% as the company-initiated cost control measures which sharply brought down the miscellaneous expenses category contribution in the March-21 quarter.
Debt Profile of the Ramco Cements
The company's gross debt as on 31 March 2021 came in at Rs 31 bn, out of which Rs 2.2 bn is soft or interest-free debt.
The net debt to EBIDTA is 1.9 times as on 31 March 2021 as against 2.5 times in the previous year.
Free Signup: The Smallcap Revival Summit
Ramco Group to Commission Four New Oxygen Generators in 4-6 Weeks
The cement company is helping other states in their fight against the pandemic by distributing high-end medical equipment, comprising monitors, oxygen concentrators, pulse oximeters and ventilators.
Ramco Cements plans to commission four new medical oxygen generators. Already, one oxygen generator has become functional.
The five oxygen generators would cost Rs 50 m and would be able to fill 800 oxygen cylinders. The oxygen cylinders would be distributed to government hospitals in the state.
In a press release, the company said it had installed one oxygen generator in Virudhunagar district, which was inaugurated on 14 May, and planned to add similar facilities in Madurai, R.R. Nagar at Virudhunagar, and two in Ariyalur district, including at Alathiyur.
The four generators would be commissioned within four to six weeks, the release added.
That apart, Ramco Cements said that the expansion projects in Jayanthipuram and Kurnool are delayed due to pandemic caused by Covid-19.
In both the project sites, the availability of manpower was disrupted intermittently since last 14 months.
The clinkering unit of 1.5 million tons per annum (MTPA) in Jayanthipuram is expected to be commissioned during Q1 of FY22, while the clinkering unit of 2.3 MTPA in Kurnool is expected to be commissioned during Q2 of FY22.
During the FY 2020-21, the company has incurred Rs 17.7 bn towards capex, including for the above-mentioned ongoing capacity expansion program, out of which a sum of Rs 6 bn were incurred during the quarter ended 31 March 2021.
Market Size of India's Cement Sector
Cement production reached 329 MT in FY20 and is projected to reach 381 MT by FY22.
However, the consumption stood at 327 MT in FY20 and will reach 379 MT by FY22.
As India has a high quantity and quality of limestone deposits through-out the country, the cement industry promises huge potential for growth.
Equitymaster's Technical View on the Cement Sector
We reached out to Brijesh Bhatia, Research Analyst at Equitymaster, and Editor of the premium monthly recommendation service Fast Profits Report, for his technical view on the cement sector.
Here's what he has to say...
The financial market was hit in March 2020 by lockdown and by March 2021, they are up by 100% from the lows.
Cement sector outperformed and most of the cement stocks are up by 100% from the lows.
The demand in cement is largely lead by government spending on infrastructure and real estate.
The commercial office been vacant with work-from-home culture and new housing projects been stalled, can still the cement sector rally from current levels?
We created an Equal Weighted Cement Index (EWCI) chart using cements stocks with market cap over 10,000 crores and compared it with Nifty Realty Index.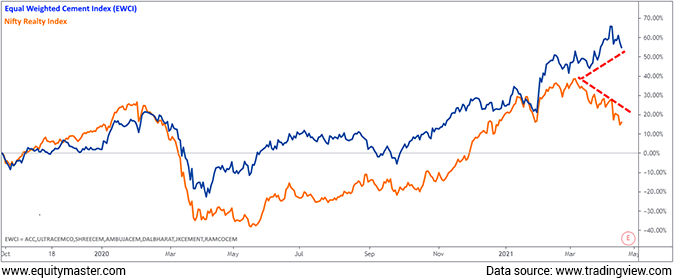 Since the lows in March 2020, EWCI and realty index rallied in a same manner.
But since March 2021, we are witnessing divergence between the two sectors (marked red) where cement stocks are trading near high and realty stocks are underperforming against cement stocks.
To check the future outperformance of cement stocks, we compared EWCI with Nifty.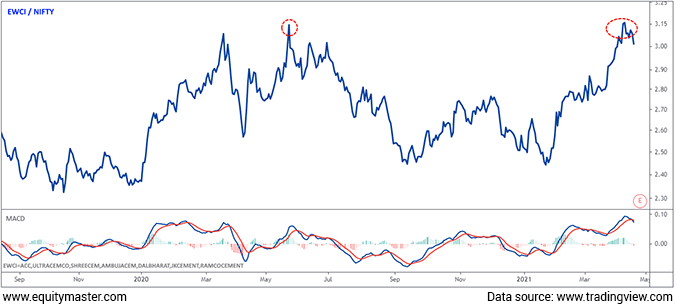 The ratio chart of EWCI Index vs Nifty above is indicating profit bookings can be on cards for cement stocks and it has reversed from the similar highs made in June 2020.
The negative crossover of averages on Moving Average Convergence Divergence (MACD) supports an underperformance of EWCI over Nifty.
How the Stock Markets Reacted to Ramco Cements Q4FY21 Numbers Today
Shares of Ramco Cements opened the day at Rs 974 on the BSE and Rs 972.6 on the NSE.
At the time of writing, the company's shares were trading down by 1.8% on the BSE.
At its current price, it is trading at a P/E of 22.1.
The share touched its 52-week high of Rs 1,120 and 52-week low of Rs 570 on 9 April 2021 and 25 May 2020, respectively.
Over the last 30 days, the Ramco Cements share price is down 0.9%. Over the last one year, the company's share price is up 71.9%.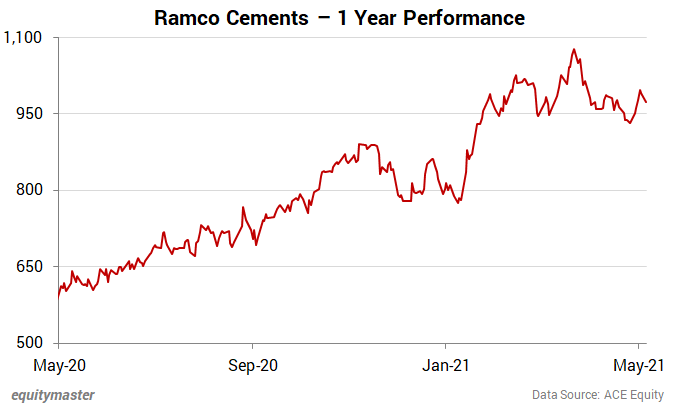 About Ramco Cements
Ramco Cements formerly known as Madras Cements (MCL) is the flagship company of the Ramco group.
It is a major player in the blended cement category in south India. Ramco Cements is the fifth largest cement producer in the country.
The main product of the company is Portland cement manufactured in eight state-of-the art production facilities that include integrated cement plants and grinding units with a current total production capacity of 16.5 m MTPA with 10 manufacturing facilities across India.
The company has been the forerunner in promoting blended cements from 1997 and it caters mainly to the domestic markets.
The company is also engaged in sale of surplus electricity generated from its windmills and thermal power plants after meeting its captive requirements.
For more details about the company, you can have a look at Ramco Cements factsheet and quarterly results on our website.
You can also compare Ramco Cements with its peers.
Ramco Cements vs Ambuja Cements
Ramco Cements vs JK Lakshmi Cement
To know what's moving the Indian stock markets today, check out the most recent share market updates here.