Container Corporation Shares Hit Record High. Why Are Investors Excited?
May 25, 2021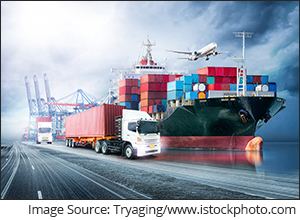 Shares of Container Corporation extended recent gains and hit a new 52-week high of Rs 664.50 after the company reported strong revenue performance for the March quarter (Q4FY21).
The stock of the state-owned company, engaged in transport related services business, surpassed its previous 52-week high of Rs 644, touched yesterday.
It had hit a record high of Rs 665 on 1 October 2019.
Key Highlights
Last week on Friday, the company reported a 24% year-on-year (YoY) growth in standalone revenues at Rs 19.4 bn, led by volume growth of 13%.
On a consolidated basis, it reported 23.5% rise in revenues at Rs 19.6 bn.
Net profit dipped sharply by 92% on the back of higher operating costs as well as Rs 0.8 bn written off as exceptional item in the quarter.
Net profit fell to Rs 249.7 m as against a profit of Rs 3.2 bn in the year-ago period.
The company saw a sharp spike in operating expenses which led to negative EBITDA on the domestic container business and a sharp fall in the international container business.
The spike in the operating costs was a key reason for the fall in operating profits on a yearly basis.
Expenses stood at Rs 19.1 bn as compared to Rs 12.6 bn a year earlier.
Here's a table comparing Concor's consolidated financials, on key parameters.
Container Corporation Financial Performance
| (Rs m) | Q4FY21 | Q4FY20 | Q3FY21 | YoY (%) | QoQ (%) |
| --- | --- | --- | --- | --- | --- |
| Revenue | 19,567 | 15,843 | 17,670 | 23.50% | 10.70% |
| Total expenses | 19,119 | 12,576 | 15,460 | 52.00% | 23.70% |
| Profit after tax | 250 | 3,166 | 2,331 | -92.10% | -89.30% |
Data Source: Company Filings
For the full financial year FY21, the company's consolidated profit rose 23% to Rs 5 bn against Rs 4.1 bn in 2019-20.
The company's board recommended a final dividend of Rs 2 for the year FY21.
LLF Issue With Indian Railways Resolved; Company Eyes Disinvestment
In a conference call, the company's management said that it has resolved the land licensing fee (LLF) issue with the Indian railways.
Till the financial year 2019-20, the company was paying LLF to the railways on the railway land leased to it based on number of twenty foot equivalent units (TEUs) handled.
However, Ministry of Railways, had communicated that the LLF applicable on the railway land shall now be charged w.e.f. 1 April 2020 as per extant policy of railways i.e. at 6% of the value of land.
Accordingly, the company paid an amount of Rs 5.2 bn to Indian railways in current financial year.
The company's chairman and managing director, V Kalyana Rama, said they expect LLF of Rs 4.5 bn this financial year.
The LLF issue became important last year when the ministry of railways slapped a higher fee of Rs 12.8 bn for 13 terminals. This was much higher than company's estimates of about Rs 4.7 bn.
The confusion was also seen as a roadblock to the company's disinvestment plans. However, analysts said that with the LLF issue behind, the company is closer to disinvestment.
Plans to Purchase Terminals
Container Corporation is working on an alternative plan with the Indian Railways to purchase the 24 terminals where it operates on Indian railway land for a period of 35 years at 99% of the current market price.
The management expects this to cost the company around Rs 60-70 bn and is likely to be funded by a mix of cash from its books of around Rs 25 bn and external debt.
Several Brokerages Raise Target Price
After the company gave clarity on LLF and positive guidance of management, several brokerage houses have raised expectations from the stock.
Nomura raise the target price saying the key LLF issue is largely resolved, which will pave the way for divestment.
It added that the 35-year lease will lead to initial cash outflow but eliminate uncertainties.
Other brokerages which have raise target prices include Credit Suisse, Goldman Sachs, and Motilal Oswal.
Equitymaster's View on the Logistics Industry
Here's what Tanushree Banerjee, Co-Head of Research at Equitymaster, and editor of the premium stock recommendation service StockSelect, wrote about the logistics industry in an edition of Profit Hunter.
Investors are falling head over heels to get a share of the vaccine-led logistics megatrend.

Get this right.

India's need for logistics infrastructure is NOT just about transporting vaccines all over the country.

The vaccination program should be executed within two years, hopefully.

But India will need a modern and solid logistical infrastructure for decades beyond that.

In fact, the farm reforms, even after any amendments, could bring tremendously benefits from good warehousing and logistics.

So, logistics is certainly a Rebirth of India megatrend.

And it is a megatrend that would last decades if India is to become a global supply chain hub.
How the Stock Markets Reacted to Container Corp's Q4FY21 Numbers
Container Corporation declared results last week on Friday post market hours.
Stock of the company zoomed 10% on Monday as several brokerages raise target prices and as the company resolve LLF issue with the Indian Railways.
Continuing the rally, Container Corporation share price surged 7% today.
Container Corporation has a 52-week high quote of Rs 678, touched today and a 52-week low quote of 340 touched on 27 May 2020.
Over the past one year, shares of the company have gained 81%.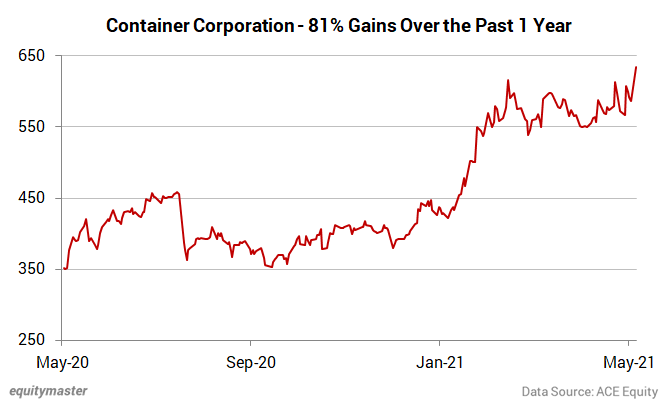 At its current price of Rs 669, it is trading at a P/E of 52.
About Container Corporation
Container Corporation of India was incorporated on 10 March 1988 and commenced operation from November of the year 1989 taking over the existing network of 7 Inland Container Depots (ICDs) from the Indian Railways to profitably satisfy the customer's needs for high-quality cost-effective logistics services.
It's an undisputed market leader with the largest network of 79 ICDs/ CFSs in India offering scheduled and on demand rapid rail and road services between the hinterland and ports and between major metros.
In addition to providing inland transport by rail for containers it has also expanded to cover management of ports, air cargo complexes, and establishing cold-chains.
It has and will continue to play the role of promoting containerisation of India by virtue of its modern rail wagon fleet customer friendly commercial practices and extensive use of information technology.
The company developed multi-modal logistics support for India's international and domestic containerisation and trade.
For more details about the company, you can have a look at Container Corporation factsheet and quarterly results on our website.
You can also compare Container Corporation with its peers.
Container Corp vs Gateway Distriparks
Container Corp vs Sical Logistics
Container Corp vs Blue Dart Express
And to know what's moving the Indian stock markets today, check out the most recent share market updates here.