Lux Industries Stellar Results Puts Stock in Focus
May 26, 2021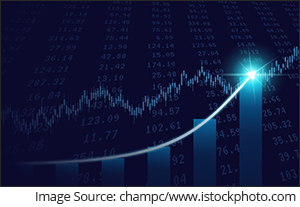 Shares of hosiery producer Lux Industries soared as much as 17% to hit a new high of Rs 2,777.5 per share on the BSE in intra-day trade today.
This after the company reported net profit had more than doubled for the March quarter.
Lux Industries is India's largest hosiery producer and exporter and the stock has delivered over 200% return in the last one year.
Financial Highlights
The company clocked a net profit of Rs 906.4 m for the quarter ended 31 March 2021 against Rs 418.6 m reported for the same quarter a year ago.
For the full fiscal year 2021, the company posted a net profit of Rs 2.7 bn, up 52% as against Rs 1.8 bn in the previous year.
Operational Performance
Consolidated revenue from operations of the company stood at Rs 6 bn for the quarter under consideration. It was Rs 4 bn in the year-ago period.
For the financial year ended March 2021, the company's consolidated revenue from operations was Rs 19.6 bn. It was Rs 16.7 bn in the preceding fiscal year.
--- Advertisement ---
Replay Available: The Great Indian Wealth Project

Watch Tanushree Banerjee reveal the details of first stock to potentially accumulate Rs 7 crore long-term wealth.




Watch Now
------------------------------
The company's consolidated earnings before interest, tax, depreciation, and amortisation (EBITDA) in the quarter rose 95% year on year (YoY) to Rs 1.3 bn, compared to Rs 660.8 m recorded in the last year.
For the full fiscal year 2021, EBITDA stood at Rs 3.9 bn, up 43%, compared to Rs 2.8 bn reported in the previous financial year.
The company maintained a healthy EBITDA margin of 21.5% and profit after tax (PAT) margin of 15.1% during the quarter.
Higher EBITDA margins were on account of an increased share of value-added products and overall cost efficiency measures, including advertisement expenditure.
Key Financial Indicators

During the FY 2021, company has generated an operating cash flow of Rs 3.9 bn out of which around Rs 660 m has been used for capex and around Rs 1.1 bn to repay the borrowings, on the closing date the company is net cash positive by Rs 1.4 bn.
The company's gross cash and cash equivalent stood at Rs 2.6 bn.
Its working capital days reduced to 122 days as compared to 160 days; a significant improvement by 38 days over last year fiscal year 2020.
Lux Industries prudent financial decisions has helped to reduce their debt and become a net cash company.
Considering the current pandemic situation, the board of directors of the company has decided to conserve cash and postponed the decision to declare any dividend for the financial year ended 31 March 2021.
Watch the Replay: The Smallcap Revival Summit
Looking at how the pandemic situation will evolve the board of directors would consider rewarding the shareholders in due course of time.
The company is also accelerating its growth driver via way of new expansions to capture the market share i.e. women's as well as kids segment and also to have a presence in southern part of India.
Online and exclusive brand outlets (EBOs) are the new offerings which will again help to accelerate and achieve the company's vision.
Lux Industries Capex Plan for FY22
In anticipation of the improving demand and making themselves future-ready, the company has announced a greenfield expansion with a capex of Rs 1.1 bn.
They have already identified a land parcel with a construction area of around 4.6 lakh square foot, around 20% to 30% will be used for manufacturing units and balance for warehousing, storage, and finishing facilities.
With this investment, the management is expecting the company to generate an incremental sale of around Rs 4 bn.
Managements' Overview on Company's Q4 Performance
The management said the performance has been driven by progressive improvement in demand and consumption across the innerwear industry.
The company witnessed healthy traction for economy and mid-premium categories and saw a gradual pickup in premium and export segment.
However, the management expects the April-June quarter (Q1FY22) to be relatively weak due to the pandemic and expect to improve gradually from the second quarter.
The economic recovery will be back on track in the next few months as the company had witnessed in Q2 and Q3 of FY21, the management said.
Commenting on the results, Mr Pradip Kumar Todi, Managing Director said,
I am glad to share that during Q4 FY21 we have completed the merger of J. M. Hosiery & Co. Limited (JMHL) and Ebell Fashions Private Limited (EFPL) with the Company.

The merger of these two companies with Lux Industries will strengthen our presence across geographies and product categories and bring in a lot of operational and financial synergies.

Our company has posted robust performance for the year ended 31% March 2021 despite Covid-19 Pandemic induced challenges. Also, with the completion of merger, we have reported the merged financials for FY21 as well as FY20.

We also continue to endeavour healthy profitability ratios by focusing on better product mix and rational cost optimisations.

For the year gone by our advertising expenses stood at Rs 1.1 bn which is approximately 5.4% of total income in line with our guidance of 4%-5% of our revenue.

We expect to gradually reinstate it back to 7-8% of our revenue from the current financial year.
Equitymaster's View on Lux Industries
We reached out to Richa Agarwal, Senior Research Analyst at Equitymaster, and Editor of the smallcap service, Hidden Treasure, for her view on the company.
Here's what she has to say -
Innerwear industry is poised for respectable growth with rising middle class, urbanisation.

The competitive intensity in the industry remains high with unorganised segment dominating with 60%-65% share.

We expect share of organised players to go up due to their better ability to adapt to changing technology and consumer behaviors.

Lux Industries is well positioned within the organised sector because of its strong distribution network and brand value.

That said, historically, the receivable days in the business have been much higher as compared to peers like Page Industries, and that has blocked money in the working capital.
How the Stock Markets Reacted to Lux Industries Q4FY21 Numbers Today
Shares of Lux Industries opened the day at Rs 2,477.3 on the BSE and Rs 2,475 on the NSE.
Lux Industries share price closed at Rs 2,689.8 (up 16.2%) on the BSE and Rs 2,715.8 (up 17.5%) on the NSE.
At its current price, it is trading at a P/E of 46.
The share touched its 52-week high of Rs 2,777.5 and 52-week low of Rs 886.1 on 26 May 2021 and 26 May 2020, respectively.
Over the last 30 days, the Lux Industries share price is up 37.2%. Over the last one year, the company's share price is up 178.8%.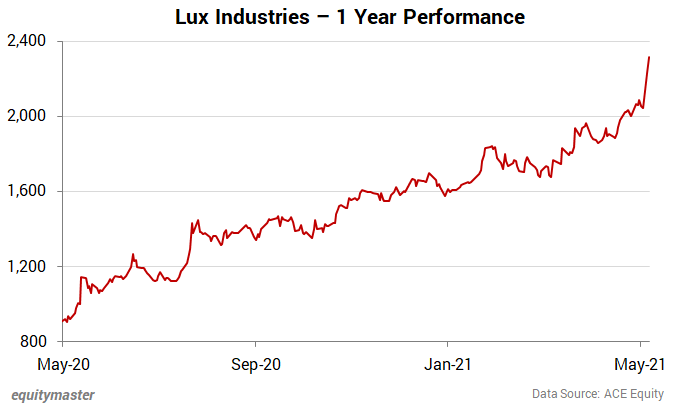 About Lux Industries
Lux Industries, incorporated in 1995 is one of the largest players in the hosiery business having a market share of approximately more than 15% of the organised men's innerwear industry.
Products include men's, women's, and kids' innerwear, winterwear, socks, and slacks for women in varied colours and designs.
The company has 5,000 stock-keeping units (SKU's) under various brands and sub brands of LUX.
With focus on growing exclusive retail outlets and in providing customers with a seamless buying experience, the company's products are available in 4.5 lakh retail points spread across India.
LUX has a presence across the globe with exports to 46 plus countries.
For more details about the textiles sector, you can read the textiles sector report on our website.
To know what's moving the Indian stock markets today, check out the most recent share market updates here.