Thermax Q4 Earnings Beat Forecasts. Stock Zooms 8%
May 26, 2021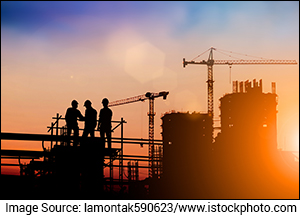 Engineering company Thermax on Tuesday reported a three-fold rise in its consolidated net profit to Rs 1.1 bn for the March quarter.
In the year ago period, the consolidated net profit was Rs 390.3 m.
The stellar growth in bottomline was mainly on the back of higher revenues.
Thermax's net revenues rose to Rs 16.1 bn in the March quarter (Q4FY21) from Rs 13.5 bn in the year ago period.
On a sequential basis, total revenues were up by 11.6%.
Here's a table comparing Thermax's financials on key parameters.
Thermax Financial Performance
| (Rs m) | Q4FY21 | Q4FY20 | Q3FY21 | YoY (%) | QoQ (%) |
| --- | --- | --- | --- | --- | --- |
| Total Revenue | 16,103 | 13,537 | 14,388 | 19.0% | 11.9% |
| Total expenses | 14,700 | 12,951 | 12,977 | 13.5% | 13.3% |
| Profit before tax | 1,404 | 586 | 1,132 | 139.6% | 24.0% |
| Tax expenses | 330 | 196 | 300 | 68.4% | 10.0% |
| Profit after tax | 1,074 | 390 | 832 | 175.4% | 29.1% |
Data Source: Company Filings
FY21 Profit Sees Marginal Dip
For the full fiscal 2020-21, Thermax's consolidated net profit came in at Rs 2,065.8 m as against Rs 2,124.5 m in the previous financial year.
Total revenues were reported at Rs 49 bn, compared to Rs 58.3 bn in 2019-20.
In FY21, the company's cash from operation rose to Rs 7.7 bn from Rs 3.3 bn a year ago. Net cash position improved to Rs 17.5 bn from Rs 10.6 bn in the last fiscal.
Its board recommended a dividend of Rs 7 per equity share of Rs 2 each for 2020-21.
--- Advertisement ---
Replay Available: The Great Indian Wealth Project

Watch Tanushree Banerjee reveal the details of first stock to potentially accumulate Rs 7 crore long-term wealth.




Watch Now
------------------------------
Strong Growth Across All Segments
Thermax witnessed strong growth across all its three principal verticals viz. energy solutions, environmental solutions and chemicals.
Energy solutions contributed the most to the EBITDA. The bottomline was impacted because of tripling of EBITDA of the energy solutions business.
The growth in EBITDA contribution of the chemicals and environmental solutions business was smaller.
Energy Segment: Large boilers and heater business booked 100% green order for the second consecutive quarter.
It was a strong quarter for packaged boiler business as company received first order from Turkey.
Moreover, Thermax reported highest quarterly output across manufacturing plants in the year.
Chemical Segment: Chemical segment continued its strong performance with a 22% growth.
Specialty resins saw a growth of 25.4% in Q4 and 62.8% annually, owing to strong demand from USA and Europe markets.
Thermax's construction chemicals business received brand approval to supply chemicals for a government infrastructure project in Gujarat.
Solar Segment: Thermax announced an agreement with Power Roll, a developer of unique, low-cost and lightweight flexible solar film, to develop the market for solar films in India.
Watch the Replay: The Smallcap Revival Summit
Order Book Status
Thermax order book was strong at Rs 15 bn compared to Rs 9.5 bn last year. This was aided by broad based industrial recovery.
Note that order inflows improved after declining for previous three quarters.
Q4 Order Book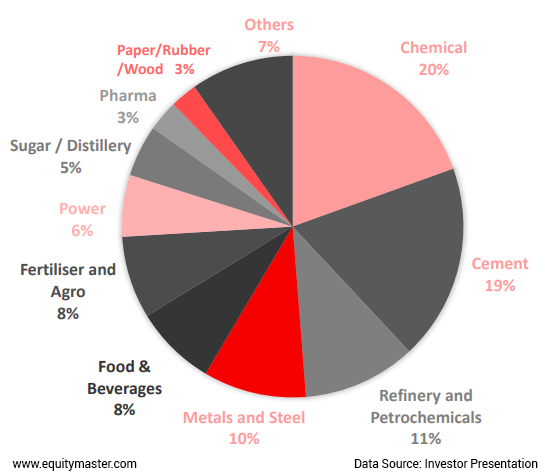 The company said order booking across segments has exceeded pre-covid levels.
However, it added that the outlook seems clouded due to the second wave.
Summary By Segment

Thermax's Outlook on Engineering Sector
Thermax said relapse of Covid-19 cases in India and South-East Asia are posing risks.
Post the impact of the pandemic, US, UK and Europe markets are expected to grow in the coming quarters.
It added that commodity costs are on an increasing trend. Inputs raw material costs to chemical has witnessed a surge.
On the projects, Thermax said project completions will be delayed due the lockdown in some regions and may impact new investments.
India's PMI for manufacturing dropped in March to 55.5 from 57.5, which is still considered good, but second wave is a key risk.
Equitymaster's View on the Engineering Sector...
We reached out to Tanushree Banerjee, Co-Head of Research at Equitymaster, and editor of the premium stock recommendation service StockSelect, for her view on the engineering sector.
Here's what she said:
Leading engineering stocks like L&T, Siemens and Cummins have seen a sharp run up over the past few months.

This optimism is backed by expectations of strong recovery in the capital goods cycle, India's revival and the post Covid recovery of corporate India is heavily dependent on new demand.

The government has tried to stoke such demand with PLI (production linked incentive) schemes.

To say this has worked would be an understatement.

MNCs like Apple, Samsung, Dell and Foxconn are all lining up to set up capacities in India.

India's cab service provider Ola is all geared up to become the largest electric 2-wheeler maker in the world.

Indian companies are bagging contract manufacturing deals from global behemoths.

So the demand for new infrastructure and expected growth in contracts for engineering sector is expected to keep the sector in favour in the near term. Over time, the execution rate and quality of balance sheet will matter.
How the Stock Markets Reacted to Thermax's Q4FY21 Numbers
Shares of Thermax surged 8% in early traded today after the company reported robust results.
Thermax share price has a 52-week high quote of Rs 1,550 touched earlier this month on 7 May. It has a 52-week low quote of 703.25 touched on 12 June 2020.
The stock rose to as much as Rs 1,527 today, just 3% shy of its 52-week high.
Over the past one year, shares of the company have almost doubled.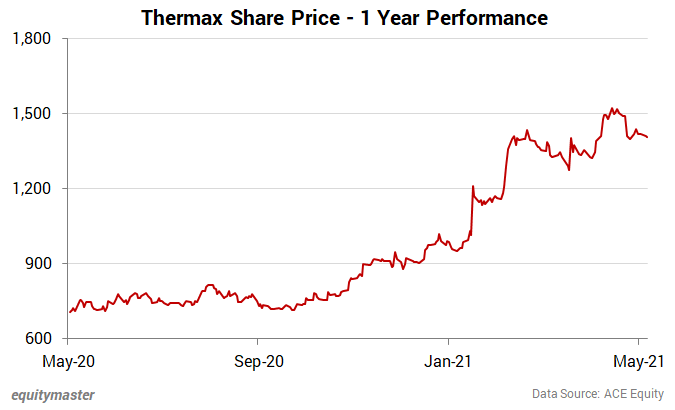 At its current price of Rs 1,484, it is trading at a P/E of 128.
About Thermax
Headquartered in Pune India, Thermax provides integrated innovative solutions in the areas of heating cooling power water and waste management air pollution control and chemicals.
Thermax has manufacturing facilities in India China Europe and South East Asia. The sustainable solutions Thermax develops for client companies are environment-friendly and enable efficient deployment of energy and water resources.
Thermax is one of the few Indian companies that has sourced supercritical technology to build boilers for mega power plants.
Thermax also harnesses solar energy to support its clients in their heating cooling and power generation requirements.
The company's international presence spans 86 countries across Asia Pacific Africa and the Middle East CIS countries Europe USA and South America.
It has 5 wholly owned domestic subsidiaries 20 wholly owned overseas subsidiaries and 2 joint ventures. Thermax came to business on 30 June 1980.
For more details about the company, you can have a look at Thermax factsheet and Thermax quarterly results on our website.
For a sector overview, you can read our engineering sector report.
You can also compare Thermax with its peers.
To know what's moving the Indian stock markets today, check out the most recent share market updates here.