Godawari Power and Ispat Shares Surge 9% on Massive Jump in Profit
May 26, 2021
Shares of Godawari Power and Ispat rallied over 9% intra-day after the company reported a multifold jump in March quarter earnings driven by higher revenues.
Financial Outcomes
Godawari Power and Ispat (GPIL) on Tuesday posted a multifold jump in consolidated net profit at Rs 3 bn for March quarter 2020-21, mainly on the back of higher revenues.
The company's net profit in the year-ago period was Rs 342.2 m.
The net profit of the company in 2020-21 also rose to Rs 6.2 bn from Rs 1.7 bn in the previous year.
Its profit before tax (PBT) in Q4 FY21 stood at Rs 4.6 bn, up from Rs 684 m in Q4 FY20.
For the full year, the company's PBT stood at Rs 10.8 bn, up from Rs 2.8 bn recorded in the financial last year.
On a standalone basis, net profit came in at Rs 3 bn, up from Rs 270 m in the previous fiscal year.
The company's standalone net profit for the year ended 2021 was at Rs 6.1 bn, up from Rs 1.2 bn in last year.
--- Advertisement ---
This is a Powerful Mega Trend Playing Out in India

We have uncovered a powerful mega trend that is playing out in India right now.

It could potentially generate immense wealth for early movers.

Our co-head of research Tanushree Banerjee has also zeroed in on one specific stock riding this mega trend.

It's her #1 stock pick right now.

And she believes, this could be one of the top stocks to get to potential Rs 7 crore wealth over the long term.

Tanushree will reveal all the details about this mega trend and her #1 stock at her special online event on July 29.

At the event Tanushree will also show you, how to potentially accumulate Rs 7 crore in wealth over the long term.

What you learn at the event could possibly change your financial fortunes forever.

Click here to reserve your FREE seat.
------------------------------
Operational Performance
Godawari Power and Ispat reported 60% year on year (YoY) growth in consolidated sales revenues for the March quarter at Rs 12.6 bn as against Rs 7.9 bn for the same period a year ago.
Net revenue from operations for the last fiscal year 2021 rose to Rs 40.7 bn as against Rs 32.9 bn in 2019-20.
The company's consolidated earnings before interest, tax, depreciation, and amortisation (EBITDA) in the quarter rose 219% YoY to Rs 4.9 bn, compared to Rs 1.5 bn recorded in the last year.
For the full fiscal year 2021, EBITDA stood at Rs 12.3 bn, up 95%, compared to Rs 6.3 bn reported in the previous financial year.
Total expenses for the quarter stood at Rs 7.7 bn, up 22% compared to Rs 6.3 bn reported in the previous year.
Key Financial Indicators
| Particulars (Rs in bn) | Q4FY21 | Q4FY20 | Growth | FY21 | FY20 | Growth |
| --- | --- | --- | --- | --- | --- | --- |
| Revenue from operations | 12.6 | 7.9 | 60% | 40.7 | 32.9 | 24% |
| EBITDA | 4.9 | 1.5 | 219% | 12.3 | 6.3 | 95% |
| Profit Before Tax (PBT) | 4.6 | 0.7 | 569% | 10.8 | 2.8 | 285% |
| Profit After Tax (PAT) | 3 | 0.3 | 789% | 6.2 | 1.7 | 258% |
Data Source: Investor Presentation
Equity Dividend
The company's board recommended a final dividend of Rs 13.5 per equity share of Rs 10 each for 2020-21 in addition to interim dividend of Rs 5 per equity share of Rs 10 each.
The Debt Profile
The company's long term gross debt (standalone) reduced from Rs 10.6 bn to Rs 4.6 bn, further reduced to Rs 1.9 bn as on 25 May 2021.
Godawari Power and Ispat reported its net debt to equity was at 0.4x from 1.1x in FY20.
It also reported lower interest cost at 8%, compared to 11% in FY20. The company is also planning to be long term debt free by FY22.
Free Signup: The Smallcap Revival Summit
Godawari Power and Ispat to Set Up a Captive Solar Power Plant
The company's board of directors has also approved a proposal to set up a captive solar photovoltaic (PV) power plant of 250 megawatt (MW) capacity in Raigarh district of Chhattisgarh at an estimated cost of Rs 7.5 bn.
In a statement the company said that the project shall be funded mainly out of internal accruals.
The power generated in this project shall be captively consumed in the company's plant at Silatra industrial area, Raipur, Chhattisgarh.
Godawari Power and Ispat Shareholding Pattern as on 31 March 2021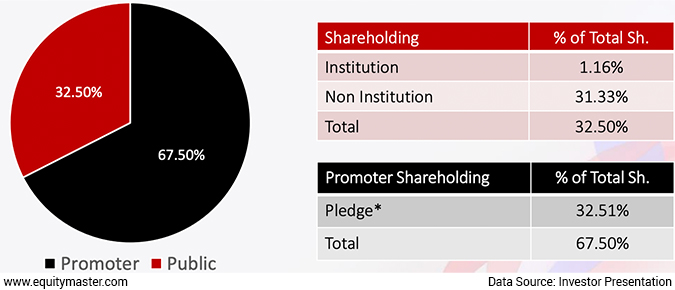 What Really Triggered the Metal Stocks Rally in India
The Nifty Metal Index is up almost 100% in the last six months.
The global demand for steel has increased by 5.8% in 2021. In India, the demand increased by 19.8%.
The main reason steel has been booming is because many steel companies are witnessing big profit margins as demand is more and therefore, they can charge more.
Due to prices in global markets being much higher than the domestic markets, Indian steel producers have benefitted a lot from exporting steel abroad.
However, this is also causing decrease in supply in domestic markets.
Also, Indian companies are able to get comparatively cheaper raw materials, like coking coal, especially from Australia.
Many companies are able to make profit because they own iron ore or have access to cheap iron ores which is required for steel production.
Note that steel plants have also increased liquid oxygen to cater to the needs of the Covid-19 patients in India.
In the non-ferrous metals, copper, aluminium, and nickel are at their best prices.
Demand is increasing mainly because of the electric vehicles (EVs) and green energy projects.
The budget has also been favourable for the infrastructure sector in India, which has helped boost metal prices, especially steel.
How the Stock Markets Reacted to Godawari Power and Ispat Q4FY21 Numbers Today
Shares of Godawari Power and Ispat opened the day at Rs 1,014.1 on the BSE and Rs 1,025 on the NSE.
Godawari Power and Ispat share price closed at Rs 995.6 (up 3.9%) on the BSE and Rs 995 (up 4.1%) on the NSE.
At its current price, it is trading at a P/E of 10.1.
The share touched its 52-week high of Rs 1,129.5 and 52-week low of Rs 106 on 12 May 2021 and 26 May 2020, respectively.
Over the last 30 days, the Godawari Power and Ispat share price is up 23.2%. Over the last one year, the company's share price is up 812.2%.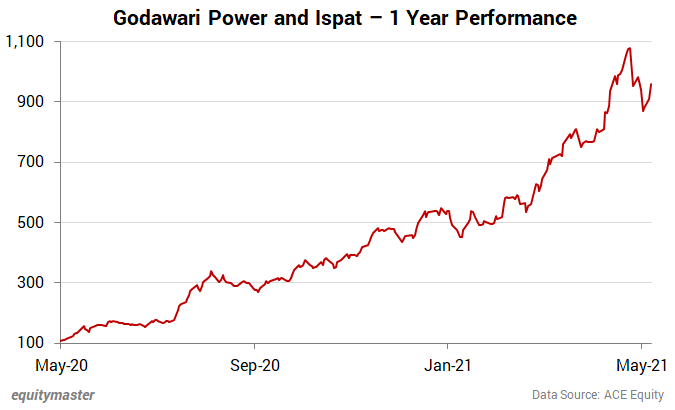 About Godawari Power and Ispat
Godawari Power and Ispat a flagship Company of Raipur-based Hira Group of Industries is an integrated steel manufacturer.
It's mainly engaged in generation of electricity, iron ore mining and manufacturing of sponge iron, iron ore pellets, steel billets, ferro alloys, and H.B. wire.
The company has production facilities at Siltara in Raipur.
The company has dominant presence in the long product segment of the steel industry, mainly mild steel wire.
Godawari Power and Ispat operates in two business segments namely steel and electricity.
Their steel segment is engaged in manufacturing steel intermediate products such as sponge iron and ferro alloys and finished long steel products including billets, wire rods, and mild steel wires.
The company is also engaged in the generation of captive power which is used in the manufacture of steel and selling power in short-term market through merchant sale.
For more details about the steel sector, you can read the steel sector report on our website.
To know what's moving the Indian stock markets today, check out the most recent share market updates here.