TTK Prestige Delivers Best Ever Quarterly Results. Stock Hits New High
May 26, 2021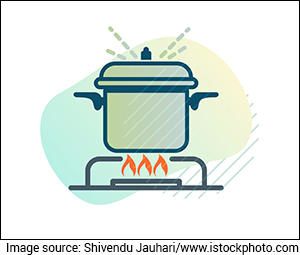 Shares of TTK Prestige were in focus today after the company reported stellar set of numbers for the March quarter (Q4FY21).
The company clocked its best ever quarter in terms of topline, bottomline, and margins.
TTK Prestige's consolidated net profit surged to Rs 853.6 m from Rs 86 m in the same quarter a year ago.
Revenue from operations jumped 43% year-on-year (YoY) to Rs 6 bn.
For the full year, it posted a 27.6% jump in consolidated net profit to Rs 2.4 bn. This was on the back of a 5.5% rise in revenues to Rs 21.9 bn.
It's important to note that during the start of the year, TTK's revenues were down 51% in the first quarter of the last financial year.
Despite that, the company managed to recover by posting a 5.5% growth in overall revenues for the full year.
The company's board also recommended a final dividend of Rs 30 per share.
Sharp Rise in Exports
The company's domestic sales grew 41.5% YoY to Rs 5.3 bn. Exports sharply increased 218% YoY to Rs 219 m.
On segmental front, all three categories - cooker (31% of sales), cookware (16% of sales), and appliances (48% of sales), posted strong revenue growth of 49%, 67%, 34%, respectively.
The cookware division posted its highest ever volume during the year driven by domestic and export demand.
Note that the company has doubled its capacity for the cookware division to meet the demand. The new plant is expected to be commissioned in the next three months.
Kitchen & Home Appliances Performance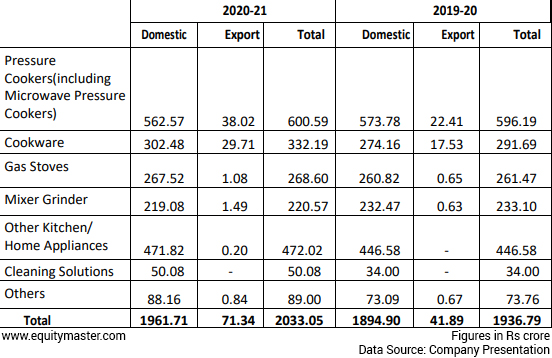 Management Confident on Achieving 50% Growth
Chairman of the kitchen appliances and cookware manufacturer, TT Jagannathan said the first quarter of the financial year 2022 is not looking bad.
Q1 is not so bad, we will be about 50% ahead of last year's Q1. This time the (lockdown) restrictions apply to e-commerce also, so we have to wait and see what happens.

The covid, apparently, is going to take longer to control, so we do not know how long the lockdown is going to last.
On the price hike, Jagannathan said that they will not give up on margins and will be able to maintain price increases.
On capacity and capex plans for the UK, Jagannathan added,
No capex plans for United Kingdom (UK), it's doing very well. In India, we are doubling our capacity in non-stick cookware and that will come into production by next month (June 2021) and we have got ample capacity in pressure cookers and appliances.
Conference Call Highlights
In its conference call, TTK's management told the capex for FY22 would be Rs 500 m and the same maybe reviewed depending on the business environment.
With previous lockdown experience, the company has adequately geared up to ensure that lockdowns do not severely affect operations that are possible during the current period as well as post lockdown period.
During the year, the company introduced around 127 new stock keeping units (SKUs) covering pressure cookers, induction cook tops, mixer grinders, rice cookers, gas stoves, and other small electric/non-electric appliances and cleaning solutions.
It also entered the casserole segment this year.
TTK has taken 17-19% hike in electrical appliances and 13% price hike in gas stoves while the price hike in cooker and cookware is around 5%.
In the quarter gone by, the company did not take any price hike.
Equitymaster's View on the Home Appliances Industry
Here's what Tanushree Banerjee, Co-head of Research at Equitymaster, and editor of the premium stock recommendation service StockSelect, has to say about the home appliances industry:
As per Statista, the penetration of white goods (small electric and home improvement appliances), in India, could see a sharp uptick in the years to come.

That too, even after factoring in the impact of Covid-19 lockdown on the demand. In fact, we could even see a V-shaped recovery in this sector before seeing it in others.

Most kitchenware manufacturers will benefit from this trend. But the largest ones like Hawkins and TTK Prestige (with almost 30% market share each) will grab a bigger share of the pie.
How the Stock Markets Reacted to TTK Prestige's Results
TTK Prestige share price ended the day down by 2.8%.
In early trade today, shares of the company had scaled fresh 52-week high.
On Tuesday, shares of the company had zoomed 15% during the last hour of trade after the company reported stellar results.
TTK Prestige shares touched a 52-week high of Rs 8,774 today. They have a 52-week quote of Rs 4,610 touched on 29 May 2020.
Over the past one year, shares of the company have zoomed 77% as compared to 65% gains in benchmark BSE Sensex.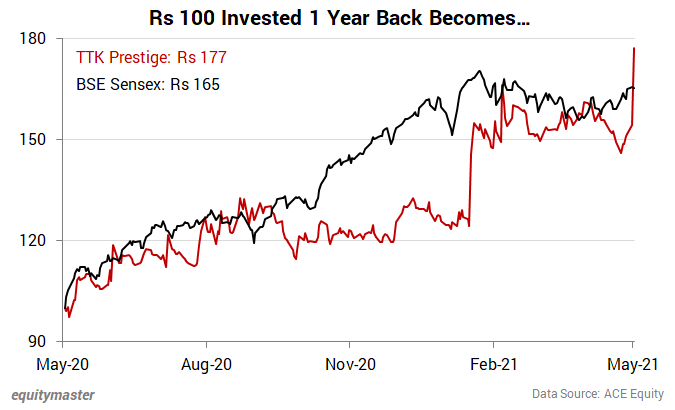 At the current price of Rs 8,211, the company commands a marketcap of Rs 113.8 bn.
About TTK Prestige
TTK Prestige, a TTK group company is India's number one kitchen and home appliances company.
The company has five state of the art manufacturing plants at Hosur, Coimbatore, Karjan, Roorkee, and Khardi. It has two dedicated research and development centers.
The company has a strong distribution network. It has more than 545 Prestige exclusive stores in over 305 cities.
TTK Prestige was incorporated in October 1955 at Madras as TT Pvt Ltd. It established facilities at Bangalore to manufacture a wide range of domestic and industrial appliances.
It commenced the manufacture of pressure cookers in 1959 with technical support from Prestige Group UK.
For more details about the company, you can have a look at TTK Prestige factsheet and TTK Prestige quarterly results on our website.
You can also compare TTK Prestige with its peers on our website.
TTK Prestige vs Hawkins Cookers
TTK Prestige vs Bajaj Electrical
TTK Prestige vs VIP Industries
To know what's moving the Indian stock markets today, check out the most recent share market updates here.