Berger Paints Stock Falls Over 4% as Company Reports Profits Below Estimates
May 27, 2021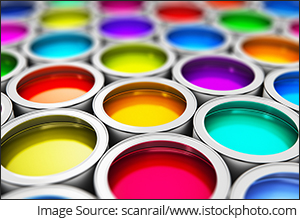 Berger Paints India share price dipped over 4% a day after the company declared its Q4 results.
Financial Highlights
The country's second-largest paint maker Berger Paints India on Wednesday reported its consolidated net profit for quarter ended March increased by 102% to Rs 2.1 bn from Rs 1 bn in the previous March quarter.
For the entire fiscal year ended March 2021, net profit was Rs 7.2 bn as against Rs 6.6 bn in FY20, up 9.7%.
On a standalone basis, net profit for the quarter ended 31 March, 2021, was Rs 1.8 bn, as against Rs 1.9 bn recorded in the corresponding quarter of the previous financial year.
Operational Performance
Revenue from operations for the quarter ended March 2021 was Rs 20.3 bn against Rs 13.5 bn in the corresponding quarter of the last financial year.
This is an increase of 49.5% over the corresponding period of last financial year.
For the full financial year 2021, the company's revenue from operations stood at Rs 68.2 bn, up 7.1% as against Rs 63.7 bn in the last year.
Earnings before interest, tax, depreciation, and amortisation (EBITDA) for the quarter ended 31 March 2021 was Rs 3.4 bn against Rs 2.1 bn in the same quarter last year, an increase of 61%.
The company's EBITDA came in at Rs 11.9 bn for the year ended March 2021, up 12% as against Rs 10.6 bn in the same quarter last year.
On a standalone basis, EBITDA came in at Rs 3 bn for the quarter under review, recording an increase of 58.6% year on year (YoY), compared to Rs 1.9 bn in the last financial year.
It has also reported earnings per share (EPS) of Rs 2.1 for the 12 months period ended March 2021 compared to Rs 2 last financial year.
Key Financial Indicators
| Particulars (Rs in bn) | Q4FY21 | Q4FY20 | Growth | FY21 | FY20 | Growth |
| --- | --- | --- | --- | --- | --- | --- |
| Revenue from operations | 20.3 | 13.5 | 49.5% | 68.2 | 63.7 | 7.1% |
| EBITDA | 3.4 | 2.1 | 61.0% | 11.9 | 10.6 | 12.0% |
| Profit After Tax (PAT) | 2.1 | 1 | 102.2% | 7.2 | 6.6 | 9.7% |
Data Source: Company's Q4 Report
Commenting on the results, Abhijit Roy, MD and CEO at Berger Paints said that the company witnessed strong volume growth.
It's seeing strong demand in market place and saw strong growth in waterproofing and construction chemicals.
"It won't be easy to maintain margin at current levels adding that old inventory raw material advantage has gone. Saboo coatings grew 60% in Q4," he added.
Equity Dividend
The company's board of directors has recommended a dividend of Rs 2.8 per equity share having face value of Rs 1 each that is 280% for the financial year ended March 2021.
Berger Paints to Expand Its Manufacturing Capacity
Back in March 2021, Berger Paints, country's second largest paints maker in the decorative segment said that it's aiming to accelerate and expand its manufacturing capacity as pent-up demand is pushing up volumes.
The company is in the process of setting up a Rs 7 bn plant in Uttar Pradesh. The commissioning of the plant is now being brought forward due to high-capacity utilisation at its existing facilities.
Berger Paints managing director and chief executive officer, Abhijit Roy, said that originally, they had planned to commission the plant in April of next year, but they will now try and start it in December 2021.
According to Mr Roy, rural was a major contributor to the increase in demand. Also, migration from the unorganised sector to organised, boosted sales.
Berger Paints Price/Pricing Strategy
Berger Paints has got a varied pricing strategy due to a huge portfolio.
The pricing strategy for Berger Paints is to keep competitive prices in the presence of stiff competitors. It's quite low in comparison to that of Dulux and Asian Paints.
For example, the primer is rated at Rs 65 (Berger Paints) while Dulux is priced at Rs 75 and Asian Paints at Rs 80.
Even though price may be low but the quality has been kept at high standards.
A few brands of Berger Paints - Bison Emulsion, Walmasta, Luxol Higloss paints are very highly appreciated in the industry.
Market Share and Current Market Capitalisation of Best Paint Companies in India
Asian Paints: Asian Paints is an Indian multinational paint company is headquartered in Mumbai.
The company's main business is manufacturing, selling and distribution of paints, coatings, products related to home decor, bath fittings, and providing of related services.
Asian Paints is the leading paints producer in India, with a market share of 39%.
The current market cap of Asian Paints is at Rs 2.8 tn.
Berger Paints: Berger Paints India is a paint company based in India. The company is headquartered at Kolkata. It has 14 manufacturing units in India, 2 in Nepal, 1 each in Poland, and Russia.
Berger Paints India has a market share of 12%, in second place behind Asian Paints.
The company's current market cap stands at Rs 777.1 bn.
Kansai Nerolac Paint: Kansai Nerolac Paints is the largest industrial paint and third largest decorative paint company of India based in Mumbai. It's a subsidiary of Kansai Paint of Japan.
Kansai Nerolac Paints is in third place in terms of market share with 11%.
Its current market cap is at Rs 314.4 bn.
Akzo Nobel India: Akzo Nobel India has been present in India for over 60 years and is a significant player in the paints industry.
In 2008, the company became a member of the Akzo Nobel Group. It's most famous for its Dulux brand.
Akzo Nobel India has a market share of 6% in fourth place.
The current market cap of Akzo Nobel India stands at Rs 105.1 bn.
How the Stock Markets Reacted to Berger Paints Q4FY21 Numbers Today
Shares of Berger Paints opened the day at Rs 839 on the BSE and Rs 832.4 on the NSE.
Berger Paints share price closed at Rs 800 (down 3.7%) on the BSE and Rs 798.3 (down 4.1%) on the NSE.
At its current price, it is trading at a P/E of 126.3.
The share touched its 52-week high of Rs 842.6 and 52-week low of Rs 441.3 on 26 May 2021 and 27 May 2020, respectively.
Over the last 30 days, the Berger Paints share price is up 10.5%. Over the last one year, the company's share price is up 74.3%.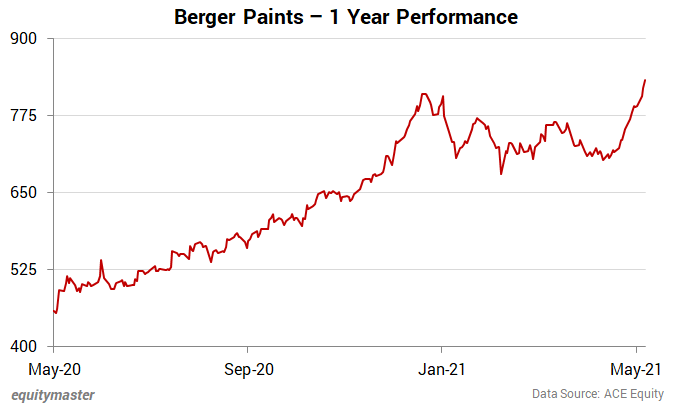 About Berger Paints
Berger Paints India is the second largest paint company in India.
They are offering their customers a variety of innovative painting solutions decorative or industrial.
The company is headquartered in Kolkata and services the market through a distribution network comprising of about 110 stock points and more than 25,000 dealers.
They are having their manufacturing facilities in West Bengal, Uttar Pradesh, Pondicherry, Goa, and Jammu & Kashmir.
The company also has an international presence in 4 countries viz. Nepal, Bangladesh, Poland, and Russia.
For more details about the company, you can have a look at Berger Paints factsheet and quarterly results on our website.
You can also compare Berger Paints with its peers.
Berger Paints vs Kansai Nerolac
To know what's moving the Indian stock markets today, check out the most recent share market updates here.