Crude Oil - What 'Trump Nation' Really Wants
May 28, 2019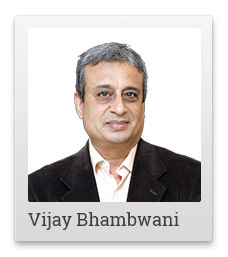 US President Donald Trump wrote a book: 'Trump Nation'.
I have taken the liberty of borrowing the title, at the risk of inviting economic sanctions on myself via Twitter!
The now famous Trump twitter handle that acts as a de facto white House PR spokesperson, can talk markets up or down at will. Traders seek "guidance" from the presidential tweets.
Nothing wrong with that, I say. But what if the tweets sometimes are not exactly the gospel truth?
That being the case, the market will react in a knee jerk manner, sanity will ultimately prevail. A panic driven disequilibrium followed by mean reversion to normal in asset prices. The ultimate loser is a trader who doesn't know what hit him.
Before you curse your luck, the oil markets, big money, and what have you, a study of a bit of history would be helpful.
---

Advertisement

---

7 Stocks Likely to Benefit Greatly From Modi's Policies In The Coming Years…

We believe that thing that set Modi apart from the first day he took office in 2014 was his ability to take difficult policy decisions.

We believe his policies have helped a number of companies grow in the last 5 years.

And now, our Co-Head of Research, Tanushree Banerjee, has identified 7 stocks that could benefit greatly during Modi's second tenure and beyond also.

Full details of these 7 stocks are included in Tanushree's special report.

Click here to know how you could get this report for FREE now…
------------------------------
The Israelis bombed the Lebanese in 1973 in what is now known as the Yom Kippur War. The Arabs requested the US to intervene, the US refused. The Arabs brandished their oil sword and starved the world of oil.
Prices shot up. The US then formulated a hydrocarbon (fossil fuels - oil + gas) policy. It was in place till president Obama was in the White House. Therein lies the reason why President Donald Trump's tweets need to be taken with a gunny sack full of salt.
The USA decided to halt all oil exports and willingly depend on the Middle East for its oil. If the US reserves are intact, the long-term energy security of the United States is assured.
A few landmark policy decisions taken by outgoing President Obama before demitting office were - allowing oil companies to drill onshore for oil (it was banned till then) and permit the US government to export oil all over again. As of Pearl Harbor day in 2018 (December 7th), the USA is again an oil exporter.
Since permitting oil companies to drill onshore, where does the United States stand in global rankings?
From 2018 it is the largest oil producing country in the world with 13.4% of the global oil output daily.
The USA has jumped ahead of Saudi Arabia and Russia in oil output. My question to every oil trader out there is this - as long as the USA was an importer, it made sense to push for lower oil prices. There were tangible benefits in doing so.
President Donald Trump runs the world's largest debtor nation. One that is gasping for export income and a strong dollar. A firm USD ensures easier servicing and repayment of debt and vice versa. So now that Trump wants to export oil, and earn petro dollars does it benefit him if oil prices were to go up or down? So why does he tweet for lower oil prices?
As per my conspiracy theory opinion, he is jostling for shop shelf space in the global oil export market which was hitherto dominated by the middle east and Russia. His tweets seem to me, as sending a message across saying "either let me sell my oil in the same market or I'll spoil the broth for everyone."
As a trader, I can only observe and form this opinion because the price tends to bounce back like a Jack-in-the-box soon after the presidential tweets!
Do I have evidence to back this?
No.
Like I said, it's my very own conspiracy theory. You can agree to disagree. Alpha into Omega or Omega into alpha...it's a choice you should make yourself.
Have a profitable day.
Warm regards,

Vijay L Bhambwani
Editor and Research Analyst, Weekly Cash Alerts
Vijay L Bhambwani, is the editor of Weekly Cash Alerts and Fast Income Alerts. He is a professional trader, author, trading mentor, and lifelong student of the markets. He has been an active trader since 1986. Financial markets are his life and passion. Everything else in his life revolves around his main objective - trading. Vijay believes that no matter how much a trader has lost in the market, it is possible with hard work and smart work to get it all back over time. Understanding the method behind the madness of the markets interests him more than the profits. He specialises in predictive style of technical analysis, in the commodity, currency, and equity markets. That is the foundation stone of his style of trading - Neuro Behavioural Technical Analysis. Vijay trains other professional traders. He is empaneled with the BSE & NSE as a visiting faculty for various finance market courses. He created the early course content for the Diploma in Commodity Markets (DICM), certified by the Forward Markets Commission. He was a training mentor at the MCX between 2005-2009. He is the first author to have his book - A Traders Guide to Indian Commodity Markets published by CNBC Publishing 18, in 2009 - approved and sponsored by the NCDEX. Vijay has done over 8,000 TV shows in the last 17 years and has written over 4,000 columns/articles in the print and electronic media. He is one of the first columnists to write a weekly column in the English language print media after the commissioning of the MCX, via his columns in the DNA Money, Business Standard and others.