Sun Pharma's Stock Falls 4% After Its March Quarter Results
May 28, 2021
Shares of Sun Pharmaceutical Industries fell over 4% on the BSE in intra-day trade today.
Investors booked profits after the company reported a lower-than-expected bottomline in the March quarter, largely due to lower reported other income.
In the past three months, the stock has outperformed the market, gaining nearly 20%, compared to 4.6% rise in the S&P BSE Sensex.
Financial Outcomes
Sun Pharma, on Thursday, posted a 124% year-on-year (YoY) rise in net profit in the fourth quarter of financial year 2020-21 at Rs 8.9 bn.
This was mainly on operational efficiencies and a low base in the same quarter last year. The company had reported consolidated net profit of Rs 4 bn in the previous year.
Adjusted net profit for the quarter was higher by 103.3% at Rs 13.4 bn after excluding exceptional items, exceptional tax item, and minority interest.
For the full financial year, the drug maker reported a 23% decline in net profit to Rs 29 bn from Rs 37.6 bn in the same period last year.
--- Advertisement ---
Like a Gold Mine for Investors?

Our co-head of research, Tanushree Banerjee, believes this is like a gold mine for investors.

Here's more...

Let's look at some of the most successful companies in the world today...

– Volkswagen Group, which owns Audi, Bentley, and
– Lamborgini
– Toyota
– Apple
– Samsung
– BMW
– Siemens
– General Electric
– Dell
– Boeing

What is common between them?

Well, the answer to this question is the key to finding multibagger stocks.

Tanushree revealed it all during our special event, The Great Indian Wealth Project.

If you missed this event for some reason, then you can watch the special replay of this event.

Click Here to Watch the Replay...
------------------------------
Operational Performance
Sun Pharma's consolidated sales from operations stood at Rs 84.3 bn, up 4.4% YoY. However, sequentially, the company's sales were down by 4%.
For the fourth quarter, the company said that sales had an exceptional item (one-time business in the US). Thus the numbers were not strictly comparable.
The pharma major's earnings before interest, taxes, depreciation, and amortisation (EBITDA) was at Rs 19.6 bn, up 56% over the fourth quarter last year with an EBITDA margin of 23.2%.
The company's higher operational efficiencies helped the margins.
The company said that it's evaluating developing a new pipeline of biosimilars as its research and development (R&D) focus.
It has also requested for an inspection of the Halol site in Gujarat.
Debt Repayment
The company repaid debt of about US$580 m in the previous financial year compared to the debt level as of 31 March 2020.
Watch Now: Get Details of Richa's 3 Dark Horse Stocks
India Business - Market Leadership
Sale of branded formulations in India for the quarter under review were at Rs 26.7 bn, up by 12.9% over the same period last year, accounting for 31.7% of total sales.
For the full year FY21, sales were at Rs 103.4 bn, up by 6.5% over the same period last year.
Sun Pharma is ranked number one in market share with 8.2% in the Rs 1,474 bn Indian pharmaceutical market as per all Indian origin chemists and distributors (AIOCD) AWACS MAT March-2021 report.
For the fourth quarter, the company launched 31 new products in the Indian market.
US Formulations (Including Taro Pharmaceutical)
Sales in the US were US$370 m, a decline of 1.3% over the fourth quarter last year and accounting for about 32% of total consolidated sales.
For full year, the company's sales stood at US$1,360 m recording a de-growth of 8.5% over same period last year.
Sun Pharma's sales for last year included a one-time contribution from the special business in US.
Active Pharmaceutical Ingredients: Strategic strength
External sales of active pharmaceutical ingredients (API) were at Rs 4.4 m, down 9.9% for the quarter ended March 2021.
For the full year, API sales were at Rs 19.5 m, up by 1.8% over same period last year.
The company's API business imparts benefits of vertical integration and continuity of supply chain for their formulations business.
The drug maker said that they continue to focus on increasing API supply for captive consumption for key products.
Active Pharmaceutical Ingredient means the active ingredient which is contained in the medicine. For example, an active ingredient to relieve pain is included in a painkiller.
Commenting on the results, Dilip Shanghvi, Managing Director of the Company said,
FY21 was a year marked by a highly volatile business environment due to the global Covid-19 pandemic and lockdowns in various countries.

Despite these challenges, I am happy to see that we have been able to maintain business continuity and record positive overall growth.

While our India business continues to outperform the average industry growth, our global specialty sales have continued to show an improving trend.

Global Ilumya sales for the year have grown by 51% to US$ 143 million.
Equity Dividend
The company's board of directors has proposed a final dividend of Rs 2 per share on the face value of Rs 1 each for the financial year, in addition to the interim dividend of Rs 5.5 per equity share declared on 29 January 2021.
Sun Pharma Acquires Rights to Trademark 3 Diabetes Drug Brands in India from Astrazeneca
Sun Pharma has acquired the rights to trademark diabetes drug Dapagliflozin under brands Oxra, Oxramet and Oxraduo in India from AstraZeneca Pharma India's parent company.
The company said it has also taken a patent license to manufacture and commercialise Dapagliflozin and Dapagliflozin with Metformin combination in India from AstraZeneca AB with effect from 28 May 2021.
Consequently, AstraZeneca India and Sun Pharma have discontinued their existing distribution services agreement signed in 2016, for distribution of Dapagliflozin.
Equitymaster's View on the Pharma Sector
We reached out to Tanushree Banerjee, Co-Head of Research at Equitymaster, and editor of the premium stock recommendation service StockSelect, for her view on the pharma sector.
Here's what she has to say...
The second Covid wave has given a new lease of life to pharma stocks. As the sector continues to invest in capacities for new drugs, the profitability will depend on the companies' ability to seek USFDA approval for the plants.

Or their ability to tie up with MNC pharma for producing variants of their vaccine.
How the Stock Markets Reacted to Sun Pharma Q4FY21 Numbers Today
Shares of Sun Pharma opened the day at Rs 698.6 on the BSE and Rs 694 on the NSE.
Sun Pharma share price closed at Rs 669.7 (down 4.3%) on the BSE and Rs 669.8 (down 4.3%) on the NSE.
At its current price, it is trading at a P/E of 62.7.
The share touched its 52-week high of Rs 721.9 and 52-week low of Rs 443.1 on 11 May 2021 and 27 May 2020, respectively.
Over the last 30 days, the Sun Pharma share price is up 6.1%. Over the last one year, the company's share price is up 46.6%.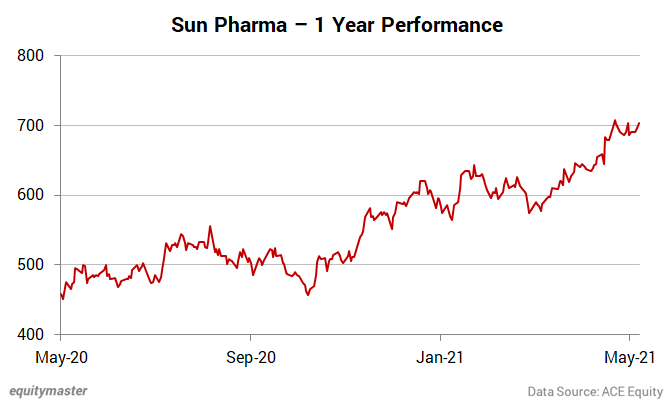 About Sun Pharma
Sun Pharmaceutical Industries including its subsidiaries and associates (Sun Pharma) is the fourth largest global specialty generic company that is ranked number one in India and number eight in the US.
It's the largest Indian pharmaceutical company in the US and among the leading Indian pharmaceutical companies in emerging markets.
The company manufactures a large basket of pharmaceutical formulations covering a broad spectrum of chronic and acute therapies.
It includes generics branded generics complex or difficult to make technology intensive products, over-the-counter (OTC), products anti-retroviral (ARVs), active pharmaceutical ingredients (APIs), and intermediates.
The product portfolio of over 2000 high quality molecules cover multiple dosage forms including tablets, capsules, injectables, inhalers, ointments, creams, and liquids.
The company has global presence with 43 manufacturing facilities across the world.
India and the US are two predominant markets accounting for nearly 70% of the company's revenue.
For more details about the company, you can have a look at Sun Pharma factsheet and quarterly results on our website.
You can also compare Sun Pharma with its peers.
Sun Pharma vs Jubilant Pharmova
To know what's moving the Indian stock markets today, check out the most recent share market updates here.