Eicher Motors in Focus as Company Reports Record High Revenues
May 28, 2021
Royal Enfield maker Eicher Motors on Thursday post market hours reported a 73% year-on-year (YoY) rise in its consolidated net profit to Rs 5.3 bn for the quarter ended March 2021.
This was due to a low base effect as the year-ago quarter was hit by the nationwide lockdown in March 2020 to contain the spread of the Covid-19 virus.
The reported bottomline was slightly below analysts' estimates. Analysts had expected the company to report consolidated net profit of Rs 5.6 bn.
The company's board recommended a final dividend of Rs 17 per share aggregating to Rs 4.6 bn.
Record High Revenues; Sharp Rise in Raw Material Costs
Eicher Motors' total revenue from operations were at all time high of Rs 29.4 bn, up 33% for the quarter under review.
This compared with Rs 22.1 bn in the same period last year.
Here's a table comparing Eicher's quarterly performance on key parameters.
Eicher Motors Financial Highlights
| (Rs m) | Q4FY21 | Q3FY21 | Q4FY20 | YoY (%) | QoQ (%) |
| --- | --- | --- | --- | --- | --- |
| Revenue | 29,403 | 28,283 | 22,082 | 33% | 4% |
| Total expenses | 24,347 | 22,827 | 18,905 | 29% | 7% |
| Profit before tax | 6,886 | 7,019 | 4,468 | 54% | -2% |
| Tax | 1,625 | 1,694 | 1,426 | 14% | -4% |
| Profit after tax | 5,261 | 5,325 | 3,042 | 73% | -1% |
Data Source: Company Filings
One of the key highlights of the auto major's earnings was the sharp jump in raw material costs during the quarter.
Eicher Motors' cost of inputs soared 47.5% to Rs 17.9 bn, while total expenses including finance costs rose 29% YoY to Rs 24.3 bn.
It must be noted that despite this sharp rise, Eicher managed to grow its consolidated operating profit by 47% YoY.
--- Advertisement ---
No crash, correction, or pandemic can STOP This...

At last, it's happening...

Right here in India...three hidden mega-trends are converging for the first time ever to trigger an economic boom of unparalleled proportions.

A boom so powerful - no crash, no correction, and no pandemic can STOP India from becoming the next economic superpower...

And those who take advantage of this mega shift could potentially generate massive wealth for themselves and their families in the long run.

We are talking about potential 1,000% gains...and perhaps even more over the long term.

But trust me, people who pass this opportunity will regret their decision in the years and decades to come...

So, if you want to save yourself from potential downsides of this mega shift...

...and instead, leverage on it for potential windfall gains...

Join us on 24th September at my special event...

Put your email in the box below and get your free ticket right away.
------------------------------
Commenting on the Q4 performance, Managing Director (MD) Siddhartha Lal said:
During the year, there were challenges on account of factors such as supply chain constraints and commodity price increase.
However, demand continues to be good. Royal Enfield witnessed very good pick up in the second half of the year, and registered a strong performance in Q4.
He added that the commercial vehicle industry also showed equal resilience and saw good recovery in the latter half of the year.
Royal Enfield's Performance
Royal Enfield sold 203,343 motorcycles in the quarter, an increase of 25% from 163,083 motorcycles sold over the same period last year.
Royal Enfield launched the new Himalayan in three new distinctive, terrain-inspired colourways, combined with a host of functional upgrades including the Tripper navigation pod.
At the start of this year, Royal Enfield expanded its presence in international markets by announcing its entry into Japan with its first standalone, flagship store in Tokyo.
Investors should note that this is a key factor since Japan is among the key motorcycling markets in the world.
During the year, Royal Enfield's retail footprint in India increased from 1,521 stores across 1,200 cities to 2,056 stores across 1,750 cities.
--- Advertisement ---
INSIDER SECRET: An Astonishingly Easy Way to Pile Up Potentially 40-60% Gains in Just 1 Year

India's most well-connected trader with over 35 years of experience just confessed...

"This Lucrative Market Segment Could Leapfrog Over Nifty in The Next 12-16 Months"

... thanks to a massive and irreversible mega-trend fueling its growth!

In fact, he and his partner have already identified 2 spectacular stocks from this segment... which are ready to rake in potentially 40-60% gains in just 1 year... and make you big, fat profits!

The best part of them all...

Their Details Are Packed in This Special Report (Discover How to Claim it for Free)
------------------------------
With the launch of more than 100 dealerships and more than 430 studio stores in India during FY21, Royal Enfield has further grown its network across urban, as well as rural markets.
The year also saw Royal Enfield launch its all-new, grounds up motorcycle in the cruiser segment, the Royal Enfield Meteor 350.
Have a look at the graph below which shows Royal Enfield's market share in above 125cc segment.
Royal Enfield Market Share in India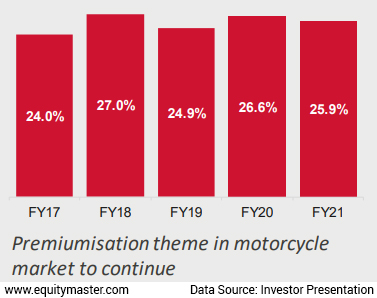 Strong Growth in Commercial Vehicles Segment
Volvo Eicher Commercial Vehicles (VECV), a joint venture between Volvo Group and Eicher Motors, gained market share across segments.
In the heavy-duty segment, VECV volume grew by 6% in the financial year compared to last year against a decline of 21% in industry volume.
For the March quarter, VECV's revenues grew 71.4% to Rs 36 bn. VECV recorded strong growth of 56% with volumes of 18,167 units against 11,629 units during the same period last year.
Speaking on VECV's performance Vinod Aggarwal, MD and CEO, VECV, said:
Favourable measures announced in the Union Budget 2021-22 with respect to voluntary vehicle scrappage, Product Linked Incentive (PLI) scheme and many measures to boost the infrastructure segment, have also aided recovery in this quarter.
International Business Performance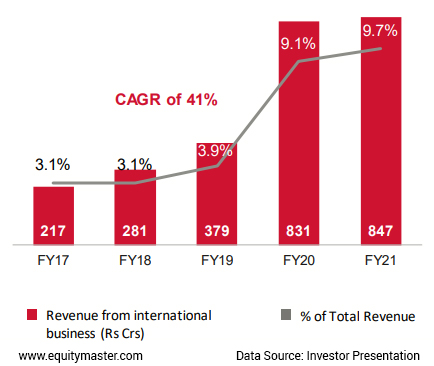 The Eicher Motors Journey
When Siddhartha Lal entered the family business in the year 2000, Eicher's management was examining a sale or shutdown of the Royal Enfield business.
This was because at that time, Royal Enfield's motorcycle sales totalled 2,000 units per month.
Siddhartha asked for time to give this business a shot as he felt it had immense potential.
When he joined, Eicher Motors was dabbling in 15 different businesses, ranging from motorbikes, trucks, tractors, to garments, footwear to name a few.
REVEALED: 3 "Super Smallcaps" You Didn't Know About
But here's the crucial part - it was the market leader in none.
Being an avid and passionate biker himself, Siddhartha Lal took the tough call of retaining only two of the family businesses - motorcycles and trucks. He decided to sell the rest.
From 2,000 units in the year 2000, Royal Enfield sells 70,000 units a month on an average at present.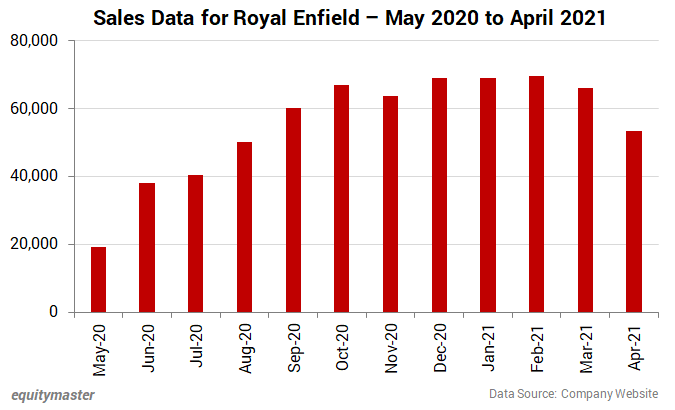 The sales for few months in the past year were impacted due to the impact of nationwide lockdown.
How Stock Markets Reacted to Eicher Motors' Q4 Numbers
Eicher Motors share price rose over 3.5% in early trade today to Rs 2,709. Presently, it's trading up by 2%.
The stock has a 52-week high quote of Rs 3,036 and a 52-week low quote of Rs 1,508.
Over the past one year, shares of the auto major have gained 60%.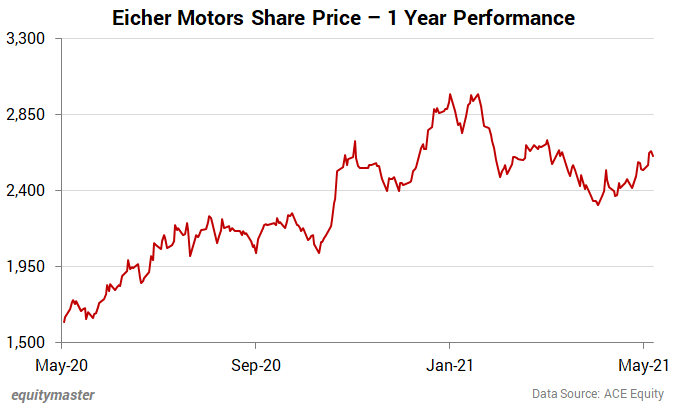 At the current price of Rs 2,665, Eicher Motors commands a market cap of Rs 728.4 bn.
About Eicher Motors
Established in 1959, Eicher Motors Limited (EML) is the owner of the 'Royal Enfield' (RE) brand, the global leader in the mid-size (250-750 cc) motorcycles.
RE has been the growth driver of EML over the years and has managed to create strong brand equity in the mid-sized motorcycle segment.
It has a leading position with more than 90% market share in premium motorcycle segment (engine capacity between 250cc - 750cc).
In addition to motorcycles, EML has a joint venture with Sweden's AB Volvo (45.6% stake) - Volvo Eicher Commercial vehicles (VECV). VECV manufactures trucks and buses in the range of 5 to 49 tonnes.
VECV is focused on few key segments like mining, construction, ecommerce, etc. It's the market leader in the 400+ horsepower truck segment with an 88% market share.
For more details about the company, you can have a look at Eicher Motors company fact sheet and Eicher Motors quarterly results on our website.
For a sector overview, you can read our automobiles sector report.
You can also compare Eicher Motors with its peers on our website.
Eicher Motors vs Hero MotoCorp
Eicher Motors vs Ashok Leyland
To know what's moving the Indian stock markets today, check out the most recent share market updates here.