Why Did Burger King India Shares Plunge 7% Yesterday?
May 28, 2021
Burger King India share fell over 7% yesterday despite the quick service restaurant chain narrowing its loss for quarter ended March 2021.
Market capitalisation of the company fell to Rs 57.6 bn on the BSE.
Financial Highlights
The company reported a consolidated net loss of Rs 259.4 m for the fourth quarter ended March 2021 as against a net loss of Rs 374.1 bn during the January-March 2020 quarter.
In its first quarterly earnings post a strong listing, the company reported a net loss of Rs 290.2 bn in Q3 against a net loss of Rs 217.2 bn in the same quarter last year.
For the fiscal year 2021, the company reported net loss of Rs 1,739.1 m, down by 56% as against Rs 765.7 m in FY20.
Operational Performance
The company's total income during January-March 2021 stood at Rs 2 bn, against Rs 1.9 bn in the year-ago period.
For the full financial year 2020-21, the company reported a total income of Rs 5.2 bn. It was Rs 8.5 bn in 2019-20.
Restaurant earnings before interest, tax, depreciation, and amortisation (EBITDA) slipped 1.8% to Rs 141.1 m in March 2021 compared to Rs 143.7 m in March 2020.
The restaurant EBITDA was driven by gross margin improvement and operating cost optimisation.
Restaurant EBITDA margin was 7.2% and improvement over 8.8% a year ago.
Key Financial Indicators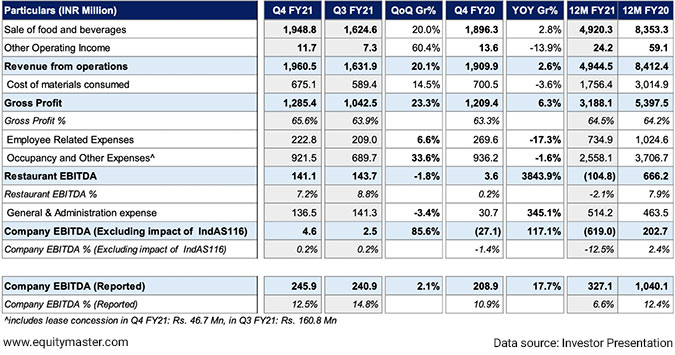 Building Equity Through 'Whopper'
The company continued its Whopper 360 campaign. It was followed by a trial offer. Burger King reported that its volume increased by 50% in the trial period.
According to the statement released by company, Whopper total awareness stood at 53% from 4% pre-campaign.
The company managed to achieve strong awareness numbers by launching limited time Twisted Whopper innovation.
According to the company's chief marketing officer Srinivas Adapa, what strongly differentiates Burger King from competition is its five-inch Whopper.
That's a whole meal for Rs 100, is a draw for millennials, who make up about approximately 60% of the Indians eating out.
India has the largest millennial population, and also the largest population which spends most money eating out, with dual income families, higher disposable incomes, less time to make food at home, etc.
According to Mr Adapa, this ties in well with Burger King's brand personality.
It's about being authentic, quirky, not necessarily being politically right all the time. That's really how the brand is positioned, of course, globally, as well as in India, he said.
Quick Service Restaurants Show Strong Appetite for Growth as Covid-19 Wave Subsides
The quick service restaurants (QSRs) have gained a major market share in a short period. They were the first off the blocks last year when the restrictions were lifted.
Most likely, the trend will repeat itself this year as well once the Covid-19 wave subsides.
According to a leading financial daily, India's organised food services market is expected to grow at about 10.5% compound annual growth rate (CAGR) to US$37 bn in the next five years.
Within that, the QSRs are likely to outperform with potential growth at 13% CAGR to US$9.5 bn.
Strong Expansion Plans
Jubilant Foodworks: Out of the listed QSRs, Jubilant Foodworks is best placed. This is due to the vast popularity of the Dominos brand and strong presence in the home delivery segment. Investments in new brands like Dunkin Donuts, Hong's Kitchen, and Ekdum! are expected to be value accretive once they achieve the scale.
Westlife Development: Westlife enjoys the strong brand equity of McDonald's. It has plenty of scope for growth. This is due to the under penetration of burger chains in comparison to pizza chains.
According to Kotak Mahindra's report, there is a possibility of opening 110-120 McDonald's stores in south/west India over the next five years.
Burger King: As per the report, Burger King is likely to remain the fastest-growing QSR chain in India. It has the potential to double its stores over the next five years. The company is also likely to improve its profitability in the coming quarters.
Burger King's Shareholding Pattern as on 31 March 2021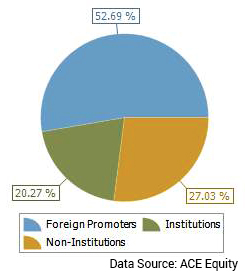 How the Stock Markets Reacted to Burger King India Q4FY21 Numbers Today
Shares of Burger King India opened the day at Rs 154 on the BSE and Rs 153.7 on the NSE.
Burger King share price closed at Rs 146.9 (down 3.4%) on the BSE and the NSE.
The share touched its 52-week high of Rs 213.8 on 17 December 2020.
Over the last 30 days, the Burger King India share price is up 16.9%. Over the three months, the company's share price is up 7.5%.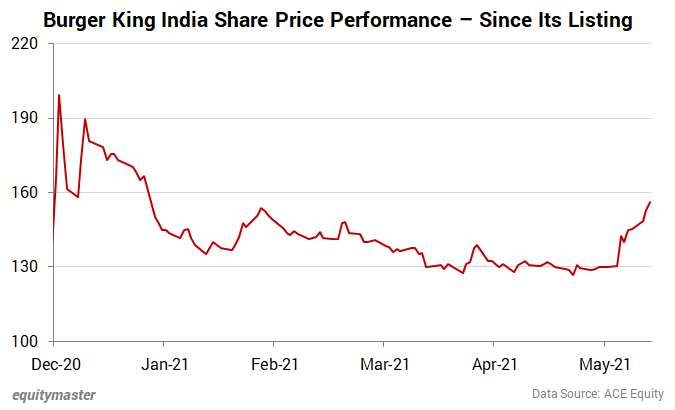 About Burger King India
Burger King India is a fastest growing international QSR chains in India providing fast food burgers.
The company's portfolio of fast-food brands around the world includes the Burger King, Popeyes, and Tim Hortons brands.
It develops, establishes, operates and franchises Burger King branded restaurants in India.
For more details about the hotels sector, you can have a look at the hotels sector report on our website.
To know what's moving the Indian stock markets today, check out the most recent share market updates here.