Cadila Healthcare Reports 73% Rise in Profits
May 28, 2021
Cadila Healthcare, reported a growth of 73% in net profit on a consolidated basis to Rs 6.8 bn in the January-March quarter of the financial year 2020-21.
The drug maker had registered a net profit of Rs 3.9 bn for the same period last year.
For the fiscal year 2020-21, the company's net profit was up 80.5% at Rs 21.3 bn. It was Rs 11.8 bn in the previous financial year.
However, on a standalone basis, the drug maker's net profit declined by 25.8% to Rs 4.6 bn for the fourth quarter 2021 against Rs 6.2 bn reported in the last financial year.
Operational Highlights
The company's total income from operations stood at Rs 38.5, for the fourth quarter, up by 3% on a year-on-year (YoY) basis from Rs 37.5 registered during the same period of the previous year.
During the financial year 2021, the company's total revenue from operations was at Rs 151 bn, up 6% from Rs 142.5 bn recorded in the previous year.
Profit before exceptional items, tax and share of profit of joint ventures rose 5% YoY to Rs 6 bn for the March quarter 2021.
Earnings before interest, depreciation and tax (EBIDTA) grew by 8% YoY to Rs 8.6 bn.
The EBIDTA for the year stood at Rs 33.4 bn, registering 20% growth.
Zydus Cadila's Business Outlook in India
Cadila Healthcare's business in India comprises human health formulations business, consumer wellness business, and animal health.
It posted a robust growth during the quarter, growing 18% on a YoY basis on registering a revenue of Rs 17.7 bn.
Human health formulations business in India jumped 15% YoY and consumer wellness business grew by 22% YoY.
Zydus Wellness is a leading consumer wellness company with an Indian heritage and a global footprint. It's a subsidiary of Cadila Healthcare.
The company has seven leading brands in their portfolio, namely Complan, Sugar Free, Glucon-D, Everyuth, Nycil, Sugarlite, and Nutralite.
Number of New Drug Applications Increased in US
US formulations business registered a revenue of Rs 15.1 bn during the quarter.
Cadila Healthcare filed 22 additional abbreviated new drug applications (ANDAs) during the year with the United States Food and Drug Administration (USFDA), taking the cumulative filings to 412.
The pharmaceutical major received 35 ANDAs approvals during the year, taking the total to 317 product approvals.
Equity Dividend
The board of directors of the company recommended a final dividend of Rs 3.5, or at 350%, per equity share on the face value of Rs 1 each, for the financial year.
The company will make the payment of the dividend on or after 16 August 2021, after the approval of shareholders.
Zydus Cadila Seeks Human Trial Approval for Covid-19 Antibody Cocktail
Zydus Cadila has sought regulatory approval for clinical trials of its antibody cocktail to treat mild Covid-19.
The treatment candidate, ZRC-3308, was earlier shown to reduce lung damage during animal trials. The drug maker said it was found to be safe and well-tolerated.
The therapy is a cocktail of two monoclonal antibodies, which mimic natural antibodies that the body generates to fight infection.
"At this juncture, there is a critical need to explore safer and more efficacious treatments to combat Covid-19," Zydus Cadila's Managing Director, Sharvil Patel, said in an exchange filing.
The company is seeking permission to conduct early-to late-stage human clinical trials from the Drugs Controller General of India, Zydus said.
The US Food and Drug Administration has given emergency use authorisations to similar treatments developed by Vir Biotechnology and GlaxoSmithKline as well as ones made by Regeneron Pharmaceuticals and Eli Lilly.
Regeneron and Roche's antibody cocktail has also received emergency use approval in India and will be distributed by drug maker Cipla. The first batch of the cocktail became available in the country earlier this week.
Cadila Healthcare to Sell India-Focused Animal Health Business
Earlier this month, Zydus Animal Health and Investments (ZAHL), a wholly owned subsidiary of Cadila Healthcare, has entered into an agreement to sell its animal healthcare established markets undertaking (Zydus AH) to a consortium led by private equity firm Multiples Alternate Asset Management for Rs 29.2 bn.
Zydus AH is the animal health business of ZAHL focused on India and some other countries.
The consortium, including Canada Pension Plan Investment Board (CPPIB) and Rakesh Jhunjhunwala's RARE Enterprises, has agreed to purchase the business through a special purpose vehicle, Zenex Animal Health India.
The Pharmaceutical Major to Extend Tenure of Joint Venture with Bayer
On 5 May 2021, the company announced extension of its joint venture agreement with Bayer (South East Asia) for a further period of two months.
Bayer Zydus Pharma is a joint venture (JV) company of Cadila Healthcare and Bayer (South East Asia).
Cadila held 25% stake in JV firm while the remaining 75% stake was owned by Bayer.
On 28 January 2011, JV partners had entered into an agreement for marketing pharma products.
The joint venture term has now been extended for further period of two months for exploring possibilities of further collaboration.
Equitymaster's View on the Pharma Sector
We reached out to Tanushree Banerjee, Co-Head of Research at Equitymaster, and editor of the premium stock recommendation service StockSelect, for her view on the pharma sector.
Here's what she has to say...
The second Covid wave has given a new lease of life to pharma stocks. As the sector continues to invest in capacities for new drugs, the profitability will depend on the companies' ability to seek USFDA approval for the plants.

Or their ability to tie up with MNC pharma for producing variants of their vaccine.
How the Stock Markets Reacted to Cadila Healthcare Q4FY21 Numbers Today
Shares of Cadila Healthcare opened the day at Rs 627.9 on the BSE and Rs 626.9 on the NSE.
At the time of writing, the company's shares were trading down by 1.2% on the BSE.
At its current price, it is trading at a P/E of 34.4.
The share touched its 52-week high of Rs 673.7 and 52-week low of Rs 333.1 on 12 May 2021 and 28 May 2020, respectively.
Over the last 30 days, the Cadila Healthcare share price is up 9.3%. Over the last one year, the company's share price is up 83.9%.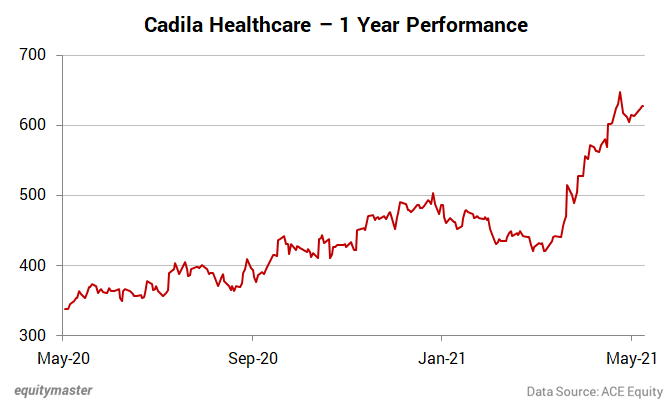 About Cadila Healthcare
Cadila Healthcare, the flagship of Zydus Cadila Group was incorporated in May 1995 and they became a public limited company in July 1996.
The company is a well-known research-oriented technology-driven pharmaceutical company focused on the research areas of biotechnology formulations and active pharmaceutical ingredients.
They are an Indian based pharmaceutical company having their presence around the world.
It has manufacturing facilities at Ahmedabad, Ankleshwar, and Vadodara in Gujarat, Ponda in Goa, Raigad in Maharashtra, and Solan in Himachal Pradesh.
The company's operation includes pharmaceuticals which includes human formulations veterinary formulations and bulk drugs diagnostics herbal products skin care products and OTC products.
For more details about the company, you can have a look at Cadila Healthcare factsheet and quarterly results on our website.
You can also compare Cadila Healthcare with its peers.
Cadila Healthcare vs Dr Reddy's Laboratories
To know what's moving the Indian stock markets today, check out the most recent share market updates here.