Why Newgen Software Share Price is Falling
May 28, 2022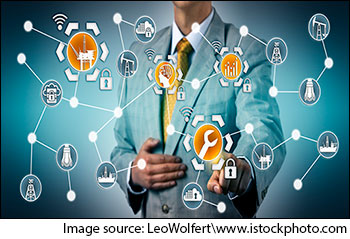 In 2022, shares of Indian IT companies have been the top losers.
The Indian IT sector performed very well in 2020-21, during the Covid-19 pandemic and was one of the best performers in India.
The Russia-Ukraine conflict, negative sentiment around the Q4 results season, and continued selling by FIIs, have increased bears' grip on the Indian market.
Newgen Software rallied from Rs 195 to Rs 734 during pandemic However, this growth did not last for long and was short lived.
Currently, Newgen Software share price trades at Rs 378.5.
On a year-to-date (YTD) basis, Newgen Software share price has fallen 62.8%.
Let's dig a little deeper on what can be the probable reasons for the fall.
#1 NASDAQ Falls
The worldwide IT sector has suffered since the beginning of this year. The Nasdaq, which is heavily weighted toward technology sector, has plummeted.
The Nasdaq Composite is an American stock index that includes major technology companies like as Alphabet, Amazon, SNAP, and others.
The Nasdaq index is mirrored in Indian IT stocks. Whenever the Nasdaq falls overnight, Indian IT companies tend to follow suit.
As a result, you can see the parallel. Indian IT equities have been in the red as global tech giants have seen a significant correction.
#2 Attrition Rate at its Peak
Attrition is at an all-time high in the Indian IT sector.
TCS had an attrition rate of 17.4%, while Infosys and Wipro had rates of nearly 28% and 23.8% respectively in Q4.
This is a big leap from last year's figures and even quarterly figures.
Rapid digitalisation in the aftermath of the pandemic has increased the demand for IT professionals.
From entry-level IT workers to mid and senior-level executives, the IT tech field is bursting at the seams right now.
Many specialists are leaving established IT firms for start-ups with better growth potential.
Though IT sector has bright future aspects, similar is not visible in their financial sheets.
#3 Benchmark indices
In 2022, the BSE IT index fell 25%, or 9,524 points. In comparison, the 30-stock Sensex fell 7.4%, or 4,336 points, over the same time period.
Similarly, the Nifty IT index has slid from Rs 37,071.1 to Rs 28,641.6, a loss of 9,363 points or 25.3% year to date.
This year, FIIs have liquidated equities worth over Rs 1,600 bn in the Indian market, dampening confidence toward IT firms.
In terms of earnings, the majority of IT companies have fallen short of the consensus growth forecast. With IT businesses' margins expected to remain low in Q4, IT stocks have lost momentum.
Thus the IT sector has been under pressure since 2022.
Let's have a look at the performances of a few big players...
#4 FII Selling
Foreign investors have sold shares of Newgen Software for the past three quarters. And the market seems to be factoring this effect.
FIIs held 20.5% stake in the company as of June 2021. Skip forward to March 2022, FIIs hold 15.7%. In the most recent quarter, FIIs reduced almost 2% exposure to the stock.
Even mutual funds offloaded a bit after buying for consecutive three quarters.
You can guess what happens when both FIIs and DIIs are selling shares.
To know more, check out Newgen Software's latest shareholding pattern.
Key Highlights of Q4
Here are the key highlights of Newgen Software:
Newgen Software has filed 44 patents till date, out of which 23 have been granted in India and the US.
Newgen Software managed to add 16 new customer logos in this quarter.
Increased growth across geographies, with EMEA being the top revenue contributor this year, expanding at 42% year on year, followed by APAC, India, and the US.
The first orders have arrived from the Australian market.
Newgen Software has shown an accelerated performance in the banking and financial services, insurance, and government/public sector sectors.
During the quarter, the company entered into transformation arrangements with a prominent home financing firm and a large private sector bank in India.
To know more about the company, check out Newgen Software factsheet and its latest quarterly results.
How the stock of Newgen Software has performed recently
Newgen Software surged 5.5% to Rs 379.0 on the BSE this Friday.
The broader S&P BSE IT Index was up by 2.4%.
And the benchmark S&P BSE SENSEX was at 54,884.7 (up 1.2%).
Over the last 30 days, the Newgen Software share price is down 19.4%.
And over the last one year, Newgen Software share price is up 3.5%.
The current market capitalisation of NEWGEN SOFTWARE stands at Rs 26,513.21 m.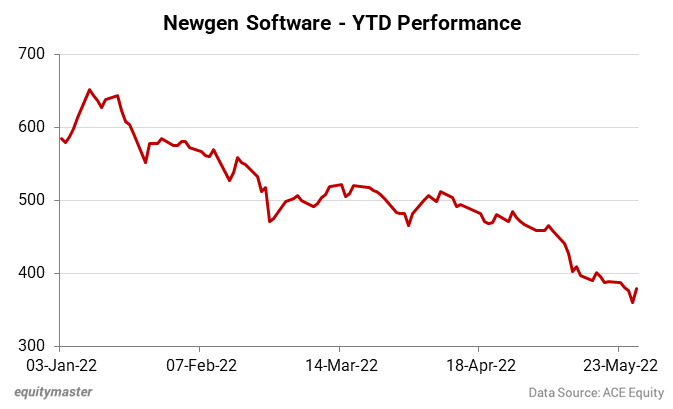 About the Company
Newgen Software is a well-known provider of a low code automation platform for digital transformation. Gartner, forester, frost and Sullivan, and Idc have all given the corporation its seal of approval.
The company provides platforms for business process management, enterprise content management, and customer communication management, with significant mission-critical solutions installed at the world's biggest banks, governments, BPOs and IT companies, insurance companies, and healthcare organizations.
You can compare Newgen Software with its peers:
Newgen Software vs KPIT Technologies
Disclaimer: This article is for information purposes only. It is not a stock recommendation and should not be treated as such. Learn more about our recommendation services here...