Why NMDC Share Price is Falling
Jul 15, 2022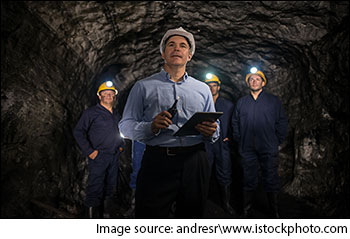 Editor's note: Hitting 52-week lows for consecutive days, one of the most profitable PSU companies NMDC is under intense pressure.
When the largest iron ore manufacturer in India accounting for a significant total domestic production falls big time, it raises concerns for other smaller counterparts too.
In the month of May 2022, NMDC was showing similar patterns and its share price was falling. We wrote to you back then explaining the probable reasons behind the fall.
Now, there are more concerns for the iron ore mining firm. It has fallen past the May 2022 lows and keeps hitting new low these past few days.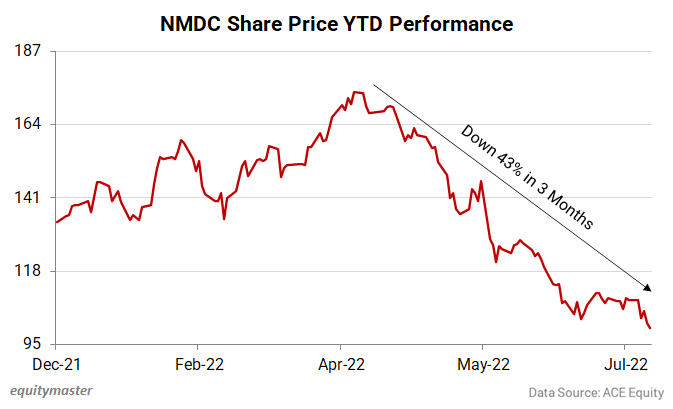 Continue reading to know what has caused the recent decline...
Why is NMDC Share Price Falling?
The markets have been in turmoil since the start of 2022.
The rising inflation, new variants of Covid and geopolitical tensions all contributed to the market volatility.
Even the best-performing sectors of 2021 are facing a slump this year.
Take, for example, the metals sector. It went up 65% in 2021 but has fallen by over 10% this year.
Even the largest iron ore manufacturer in India, NMDC, has fallen prey to market volatility. On a year-to-date basis, its shares fell by 7.7%.
While this fall is due to the uncertainties around the financial world, the recent plunge in the shares of NMDC is for a different reason.
Why did the shares of NMDC fall by 15% in the last week?
Let's dig deeper to understand what led to this sudden fall.
#1 Waiver of import duty and hike of export duty
The government recently announced a waiver of customs duty on coking coal and ferronickel. This move is to bring down the prices of steel in the country.
It also hiked the export duty of iron ore to 50% from 30% to ensure there is enough domestic supply.
Along with this, it also hiked the export duty of 11 iron and steel inputs to control inflation in the country.
Though the government aims to reduce inflation in the country, with a hike in iron ore export duty, Indian players will be forced to sell to the domestic market. This will impact their exports, revenue and ultimately the profit margins.
Hence the price of NMDC fell drastically in the last week.
#2 Falling iron ore prices
The prices of iron ore fines, a variety of iron ore, have been on a downtrend since April 2022 and fell by 9% month-on-month. This was led by weak demand due to falling prices of steel and the global economic slowdown.
With China reducing its steel production, the demand for iron ore has also reduced, leading to a fall in its prices globally.
Though India doesn't import iron-ore fines, falling global prices will make Indian iron ore exports less attractive. Hence even Indian players are announcing price corrections to keep up with the global scenario.
With iron ore prices falling, the realisations and margins of NMDC are bound to go down in the near term. Hence investors panicked, which led to the fall.
#3 Weak Sales
Update: Recently, NMDC registered weak sales and output numbers. It reported a fall of about 14% in its iron ore production at 2.57 m tonnes (MT) during June 2022.
The falling sales trend is ongoing. In June 2022, the company saw its sales falling to 1.9 MT.
The company produces most of its iron ore from producing units in Chhattisgarh and Karnataka. Both these regions reported declining production.
This drop in sales and output is due to the export duty imposed by the government in May 2022. It has affected the demand and dragged steel prices down.
#4 Weak sales lead to price cuts
Update: Adding to worries, NMDC has cut prices of iron ore amid a weak demand environment.
This is not the first time it has done so. This is the third instance of the company cutting prices after the government raised export duty on all grades of iron ore to 50% in May 2022.
NMDC had sharply reduced iron ore prices in June by Rs 1,100 / per tonne to Rs 4,400 for lump.
The state-owned company aims to produce 46 m-47m tonnes in the financial year 2022-23 compared to 42 m tonnes in the previous financial year.
What the future looks like for NMDC?
In the recent quarterly results, NMDC's revenue grew marginally, and the net profit fell by 36% year-on-year (YoY) on account of higher expenses.
However, for the financial year 2022, it reported revenue from operations of Rs 258.82 bn, a 68% increase from the previous year.
The net profit also grew by 50% from the financial year 2021, driven by volume growth and price increases.
Its earnings per share (EPS) grew by 55%, and it also declared a dividend of Rs 14.74 per share, the highest ever for the company. Moreover, the company is debt free and has strong cash flows.
Despite being susceptible to the cyclicality of the steel sector, NMDC's strong fundamentals make up for it. It's the largest iron-ore manufacturer in the country.
The company's growth prospects look bright, driven by the government's infrastructure push.
How have the shares of NMDC performed recently?
After a very positive 2021, NMDC's shares fell in 2022.
Last week, the shares nosedived by 14.7% and are currently trading at Rs 124.65.
Over the last 30 days, NMDC's shares fell by 18.4%, while they fell by 3% in the last year.
The current market capitalisation of NMDC stands at Rs 366,032.66 m.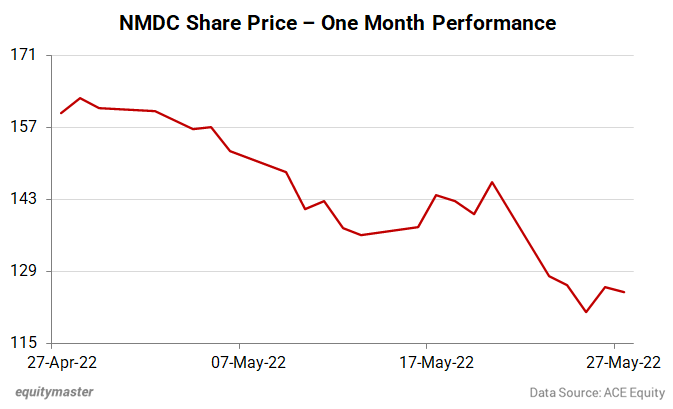 Update: NMDC currently trades at Rs 101, way off from its 52-week high of Rs 186 touched on 30 July last year.
Its marketcap as on 15 July 2022 stands at Rs 297.2 bn.
At the current price, it trades at a PE multiple of 3.2 and a price to book value ratio of 0.9.
About NMDC
NMDC is the largest iron ore manufacturer in India.
It's engaged in the business of exploration and production of iron ore, diamonds and sponge iron. The company also forayed into renewable energy and generates and sells wind power.
NMDC has seven iron ores mines in the country with a total production capacity of 36 million tonnes, accounting for 18% of the domestic production. It mostly supplies iron ore lumps and fines to steel manufacturing units and metallurgy industries.
The company has the lowest cost of producing iron ore in the country and enjoys cost leadership over its peers. This led the company to move up the value chain and establish its steel plant with a manufacturing capacity of 3 million tonnes.
For more details about the company, you can have a look at NMDC's factsheet and NMDC's quarterly results on our website.
You can also compare NMDC with its peers.
Happy Investing!
Disclaimer: This article is for information purposes only. It is not a stock recommendation and should not be treated as such. Learn more about our recommendation services here...