Coal India's Expected Production Numbers Puts Stock in Focus
May 31, 2021
Coal India share price was in focus today after the company maintained its production and offtake momentum in the month of May.
It was able to do so despite the Covid-19 restrictions in several states.
As per reports, Coal India is likely to report dry fuel production of around 41.7 m tonnes (MT) and offtake of nearly 55 m tonnes this month.
The mining major had production of 41.43 m tonnes and sales of 40 m tonnes in the corresponding period last year.
India's Rising Coal Production
Coal India, the largest coal-producing company in the world, accounts for almost 82% of the total production
The rest is contributed by the Vedanta, Essel Mining & Industries (EMIL), Dilip Buildcon, and Adani Coal Project.
Like healthcare, metal, and IT sector, the Indian coal mining sector also had a stable year even as the Indian economy suffered greatly.
Coal production in India was 730.87 m tonnes in 2019-20 compared to 728.72 m tonnes in 2018-19, a growth of 0.3%.
Out of the total, Coal India produced 602.15 MT in 2019-20 despite the pandemic. It had previously recorded 606.89 MT.
While most mine developer and operating (MDO) companies have recently entered the coal industry, their coal projects have been impressive.
--- Advertisement ---
This is a Powerful Mega Trend Playing Out in India

We have uncovered a powerful mega trend that is playing out in India right now.

It could potentially generate immense wealth for early movers.

Our co-head of research Tanushree Banerjee has also zeroed in on one specific stock riding this mega trend.

It's her #1 stock pick right now.

And she believes, this could be one of the top stocks to get to potential Rs 7 crore wealth over the long term.

Tanushree will reveal all the details about this mega trend and her #1 stock at her special online event on July 29.

At the event Tanushree will also show you, how to potentially accumulate Rs 7 crore in wealth over the long term.

What you learn at the event could possibly change your financial fortunes forever.

Click here to reserve your FREE seat.
------------------------------
For example, EMIL produced an impressive 11.44 MT of coal just a year after it commenced operations.
Similarly, Adani's Parsa East & Kanta Basan coal blocks have a peak capacity of 15 MMTPA. On this basis, one can expect the Adani coal project to post stellar numbers too.
Coal India has identified 15 mining projects for MDO operations in an effort to increase the production.
Coal Imports
India imports 235 m tonnes of coal annually. Almost half of the imported coal is non-substitutable as its grades are not available in the country.
India's coal imports have fallen by 14% to 196.13 m in the last fiscal.
The Home Minister had earlier said that the coal sector would be a valuable contributor to India's growing economy.
Coal Secretary Anil Jain had said,
We are on track to producing 700 m tonnes of coal in 2020-21 fiscal. We will be able to cut substitutable coal imports with this rise in production.
The government's decision to hold auctions for coal mines also turned out favorably for players like Adani Group and Vedanta. They made significant gains for their future coal projects.
Adani made successful bids for a number of mines, with Gondulpara mine in Jharkhand and Dhirauli mine in Madhya Pradesh being the notable ones.
Rising Demand
Recently, Coal India had said that the Covid-19 pandemic impacted production on account of many of the company's employees across subsidiaries and contractors testing positive.
However, electricity demand had risen in recent months and the contribution of thermal power had improved, boosting demand for coal.
Free Signup: The Smallcap Revival Summit
Thermal power meets 78% of India's power demand.
Lockdown fears still remain overhang and that may impact the industry's electricity demand.
Coal India's Long-Lasting Record to be Broken
Until now, Coal India holds the record of India's largest IPO. The state-owned mining company had raised more than Rs 150 bn in 2010.
But this record seems to be broken after 11 years as Paytm is planning to raise as much as Rs 220 bn through an IPO, in the October-December period this year.
The firm is backed by investors including Warren Buffett's Berkshire Hathaway Inc, SoftBank Group Corp, and Ant Group Co.
Here are the top 10 IPOs in India so far.
Top 10 Biggest IPOs in India
Data Source: Ace Equity
Why Are Mining Stocks Rallying?
Mining stocks have seen a sharp upmove in their share price recently.
Especially shares of Coal India and NMDC.
The main reason behind Coal India's rally is that the company is focusing on import substitution in non-power sectors, its e-auction premiums have been improving, and receivables from power sector have also come down.
Further, the company had lower coal inventory levels, which fueled demand.
Also, strong demand for commodities such as steel, aluminium, cement, and others bode well for demand and realisations of coal.
This is on top of healthy dividend payout ratios.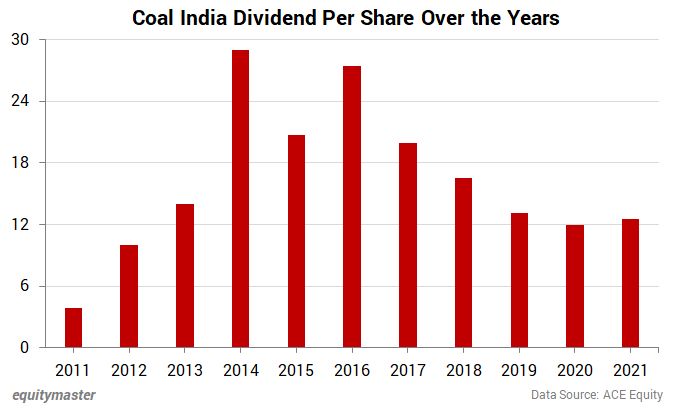 Equitymaster on the Commodity Supercycle
Here's what Aditya Vora, Financial Writer at Equitymaster, wrote about the commodity supercycle in one of the editions of Profit Hunter:
Steel factories were also shut completely in many countries. After the reopening, it took time for these factories to ramp up production. Also, the issue of availability of iron ore and the rising prices persisted.

The result?

Commodity prices shot up beyond imagination.

However, this global supply and demand mismatch will normalise.

The similar logic can be applied to other commodities too. The rally is largely due to supply constraints. It's not due to a secular and structural global demand recovery.

I believe these prices are not sustainable. The current trend will put pressure on demand going forward.
You can read the entire article here: Commodity Supercycle: What Goes Up Fast Will Come Down Faster
Co-head of Research at Equitymaster, Rahul Shah also did a piece on 'Commodity Supercycle'.
Meanwhile, India's #1 trader, Vijay Bhambwani shares his views on the much hyped commodity supercycle, in a recent video.
In the video, Vijay talked about why are commodity prices rising and will this bull market continue?
How Coal India Shares are Performing Today
Coal India share price ended 0.6% higher today.
It opened the day 1% lower but recovered losses to end marginally higher as market sentiment improved.
Shares of Coal India have a 52-week high quote of Rs 163 and 52-week low quote of Rs 110.
Over the past one year, shares of the company have stayed in a tight range between Rs 110 and Rs 155, rallying just 10%, as can be seen from the chart below.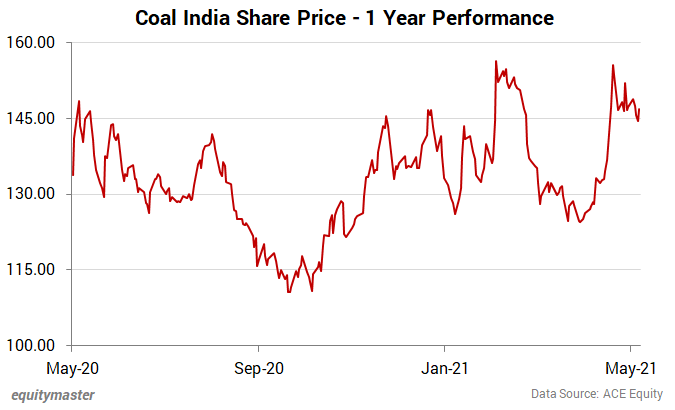 At the current price of Rs 147, Coal India commands a market cap of Rs 913.4 bn.
About Coal India
Coal India was incorporated in 1973 as Coal Mines Authority after the nationalisation of the coal sector. It was reconstituted as a formal holding company with the present name in November 1975.
The company has eight wholly owned Indian subsidiaries: Bharat Coking Coal, Central Coalfields, Eastern Coalfields, Western Coalfields, Northern Coalfields, Mahanadi Coalfields, South Eastern Coalfields, and Coal Mines Planning and Development Institute.
It has a wholly owned subsidiary in Mozambique, Coal India Africana.
Coal India was conferred the Maharatna status by the Indian government in April 2011. The status provides operational and financial autonomy.
Additionally, seven of its nine wholly owned subsidiaries have been accorded the Miniratna status, leading to decentralisation of operations and decision-making.
In October 2010, the government divested 10% stake in Coal India for Rs 154 bn through an initial public offering (IPO).
Over the years, the government has divested stake through offer for sale (OFS), by way of placement of shares in Central Public Sector Exchange Traded Fund and buyback of shares through offer for sale.
For more details about the company, check out Coal India company fact sheet and quarterly results.
You can also compare Coal India with its peers:
And to know what's moving the Indian stock markets today, check out the most recent share market updates here.