May 31, 2023 - Why KRBL Share Price is Falling
Why KRBL Share Price is Falling
May 31, 2023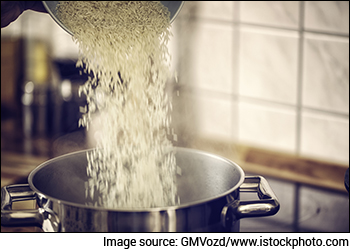 In the world of stock trading, breakthrough moments often signal potential opportunities for traders.
KRBL's share price has caught the attention of traders as it fell over 8% today.
Traders are also excited because the stock broke out of a 39-month range back in September 2022.
The current dip presents a unique chance for astute traders to seize potential gains, even amid a market downturn.
Let's explore the implications of this breakout, its significance, and how investors can capitalise on this opportunity during the stock's re-testing phase.
KRBL Weekly Chart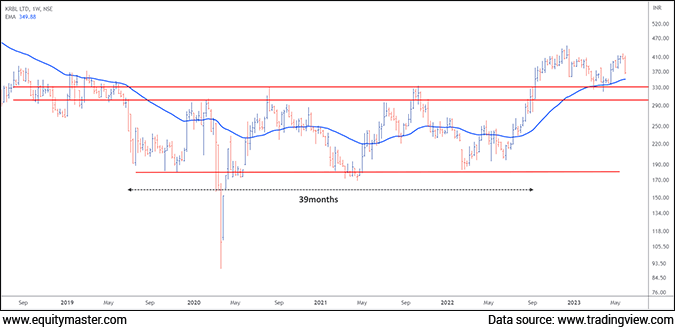 The Time-Cycle Breakout
After trading within a relatively tight range for an extended period of 39 months from June 2019 to September 2022, KRBL's stock has made a significant breakout.
This breakout signifies a notable shift in the stock price's dynamics. It indicates a potential change in market sentiment and a departure from its previous pattern.
As per the Fibonacci's time-cycle theory, a breakout at 38 days/weeks/months has strong significance and a higher success rate.
In the case of KRBL, the breakout at 39 months strengthens the bullish scenario on the chart.
Such a breakout often attracts the attention of traders seeking opportunities for profits.
Re-testing: An Opportunity
Following the breakout, it's common for the stock to re-test the levels it had previously traded within the range of Rs 300-330.
This re-testing phase provides traders with a favourable chance to enter or add to their positions at potentially advantageous prices.
While the stock may experience a temporary decline during this period, it offers an opportune entry point for investors looking to capitalise on future price appreciation.
The Long-Term Moving Average
When the price remains consistently above the 50-week Exponential Moving Average (EMA), it suggests that buyers have been consistently active and there is strong support for the stock.
KRBL is trading above its 50WEMA and is currently placed at Rs 349.
Traders often interpret this as a bullish signal, indicating potential upward momentum in the price.
A close look at the fundamentals
The reason why KRBL shares plunged around 10% today is due to the company's weak operating show.
In its investor presentation, the company said that margins were lower due to higher share of bulk non-basmati export sale (11% as against 7% of rice sales).
The original contract was cancelled, and goods had to be sold at a lower realisation in a different country.
Basmati realisations grew 17% YoY but it was offset by a corresponding 24% rise in input costs.
The company maintained its market leadership position and reported strong numbers for FY23.
FY23 Standalone Highlights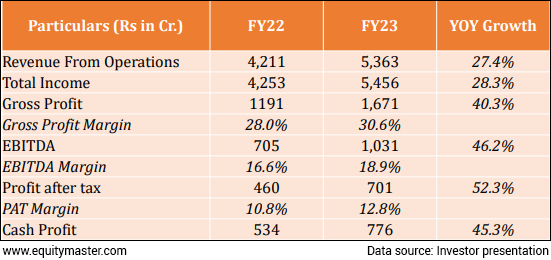 Despite growing competition in the industry, KRBL has stayed ahead of peers by foraying into new fields. Last year, it diversified into the renewable energy segment.
KRBL share price performed
In the past one year, shares of the company have rallied over 65%.
On a YTD basis, KRBL is down 7% while in the past five days, it has fallen over 12%.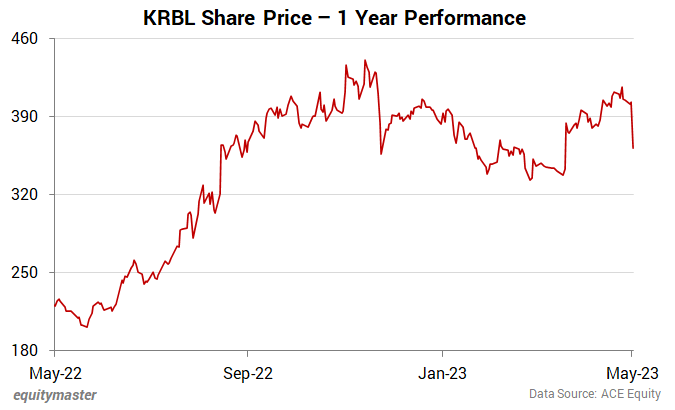 The table presents a comparative analysis of KRBL with its peers.
Comparative Analysis
Company
KRBL
Heritage Foods
Avanti Feeds
LT Foods
Godrej Agrovet
ROE (%)
11.8
16.5
14.9
16.5
11.3
ROCE (%)
15.5
21.4
20.5
16.1
18.6
Latest EPS (Rs)
29.4
6.3
20.6
11.6
15.7
TTM PE (x)
13.7
34.1
19.2
9.9
27.3
TTM Price to book (x)
2.1
2.7
2.6
1.4
3.5
Dividend yield (%)
0.9
1.2
1.6
0.9
2.2
Industry PE
53.9
Industry PB
13.8
Data Source: Ace Equity, Equitymaster
About KRBL
KRBL is one of the leading producers of basmati rice in the world, with operations across the basmati value chain right from seed development, farming, processing, and marketing.
It's also the largest rice miller in the country.
The company has a diversified product portfolio, including basmati, non-basmati rice, bran oil, furfural, rice bran, and de-oiled cakes.
It has several popular brands under its umbrella, such as India Gate, Unity, Nur Jahan, Doon, and Bemisal.
Besides food processing, KRBL also diversified into renewable energy. It has an energy production capacity of 145 megawatts (MW), which it uses for captive consumption and generating revenue.
To know more, check out KRBL's financial factsheet.
Investment in securities market are subject to market risks. Read all the related documents carefully before investing
Want to Grow Your Wealth With Safe Stocks?
If you want a simple, safe, and hassle-free approach to long term wealth building...
Without having to worry about negative news or every little downswing in the market...
And without having to worry whether your investments will actually "deliver"...
You must read our note on Blue Chip Stocks now.
Details of our SEBI Research Analyst registration are mentioned on our website - www.equitymaster.com
Disclaimer: This article is for information purposes only. It is not a stock recommendation and should not be treated as such. Learn more about our recommendation services here...
Yash Vora is a financial writer with the Microcap Millionaires team at Equitymaster. He has followed the stock markets right from his early college days. So, Yash has a keen eye for the big market movers. His clear and crisp writeups offer sharp insights on market moving stocks, fund flows, economic data and IPOs. When not looking at stocks, Yash loves a game of table tennis or chess.