Sensex 100,000 Before 2028 Ends
Jun 7, 2023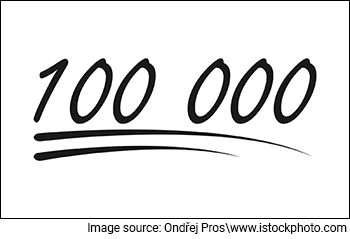 As I write this, the benchmark indices of the Indian stock market, Nifty and Sensex, are close to their all-time highs.
Global financial markets have been supportive. Indian retail investors and domestic financial institutions are bullish. In fact, since late March 2023, the stock market has been on a roll.
The previous all-time closing high on the Sensex was 63,284 back in December 2022. In little more than half a year, the Sensex is poised to scale new highs.
And it's not just the benchmark indices that are rising. The broader market of midcap and smallcaps are also doing well. In fact they are outperforming largecaps.
Whenever there is bullishness in the market, a hot topic comes up for discussion: Sensex 100,000.
What should you make of it, dear reader? Is it time to be bullish or cautious? Should you buy stocks now or consider booking profits?
In this editorial, we will present our view on the same...
Current Market Sentiment
The sentiment on Dalal Street right now is bullish but it's tempered with a little bit of caution.
The caution is not due to any specific concern regarding economic growth or the fundamentals of corporate India. Rather it's due to the uncertainty surrounding the global economy.
There is a legitimate fear of a global recession in financial markets. In fact, it's safe to say that it's the most talked about topic in the financial world.
Economists are of the opinion that a recession in the western world could occur in late 2023. This is more likely if the slowdown in US consumer spending causes the US economy to tip into a recession.
In fact a recession in Germany is already underway. Other developed nations could follow.
Of course the Indian economy will not face a recession. India is growing fast and long-term investing is likely to produce excellent results.
India is growing fast and long-term investing is likely to produce excellent results. The latest GDP numbers are proof of that. The Indian economy grew by 7.2% in the last financial year.
In fact India's GDP growth rate will likely accelerate. It was a slow 4.5% in the last quarter. The rate was 6.1% in the quarter gone by. Over the rest of the year, we are likely to see an increase in the rate of growth in each passing quarter.
This acceleration will finally put India on a high growth path. Last week, the Reserve Bank of India's (RBI) governor Shaktikanta Das projected this financial year's GDP growth at 7%+. And this could happen even if many developed countries fall into recession as Germany already has.
Now imagine how fast the Indian economy will grow once the recession ends in the developed world, after 2024. The good old days (pre-2008) of 8-9% GDP growth is on the cards.
For some people, this projected growth rate may be hard to believe. But it should come as no surprise to those who have been closely tracking the fundamental improvements in the economy.
The key point here is the transformation of India's physical infrastructure.
You see, the government has run a significant fiscal deficit in recent years, i.e., it has spent more than it has earned in taxes, disinvestment, etc. But this money has been primarily spent on building infrastructure. In other words, the government has been investing in the nation's future.
State governments have done their bit too when it comes to spending on infrastructure. This capital expenditure along with timely execution of big infra projects are the main reasons for a broad based recovery in the economy.
Manufacturing, services, finance, construction, mining, and agriculture have all recovered. The India growth story is well and truly underway.
This is great news for the stock market. It's no wonder that Sensex 100,000 is now back on the cards.
So will the Sensex go to 100,000?
In the long-term, the answer is YES.
But what exactly is the long-term? How many years? Months?
So the real question is...
When Will the Sensex Hit 100,000?
Well the Sensex is just above 63,000 as of this writing. So it has to rise almost 60% from the current level to get to 100,000. That is a significant increase.
How long would it take to get there?
Well, if we assume a moderate 12% annual increase, then we're looking at a little more than 4 years. So that's somewhere towards the end of 2027.
Is this achievable?
Yes, it is because this rate has been achieved in past market cycles. It's also a reasonable rate considering the earnings growth of large Indian corporates.
Even if we use a more moderate 10% rate, the Sensex could probably get to 100,000 before the end of 2028.
So there you go. As long as corporate growth doesn't get derailed, and there's no reason why it should, we could probably see the magical 6 figures on the Sensex in less than 5 years.
How Should You Invest?
Our answer is simple. Long-term investing is the way to go. If the most likely timeframe for the Sensex to get to 100,000 is 4 years and above, then becoming a long-term investor is the right thing to do.
If you are already one then congratulations. You just need to keep at it.
If you're a trader and are new to the idea of long-term investing then we suggest getting started by reading this article - 10 Rules for Successful Long Term Investing. This is also a handy article - Your Long Term Investing Checklist.
If you already have a grasp of the basics, then we suggest you focus on the top sectors that will do well in the long term. After all, every stock won't go up 60% just like the Sensex when it gets to 100,000. So will languish while others will be multibaggers.
So focus on the sectors that could produce the multibaggers. This article will point you in the right direction - 5 Sectors to Bet on for the Long Term.
One Last Thing...
When the Sensex gets to 100,000, the market is likely to become euphoric. The sooner it achieves this milestone, the greater will be the euphoria.
At that time you should consider booking profits. Don't get dragged into the euphoric sentiment.
On the other hand, if the market remains rangebound, don't be disappointed. Use the opportunity to find and buy great stocks for the long term.
Happy investing.
Investment in securities market are subject to market risks. Read all the related documents carefully before investing
Want to Grow Your Wealth With Safe Stocks?
If you want a simple, safe, and hassle-free approach to long term wealth building...
Without having to worry about negative news or every little downswing in the market...
And without having to worry whether your investments will actually "deliver"...
You must read our note on Blue Chip Stocks now.
Details of our SEBI Research Analyst registration are mentioned on our website - www.equitymaster.com
Disclaimer: This article is for information purposes only. It is not a stock recommendation and should not be treated as such. Learn more about our recommendation services here...
FAQs
How long should we hold stocks?
The strategy behind long term investing is to hold on to stocks for a period of more than three years, or possibly more than five years.
Three years or five years sounds like a long period when one dives into the stock market. That's because most investors are looking to make a killing in the short term.
But that's the difference between a trader and an investor.
There are retail investors who choose to invest in fundamentally strong stocks and remain invested for the long haul. This can even mean a period of 3, 5, 10 or more years.
Which are the best long-term stocks?
The best long-term stocks are those that compound wealth that could last you for generations.
For this, you need to buy great companies at a reasonable price and hold on to them 'forever'.
Asian Paints is a classic example that embodies the true spirit of a 'Forever Stock'. Had anyone invested Rs 500 in the company when it went public in 1982, the value of the holding would be as much as Rs 10 m today.
To know about more such companies, check out our recommendation service - Forever Stocks.
What is value investing?
Value investing is an investment approach that allows one to profit from undervalued stocks. It is based on the idea that each stock has an intrinsic value, i.e. what it is truly worth.
Through fundamental analysis of a company, we can determine what this intrinsic value is.
If the intrinsic value is higher than the actual stock price of the company, then the stock offers an investment opportunity. It's like buying a Rs 100 note, for Rs 80.
Conversely, if the intrinsic value is lower than the current market price, then the stock is 'over valued' and should be avoided. Think a Rs 100 note selling for Rs 120.
Does value investing still work?
Value investing continues to be a reliable way for investors to make healthy returns.
Investors just have to be patient with their investments as value investing may not work well in all phases of the market.