Crypto Craze Moves Beyond Bitcoin in May
Jun 1, 2021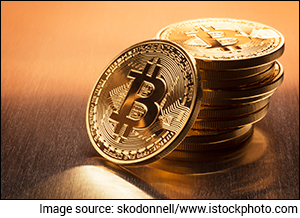 With new cryptos entering the industry on a daily basis, the market cap of Bitcoin among all cryptos has fallen below 50%.
In fact, currently Bitcoin accounts for just 43% of the crypto market.
It's no wonder that while earlier the entire cryptocurrency market usually trended in sync with Bitcoin, the trend is now changing.
Let's look at the major events in the crypto industry, for the month gone by.
The Month Gone by...
Last month was indeed volatile for crypto traders as major asset classes saw huge up and down swings.
Within the top 100 coins, Shiba Inu, also called as the 'Doge Killer' or 'dogecoin spin-off', gained the most, rising over 445%.
Started off as a bit of a joke, Shiba Inu coin has seen significant gains.
It started to gain traction after Elon Musk's SNL appearance, in which he called dogecoin a "hustle."
Musk's comments sunk the value of dogecoin by 30%, which meant Shiba Inu coin benefited from its alternative's fall.
Two days after Musk's appearance, Binance listed the coin on its trading platform, and the price soared.
--- Advertisement ---
[Alert] Sell These 3 Stocks Immediately

These 3 stocks are ticking time bombs in your portfolio.

It is very likely that you could be owning these 3 overvalued...

fundamentally weak... ready to crash stocks... in your portfolio today.

Because many stock brokers have painted rosy pictures of these stocks. But the reality is starkly different.

If the market crashes, then these stocks could wipe out your wealth.

You should get rid of these stocks as soon as possible.

We are going to reveal details of these 3 landmines at our upcoming special event at 5 pm on September 24.

You can click here to sign-up. It's free
------------------------------
Shiba Inu Coin came to attention after a crypto billionaire donated US$1 bn of the coin to aid India's Covid-19 relief.
After Shiba Inu, Telcoin was the top gainer rising as much as 190% over the past 30 days.
Telcoin is a blockchain-based fintech aligned with the telecom and mobile money industries globally.
It's an Ethereum request for comment (ERC20) token based on Ethereum blockchain.
The coin is particularly in focus because of its capability to connect the gap between the telecom industry and blockchain technology.
Currently, the entire Telcoin supply is 100,000,000,000 with 47,270,110,195 in circulation.
Let's look at the other top gainers in the month gone by.
Top 10 Gainers in May 2021
| Name | Price | 1 Month % Gains |
| --- | --- | --- |
| SHIBA INU | $0.000009114 | 448.56% |
| Telcoin | $0.03167 | 191.21% |
| Polygon | $1.89 | 152.57% |
| Ethereum Classic | $68.19 | 59.44% |
| Cardano | $1.71 | 31.66% |
| Celsius | $7.13 | 15.75% |
| EOS | $6.40 | 2.00% |
| Theta Fuel | $0.348 | 1.83% |
| Dai | $1.00 | 0.15% |
| TrueUSD | $1.00 | 0.12% |
Data Source: CoinMarketCap
Now coming to the top losers, Terra coin fell the most, plunging as much as 61% over the past month.
Terra is a decentralised, scalable, interest-bearing, and algorithmic stable coin offering a wide range of features.
It's famous for its predominantly infinitely scalable monetary policy.
--- Advertisement ---
INSIDER SECRET: An Astonishingly Easy Way to Pile Up Potentially 40-60% Gains in Just 1 Year

India's most well-connected trader with over 35 years of experience just confessed...

"This Lucrative Market Segment Could Leapfrog Over Nifty in The Next 12-16 Months"

... thanks to a massive and irreversible mega-trend fueling its growth!

In fact, he and his partner have already identified 2 spectacular stocks from this segment... which are ready to rake in potentially 40-60% gains in just 1 year... and make you big, fat profits!

The best part of them all...

Their Details Are Packed in This Special Report (Discover How to Claim it for Free)
------------------------------
The Terra blockchain is a global payments and settlements system that offers stable coins pegged to the US dollar, the Korean Won, and the IMF's SDR basket.
Fantom and OKB are other top losers for the month which fell in the range of 55-60%.
Here are other top losers for the month gone by.
Top 10 Losers in May 2021
| Name | Price | 1 Month % change |
| --- | --- | --- |
| Terra | $6.45 | -60.77% |
| Fantom | $0.3141 | -60.23% |
| OKB | $13.26 | -57.68% |
| Siacoin | $0.01731 | -57.03% |
| Filecoin | $71.44 | -54.60% |
| ICON | $1.13 | -54.54% |
| DigiByte | $0.06704 | -53.88% |
| Ravencoin | $0.08173 | -52.95% |
| Stacks | $0.9749 | -52.77% |
| PancakeSwap | $17.48 | -52.64% |
Data Source: CoinMarketCap
As can be seen from the table above, major cryptos saw huge down swings.
All the top 10 losers have fallen more than 50%! That's huge.
The fall was triggered when the China Banking Association warned member banks of the risks associated with digital currencies.
In the latest action against cryptos, Bank of Japan Governor Haruhiko Kuroda said much of the trading was speculative.
These remarks follow China's recent efforts to crack down on crypto mining activities.
Bitcoin witnessed a major correction and fell from its all-time high levels of US$64,800 touched in the month of April. It currently trades at around US$38,000.
It hit a low of US$30,681 on 19 May, reflecting a fall of more than 50% from its all-time high a month ago.
The entire asset class of cryptos eroded half of its market cap. Bitcoin's market cap also fell significantly last month to approximately US$690 bn.
Following the steps of bitcoin, Ethereum too has trended similarly.
The second-largest crypto by market cap, Ethereum also witnessed a major correction falling from US$4,300 levels to lows of US$1,750.
Post making the low of US$1,755, Ethereum witnessed a sharp recovery and prices surged over 65% making a weekly high at US$2,915.
Presently, Ethereum is trading at US$2,600 levels.
RESPONSE PENDING: Your Invitation to Attend the Super Smallcaps Summit
Can Ethereum Surpass Bitcoin?
I can't see why not. Going by the current nature of crypto markets, Ethereum could outperform Bitcoin in the coming years.
From the start of this year, when Ethereum was trading at US$735, it surged to US$4,300 on 12 May, gaining 485% during this period.
Ethereum is only 6 years old while Bitcoin is now 12.
If you would have noticed, whenever Bitcoin falls or gains sharply, or if there's any sudden movement in the largest crypto, other cryptos follow suit.
Because, that is the way altcoins work.
However, Ethereum has always responded with a sharp recovery in quick time.
As the Ethereum blockchain fully supports DeFi Apps, Ethereum has gained significant traction among major industries, arousing investors interest.
In addition to that, the blockchain is soon undergoing an upgrade which will result in token burns, limiting the Ethereum supply in the long run.
Unlike the crypto meme, Dogecoin, Ethereum will have limited supply just like Bitcoin.
This will result in FOMO buying which may lead to price rise.
Crypto Market Cap Surges 10X in 1 Year
Back in May 2020, the market cap of total cryptos was around US$260 bn.
Skip forward to May 2021, the total market cap touched a high of US$2.5 tn, a 10X rise!
At present, the total market cap stands at US$1.65 tn.
With the launch of new cryptos, the market cap of Bitcoin in total cryptos has fallen below 50%, which was around 55-60%.
Equitymaster's Technical View on Bitcoin
We reached out to Brijesh Bhatia, Research Analyst at Equitymaster, and Editor of the premium monthly recommendation service Fast Profits Report, for his technical view on bitcoin.
Here's what he has to say...
Crypto has been on a roller coaster ride. Managing the risk in this asset class is a pro level task.

Well, with the increase in retail participation because of Fear of Missing Out (FOMO) money making opportunity, traders are ignoring the risk.

Most of the cryptos have corrected more than 50% from their highs and volatility of 20-25% on a daily basis is tempting traders.

Let's look at the technical structure of Bitcoin - the father of Crypto.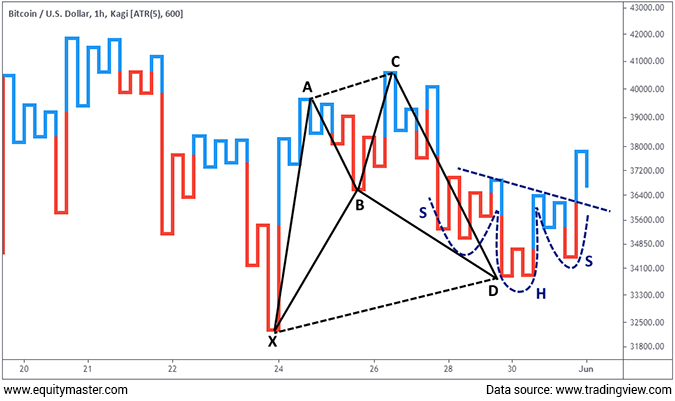 The Kagi chart of Bitcoin (USD) is forming short term bottoming structure as we are witnessing couple of bullish reversal pattern:
Bullish Harmonic pattern (marked black)
Bullish / Inverted Head & Shoulder (marked blue)
At the current price of US$36,000, we believe the structure will hold bullish view till US$33,000 level is not breached.

Traders and investors should keep in mind the risk parameters before trading in cryptos. Invest the amount which if lost will not affect your pockets.
Equitymaster's Take on Cryptos
We don't get cryptos. Honest.
It's something that has caught our imagination but we just can't figure out a way to value it. Fundamentally speaking.
Chartists like our very own Brijesh, study prices and suggest various levels. That makes sense to us.
Having said that, our "fundamental" take on cryptos is simple...
It's in line with the approach anyone should have when dabbling in a space one does not understand.
Invest only what you can afford to lose. Nothing more.
Resources from Equitymaster on Bitcoin
Here are links to some very insightful Equitymaster articles and videos on Bitcoin.
Happy Investing!