Rupa & Company Stock in Focus on Strong Quarterly Results
Jun 1, 2021
Shares of Rupa and Company (Rupa) surged nearly 20% to Rs 475.8 on the BSE today.
It hit a new 52-week high after the company reported a strong set of numbers for the quarter ended March 2021.
The apparel manufacturer returned to the black in the fourth quarter of 2021 as it posted a consolidated net profit of Rs 659.6 m compared to a loss of Rs 42.8 m in the corresponding quarter in the previous financial year.
For the full financial year, the company logged its highest-ever revenues and profits at Rs 13.1 bn and Rs 1.8 bn, respectively.
Operational Performance
The company's revenue from operations jumped 153% year on year (YoY) to Rs 4.5 bn from Rs 1.8 bn posted in the same quarter year ago.
On a quarter on quarter (QoQ) basis, the company's revenue from operations grew 31.3%.
Its earnings before interest, tax, depreciation, and amortisation (EBITDA) soared 1,050% to Rs 906 m in the fourth quarter from Rs 79 m posted in the same period last year.
The EBITDA margins came in at 20% during the March 2021 quarter. The figure stood at 4% in the same quarter last year.
Key Financial Indicators

Equity Dividend
The board of directors has also recommended a total dividend of Rs 5 per equity share of the face value of Re 1 each for the financial year ended March 2021.
The Debt Profile
The company's debt was drastically reduced to Rs 270 m in the financial year 2021 against Rs 1.8 bn recorded last year.
Its net debt to equity stood at 0.04, reduced from 0.30 in the previous year.
Managements' Overview on Company's Quarter Four Performance
Rupa has a strong pan-India presence. The company's strategy is to foray in newer markets by appointing new distributors and building experienced team and further strengthen their share in the existing markets.
This would lead to increased investments in brand development across new geographies.
During the year, the company has spent 4.2% on brand development. They expect branding and advertisement cost to come back to normalcy that is 6-8% of revenues in the next financial year.
Commenting on the March quarter performance, Dinesh Kumar Lodha, CEO said,
Despite the challenges faced due to the pandemic, Rupa and Company recorded its highest-ever revenues and profits in FY2021.

This was possible due to increased sales volumes, changes in product mix, improved operating efficiencies and cost reduction strategies.

The company's focus is to increase share in premium and super-premium category, improve focus on women, casual, and thermal wear, and foray into newer markets with higher penetration in the existing markets.
He cautioned against the disruptions arising from the second Covid-19 wave amid restrictions imposed by states but said he expects business to start gaining traction in June 2021 and log higher than industry growth for the coming year.
Far-Reaching Footprint
Rupa enjoys very strong position in the east of India and has gained significant presence in the north followed by the west of India.
It's increasing its footprints in south India and plans to expand and improve market share going ahead
The company's strategy is to foray in newer markets by appointing new distributors and building experienced team and further penetrate in the existing markets.
Rupa is connected to around more than 1,200 dealers across India and it has 1.3 lakh outlets.
Also, Rupa exports its products in middle east countries like UAE, Saudi Arabia, Kuwait, Indonesia, Nigeria, Congo, Russia, USA, and Singapore, and it aims to strengthen its presence in the existing markets.
Equitymaster's View on India's Innerwear Industry
We reached out to Richa Agarwal, Senior Research Analyst at Equitymaster, and Editor of the smallcap service, Hidden Treasure, for her view on the industry.
Here's what she has to say...
The rise in middle class, affordability and urbanisation is positive for the growth prospects of Indian innerwear industry.

That said, the industry remains highly competitive, with presence of both organized and unorganized segments. The share of unorganized segment stands at 60% - 65%.

Investors should keep this risk in mind and ensure enough margin of safety in valuations while making investment decisions in such stocks.
How the Stock Markets Reacted to Rupa and Company's March Quarter Numbers
Shares of Rupa and Company opened the day at Rs 457 on the BSE and Rs 458 on the NSE.
Rupa and Company's share price closed at Rs 475.8 (up 20%) on the BSE and Rs 476.2 (up 20%) on the NSE.
At its current price, it is trading at a P/E of 35.8.
The share touched its 52-week high of Rs 475.8 and 52-week low of Rs 140.1 on 2 June 2021 and 28 May 2020, respectively.
Over the last 30 days, the Rupa and Company share price is up 54.3%. Over the last one year, the company's share price is up 225%.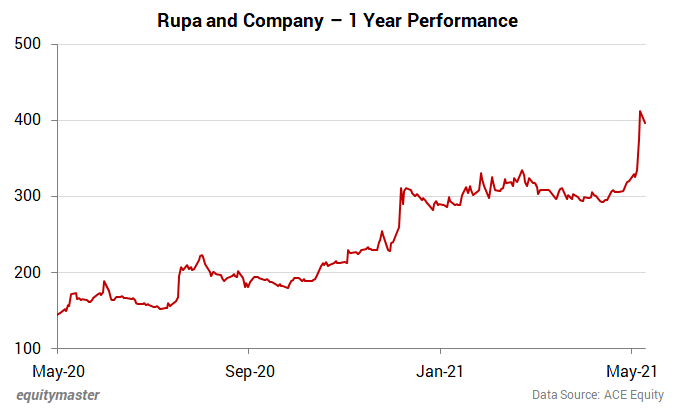 About Rupa and Company
Rupa and Company is the number 1 knitwear brand in India covering the entire range of knitted garments from innerwear to casual wear.
The company was incorporated in the year 1985.
It is primarily engaged in manufacture of hosiery products in knitted undergarments casual wears and thermal wears.
The parent company also has a power generation unit operated on windmill process.
The management believes in moving ahead not just in term of volumes but also in technology and product innovations.
In line with evolving consumer preferences and market demands Rupa periodically introduces new varieties in each sub-brand.
These products incorporate the latest fabric innovations cutting-edge production techniques and advanced design elements to give the finest experience of style and comfort to the end-user.
For more details about the company, you can have a look at Rupa and Company factsheet and quarterly results on our website.
You can also compare Rupa and Company with its peers.
Rupa and Company vs Page Industries
Rupa and Company vs Arvind Mills
Rupa and Company vs Welspun India
To know what's moving the Indian stock markets today, check out the most recent share market updates here.