What's Driving the Rally in Reliance Shares?
Jun 1, 2021
The share price of India's largest company in terms of market capitalisation, Reliance Industries, is seeing sharp upmove since the past 4 trading sessions.
The stock zoomed yesterday after brokerage Jefferies raised its target price.
In the past two trading sessions, the stock has gained over 10%.
Last week on Friday, Reliance closed 6% higher at Rs 2,094.90 on BSE.
Often called 'King of Dalal Street', when Reliance moves higher by a large margin, it's almost a given that the benchmark indices would end higher too.
Reliance has a weightage of 10.2% in the NSE Nifty, followed by HDFC Bank at 9.7%.
Weightages as of 30 April 2021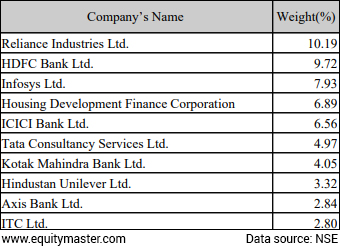 Is Reliance Rallying because Jefferies Raised its Target Price?
Yes. This could be one of the reasons.
Reliance shares are rallying because global brokerage firm Jefferies has raised its target price for the stock.
Jefferies said it saw a 50% upside in Reliance's earnings before interest, tax, depreciation, and amortisation (EBITDA) for petrochemical business if the prevailing momentum sustains.
The brokerage firm added that a sustained performance by the petrochemical vertical will improve the likelihood of oil-to-chemical (O2C) business stake sale in financial year 2021-22 and may lead to a reversal of the 40% underperformance in the Nifty.
--- Advertisement ---
This is a Powerful Mega Trend Playing Out in India

We have uncovered a powerful mega trend that is playing out in India right now.

It could potentially generate immense wealth for early movers.

Our co-head of research Tanushree Banerjee has also zeroed in on one specific stock riding this mega trend.

It's her #1 stock pick right now.

And she believes, this could be one of the top stocks to get to potential Rs 7 crore wealth over the long term.

Tanushree will reveal all the details about this mega trend and her #1 stock at her special online event on July 29.

At the event Tanushree will also show you, how to potentially accumulate Rs 7 crore in wealth over the long term.

What you learn at the event could possibly change your financial fortunes forever.

Click here to reserve your FREE seat.
------------------------------
Rising Fuel Demand
Globally, fuel demand is on the rise and refineries in the US are facing disruption.
Most of the oil companies have reported inventory gains in the last quarter.
Reports suggest that the US consumption during the summer season is likely to be at its peak. So, the demand-supply mismatch would be beneficial for Reliance.
More Gains Ahead?
If we are to go by expert's advice, the rally is here to stay for Reliance Industries.
Here's an excerpt from what an independent market expert said in an interview.
A couple of months back, the stock had shown a very similar kind of a price trend where it had managed to give a very strong breakout almost on a single basis and it managed to rise up by 5-6%.

This was in the month of February and post that the stock was at Rs 2,050-2,060 levels.

Post that, what happened over the next two weeks and beyond is that the stock managed to rally by almost 15-20%.
This is evident from the chart below.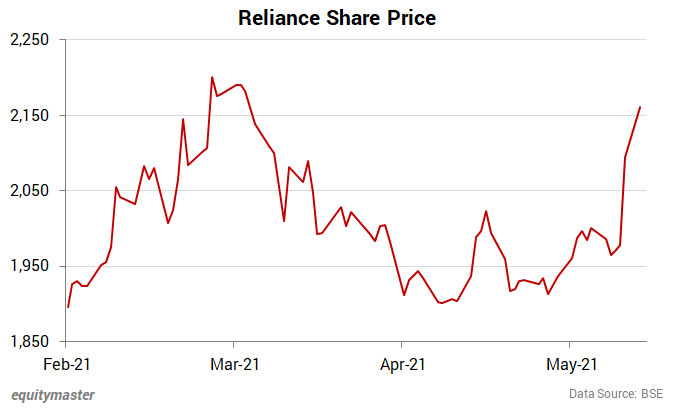 Reliance Jio's Tie-Up with Infibeam Avenues
Last week, it was reported that Infibeam Avenues, the BSE listed fintech company, tied up with Reliance Industries Jio Platforms have applied for Reserve Bank of India's (RBI) New Umbrella Entity (NUE) in the country.
The company said that it has applied to the RBI for Retail Payments (Payments Network) license through its subsidiary So Hum Bharat Digital Payments.
In a bid to capitalise on growing digital payment space in India and a push for a digital ecosystem; Reliance Jio, Google, Facebook, and Infibeam Avenues are coming together for RBI's NUE.
Free Signup: The Smallcap Revival Summit
FPI Shareholding
Over the past 10 years, FPIs average stake in Reliance was 20.7% which increased to 25.6% at the end of March 2021 after considering paid share of rights issues.
Among major FPI contributors include Euro Pacific and the Government of Singapore with a shareholding of 2.7% and 1.2% respectively.
As of 15 April 2021, FPIs stake in Reliance stands at 8% of their total portfolio value of Rs 40.6 lakh crore.
On the other hand, domestic mutual funds have decreased their shareholding to an 11-quarter low of 4.3% in March from a high of 5.3% in June 2020.
Reliance has become attractive for FPIs owing to the rising contribution of consumer-facing businesses to overall revenues, zero net debt on the lines of global technology companies, investments in alternative energy, and a target to turn net carbon zero by 2035.
Market Cap Effect
Eight of the top-10 most valued companies together added Rs 1.39 lakh crore in market valuation last week, with Reliance Industries, TCS, and Infosys emerging as top performers.
Presently, Reliance Industries share price is trading up by 0.4%.
However, Reliance shares are still over 10% off from their 52-week high of Rs 2,369 hit during September 2020.
Reliance Industries contributes the most to the NSE Nifty as it has the maximum weightage. Nifty has been hitting record highs since past week and this is partly due to the rally in Reliance shares.
The recent gains on Reliance Industries shares have also helped Mukesh Ambani increase his personal fortune by US$4.3 bn in 2021 to US$81 bn the Bloomberg Billionaire Index showed.
Ambani's fortune had fallen in 2021 before the four-day rally kicked off.
Going forward, investors should watch out for Reliance's AGM, scheduled in a month or so.
About Reliance Industries
Reliance Industries is one of India's largest private sector companies, with diverse interests, including petrochemicals, oil refining, and upstream oil and gas exploration and production.
The company has strong competitiveness in the global oil refining and petrochemicals business, arising from its integrated business model with superior complexity index of 21.1 for its Jamnagar site. This makes it among the most complex sites in the world.
Moreover, it's among the top 10 global petrochemical manufacturers and the leading player in India.
In the recent past, consumer facing businesses including retail and digital services have become Reliance's principal growth drivers.
To know more about the company, you can check out Reliance Ind. company fact sheet and quarterly results.
For a sector overview, read our energy sector report.
You can also compare Reliance with its peers:
To know what's moving the Indian stock markets today, check out the most recent share market updates here.