Why M&M Share Price is Rising
Aug 1, 2022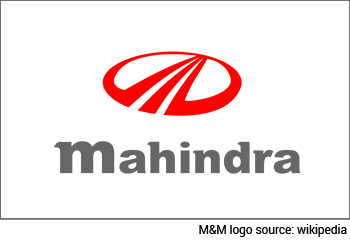 Editor's note: M&M share price continues to skyrocket, irrespective of the global crisis and macroeconomic hurdles.
This is because auto stocks are rising amid weak metal prices, falling oil prices, a new electric vehicles policy by the government, and seasonal demand of products.
A fall in metal prices reduces the companies' cost of raw materials which bodes well for the profitability of auto stocks.
Meanwhile, the government of India has announced a policy for EVs (electric vehicles). This policy introduced a battery swapping plan to accelerate the EV adoption. This news has also been a positive trigger for auto stocks.
With respect to demand, due to an early monsoon, sales numbers of automobiles are set to grow. This too been one of the factors for the rise in auto stocks.
Amid all this, M&M share price is touching new highs. Today, it hit a new all-time high.
In June 2022, we wrote to you about M&M reaching it all time high and the possible reasons behind the rally.
The momentum is just the same at present, in fact it has accelerated.
Today, M&M share price jumped by more than 8%.
The share price has risen more than 48% since the beginning of the year. The company is on its way to becoming one of the fastest growing stocks in India.
Continue reading to know why M&M is rising.
Why M&M Share Price is Rising
Anand Mahindra, the chairman of Mahindra Group, tweeted on 30 May 2022, expressing his happiness over the rallying share price of Mahindra & Mahindra (M&M).
He mentioned that when Mahindra and Mahindra's (M&M) share price started falling in 2019, he was reminded of the advice given to him by APJ Abdul Kalam.
During the inauguration of Mahindra research valley, the late President had advised him to take the hill i.e., dare to dream.
Hence, when the share price started falling in 2019 after reaching its all-time high, he asked the team to take the hill up.
The new team did indeed take the hill up and M&M hit the target of all-time high price on 31 May 2022. It crossed the Rs 1,000 mark for the first time and reached a price of Rs 1,048.8.
M&M's closing share price on 31 May 2022 was Rs 1,033.9. This is 8% higher than its closing price on 27 May 2022.
In fact, 30 May 2022 was the first time that M&M reached the mark of Rs 1,000!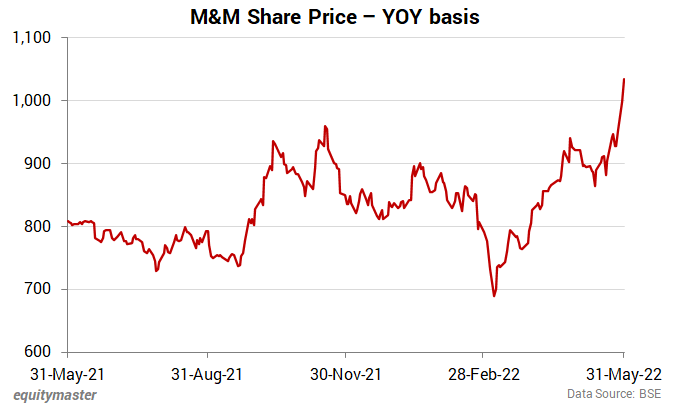 But what caused the sudden rise?
How did M&M manage to surpass its previous high?
Read on to find out...
#1 New Car Launch
On Saturday, 30 July 2022, the company recorded one-lakh bookings of the SUV car Scorpio-N within 30 minutes.
Yes, you read that right.
Within a matter of 30 minutes, the company made around Rs 180 bn.
In the first minute of booking, the company received 25,000 orders for the SUV.
Investors were pleased with this news and due to this reason, shares of M&M skyrocketed 8% today.
The market cap of the Mahindra group firm rose to Rs 1,500 bn.
The deliveries of the 2022 Scorpio-N will begin 26 September 2022 and around 20,000 units of the SUVs are planned for delivery by the end of 2022.
The customers and investors have welcomed this car with great euphoria.
#2 Improved financial performance
On 28 May 2022, M&M approved and reported its financial results for the quarter ended March 2022 and full year 2022. Good Q4 results and full year numbers are the prime reasons for the rising share price.
The financial statements showed a rise in profits by almost fourfold on a YoY basis. The profit for fiscal 2022 stood at Rs 49.4 bn as compared to Rs 9.8 bn in 2021. However, these are the figures for profit after exceptional and abnormal items.
But, even if we consider profit before exceptional or abnormal items, there has been a rise of 19% in profit on a YoY basis.
The revenue for fiscal 2022 stood at Rs 595.2 bn. This is 30% higher compared to its previous fiscal.
The company also announced a dividend of Rs 11.5 per share.
In the quarter under review, the company's auto business delivered the highest ever quarterly utility vehicle (UV) sales volumes. In Q4, M&M sold 152,204 vehicles, 43% higher than the same quarter last year.
M&M had a stellar 2021-22. Hence its share prices are rallying.
# Huge Capex Plans
M&M announced huge capital expenditure plans over 2022-2024. M&M plans to incur an expense of Rs 153 bn on auto, farm equipment, and electric vehicles (EV).
Out of this, Rs 32 bn is already spent in fiscal 2022. The remaining will be spent over the remaining two years.
Before the pandemic period, M&M was spending Rs 30 to 40 bn per annum on capex. But with the pandemic running its course, M&M had to cut off its capex.
However, it seems it is going back to its normal levels of capex now that the pandemic is over.
M&M intends to improvise its core strength through capex. It is trying to work on maintaining a strong brand value, improving the supply chain, focusing on the development of EVs, and cost optimisation to achieve its goals.
M&M intends to gain the pole position in SUVs - the position they had three years ago.
When a company announces huge capex plans, it indicates it has big plans for the future and it has the capabilities to achieve the same.
These plans send a positive sentiment in the market. Hence investors believe the company will generate huge returns for them. Hence, the share price is rallying.
#4 Divestment
Divestment from a subsidiary hardly seems like a positive sign for share prices. But divestment may cause the share price to rise in cases like M&M.
So, did that happen?
Undoubtedly, the figures show that the financial performance of M&M had improved. But if you take a look at the financial ratios of M&M, they have stayed muted.
The profitability ratios like net profit margin, return on net worth, etc rose significantly. But ratios like Enterprise value, Enterprise value/EBITDA have either fallen or stayed the same.
The reason for this is heavy investment in its subsidiaries. However, M&M has started taking steps to correct this too.
On 30 May 2022, M&M announced it is divesting its 2.76% stake in TVS Automated Solution Private (TASL). After this, the company will have no stake in TASL. The stake was sold for Rs 450 m.
Hence, when a company sells its stake in a subsidiary that was not adding value to it, the share price will rise.
Investment Takeaway
M&M is one of the most reputed brands in India for automobiles. Its tractors are unbeatable. It is planning to make the most of the opportunity offered by the development of electric vehicles (EVs).
It intends to launch EVs for SUVs. Hence, it seems that operationally M&M won't disappoint.
Being a fundamentally strong stock, its financial figures paint a pretty picture too.
One can definitely say, M&M has successfully made its customers and investors smile.
However, an investor must keep in mind that no matter how strong and functional a company is, it has to bow to the changes in the market.
Hence, one should invest carefully.
For more details about the company, you can have a look at Mahindra & Mahindra's factsheet and quarterly results on our website.
You can also compare Mahindra & Mahindra with its peers.
Mahindra & Mahindra vs Tata Motors
Mahindra & Mahindra vs Maruti Suzuki
Mahindra & Mahindra vs Eicher Motors
Happy Investing!
Disclaimer: This article is for information purposes only. It is not a stock recommendation and should not be treated as such. Learn more about our recommendation services here...