Adani Enterprises Hits New Record High. Marketcap Surpasses Rs 1.5 tn
Jun 2, 2021
Adani Enterprises shares rose 9% today and hit a new high of Rs 1,549 per share in intra-day trade on the BSE. It has surged 17% in the past two trading days.
The flagship company of the Gautam Adani led Adani Group, has now surpassed its previous high of Rs 1,335 per share, touched in January 2008, before the restructuring of its businesses.
What's Behind the Rally?
In the month of May, shares of the Adani Group companies outperformed the benchmark index and surged 13.6% on the BSE compared with a 6.5% gain in the Sensex.
The sharp rally, which came on the back of a healthy March quarter performance, has resulted in the company's market capitalisation touching Rs 1.5 tn.
Apart from that, last month the global index services provider Morgan Stanley Capital International (MSCI) announced multiple changes to its MSCI India index.
Three Adani group stocks were included in this review - Adani Transmission, Adani Enterprises, and Adani Total Gas.
Gautam Adani-controlled Adani Green Energy and Adani Ports were already part of the index.
--- Advertisement ---
Replay Available: The Great Indian Wealth Project

Watch Tanushree Banerjee reveal the details of first stock to potentially accumulate Rs 7 crore long-term wealth.




Watch Now
------------------------------
Adani Enterprises quarterly performance
In March 2021 quarter, Adani Enterprises reported a 282.2% rise in consolidated net profit at Rs 2.3 bn compared to a consolidated net profit of Rs 612.1 m in the year-ago period.
The consolidated income during the March quarter was at Rs 136.9 bn compared to Rs 137 bn a year ago.
The company had further said that, on the consolidated basis, the company's profit before tax) before exceptional item increased almost seven times at Rs 4.1 bn relative to Rs 610 m a year ago due to higher EBITDA (earnings before interest, taxes, depreciation, and amortisation).
On the operational highlights for the fourth quarter, the company reported that the solar manufacturing volume increased by 95% to 376 megawatts (MW).
It also said that its board has recommended a final dividend of Re 1 per equity share of the face value of Re 1 each for the financial year.
Adani Enterprises has partnered with EdgeConneX to build hyperscale data centres
Back in February 2021, Adani Enterprises said it has signed a joint venture with leading data centre operator EdgeConneX to develop 1 gigawatt (GW) of data centre capacity in India over the next 10 years.
This joint venture will focus on building a network of hyperscale data centres in India, starting with Chennai, Navi Mumbai, Noida, Vizag, and Hyderabad.
Development and construction at these sites have already started.
The 50:50 joint venture will develop and operate data centres throughout India, leveraging the complementary expertise, and capabilities of the two partners over the next decade to build India's leading green data centre platform.
Market capitalisation of Adani group stocks
The six Adani group companies have a combined market capitalisation of over Rs 8.5 tn. Adani Green has a marketcap of Rs 2 tn.
Last month, Adani Transmission surpassed Adani Ports to become the second most valuable Adani group company.
With Rs 1.60 tn market cap, Adani Transmission replaced Adani Ports which has a marketcap of Rs 1.57 tn.
The current marketcap of Adani Transmission and Adani Ports stands at Rs 1.69 tn and Rs 1.66 tn, respectively.
Watch the Replay: The Smallcap Revival Summit
Adani Enterprises current market cap is at Rs 1.67 tn.
The Adani group's market cap has nearly doubled since the start of the year.
The group was the biggest beneficiary of the post-pandemic rally on the bourses, seeing a jump of about 6.5 times in marketcap since March 2020.
Asia's second richest man
Industrialist Gautam Adani recently became Asia's second richest and the world's fourteenth richest businessman. He added US$32.7 bn to his net worth in 2021.
The spectacular rise in Adani's wealth has come on the back of the rise in the share prices of Adani companies.
Gautam Adani, who started as a commodity trader, today owns companies across ports, airports, energy, resources, logistics, agribusiness, real estate, financial services, gas distribution, and defence, among others.
Once a medium-sized group based out of Ahmedabad, Adani's companies now have the third-biggest market capitalisation among family-owned businesses in India after Tatas and Reliance Industries.
How the Stock Markets Reacted to the News
Shares of Adani Enterprises opened the day at Rs 1,422 on the BSE and Rs 1,425.6 on the NSE.
Adani Enterprises share price closed at Rs 1,546.8 (up 9.3%) on the BSE and the NSE.
At its current price, it is trading at a P/E of 184.
The share touched its 52-week high of Rs 1,549 and 52-week low of Rs 141.1 on 2 June 2021 and 12 June 2020, respectively.
Over the last 30 days, the Adani Enterprises share price is up 33.2%%. Over the last one year, the company's share price is up 925.7%.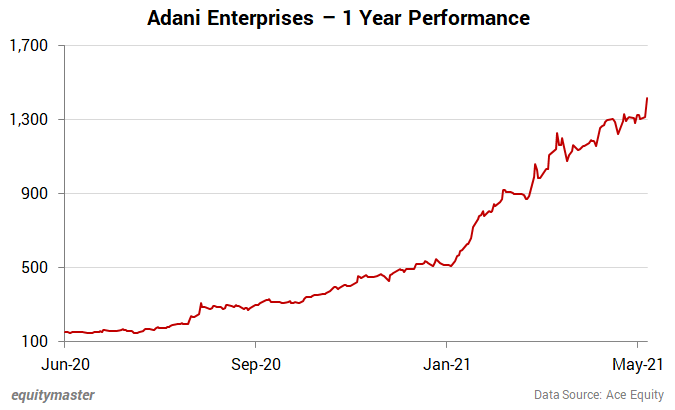 About Adani Enterprises
Adani Enterprises was incorporated in the year 1993 with the name Adani Exports.
It's an India-based company with primary interests in energy and logistics sectors.
The company's segments comprises trading, power, port, agro, real estate, and others.
They have diversified interests in power, mining, oil and gas explorations, natural gas distribution businesses supported by port, shipping, and trading activities.
The coal mining business involves mining, processing, acquisition, exploration, and development of mining assets.
The company's city gas distribution business is undertaken through their wholly owned subsidiary Adani Gas.
They operate the real estate sector through their subsidiary Adani infrastructure and developers.
For more details about the company, you can have a look at Adani Enterprises factsheet and quarterly results on our website.
To know what's moving the Indian stock markets today, check out the most recent share market updates here.