ITC Shares Fall as Company Reports a Decline in Net Profit
Jun 2, 2021
Diversified conglomerate ITC on 1 June reported a 1.3% year on year (YoY) decline in standalone profit for the March 2021 quarter, impacted by higher tax cost.
The standalone profit of the company declined to Rs 37.5 bn, compared to Rs 38 bn reported in the year-ago quarter.
However, standalone revenue from operations (excluding excise duty) grew by 22.6% YoY to Rs 133 bn whereas revenue (including excise duty) rose by 24% YoY to Rs 142 bn due to a lower base.
Due to the increase in revenue, the EBITDA (earnings before interest, tax, depreciation and amortisation) of the company grew by 7.4% YoY to Rs 44.7 bn.
However, margins contracted to 33.6% as the operating performance was impacted during the quarter.
Hotels Segment Still Impacted by Covid-19
The company's cigarette business, which contributed 41% to the total business, clocked 14.2% YoY growth at Rs 58.6 bn.
With the progressive easing of restrictions and improved mobility, cigarette volumes touched nearly pre-covid-19 levels towards the close of the year.
FMCG sustained a strong growth momentum as revenue came in at Rs 36.9 bn, up 15.8% YoY in the March quarter.
The company saw a recovery in the discretionary/out of home categories while the staples and convenience foods categories witnessed a normalisation in demand.
The hotels segment still remained impacted by the pandemic, as it reported a 38.2% YoY decline in revenue at Rs 2.9 bn.
However, it saw sequential improvement aided by higher occupancy and demand in the food and beverage business.
The company's agribusiness (including soya, spices, coffee and leaf tobacco) also delivered strong numbers during the quarter with revenue rising 78.5% YoY to Rs 33.7 bn.
Wheat, rice, exports of value-added food spices and higher supplies to packaged foods businesses drove growth.
ITC also said its paperboards, paper and packaging business registered a 13.5% YoY growth in revenue at Rs 16.5 bn.
This was led by strong volume recovery in paperboards, robust growth in carton packaging exports, and flexibles packaging.
The company's board has also recommended a final dividend of Rs 5.75 per share.
Segment Revenue (in Rs Crores)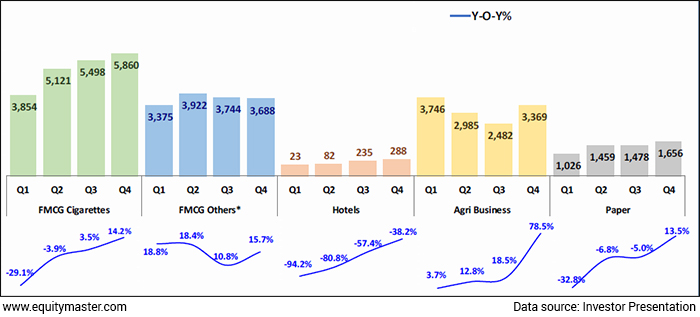 Highlights from the Conference Call
In its post-earnings call, ITC said that constraints in operating outlets and limited hours of operation are posing challenges amid the second wave of Covid-19.
However, there are no material supply chain bottlenecks during the lockdowns imposed.
The company is leveraging its learnings while dealing with the pandemic, spanning sales and distribution, supply chain operations, along with relevant innovation and product development.
ITC said its cost reduction measures also remain firmly in focus.
The company continues to monitor the developments closely and is well geared to respond with agility to the evolving situation while managing risks associated with the dynamic environment, it added.
According to the firm, the outbreak of the second wave of the pandemic has led to severe economic and social disruptions.
However, the company, in line with its 'Putting India First' credo, is supporting the nation's fight against the pandemic and has undertaken several initiatives in this regard.
Its key interventions include easing the bottlenecks in transporting medical oxygen. It has supplied medical oxygen to government hospitals from its Bhadrachalam plant and imported oxygen concentrators and generators for donation.
It has also facilitated the setting up of medical facilities to supplement the healthcare infrastructure, providing personal protective equipment kits and other infrastructural support to hospitals in several states.
How the Stock Markets Reacted to ITC's Results
Shares of ITC opened lower at Rs 211.1 on the BSE and at Rs 210.5 on the NSE today and fell over 2.5% since the company announced its March quarter results.
The scrip touched its 52-week high of Rs 239.2 on 9 February 2021. Since then, it has been largely range-bound, hovering around Rs 205. It touched its 52-week low of Rs 163.4 on 29 October 2020.
At its current price, it is trading at a P/E ratio of 20.4.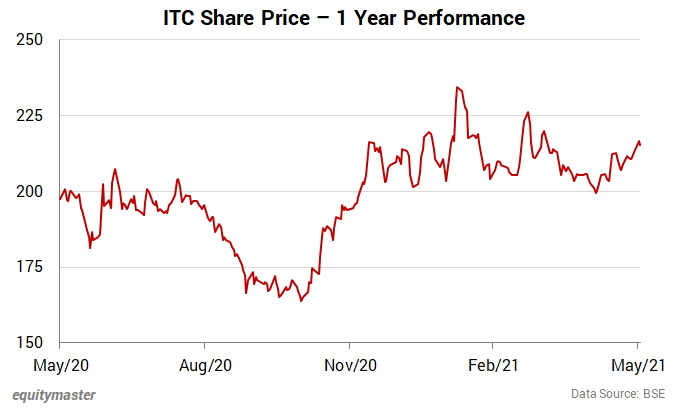 About ITC
ITC is an Indian company headquartered in Kolkata, West Bengal. The company has a diversified presence across industries such as cigarettes, FMCG, hotels, packaging, paperboards, and speciality papers and agribusiness.
Established in 1910 as the Imperial Tobacco Company of India, the company was renamed the India Tobacco Company in 1970 and later to ITC in 1974.
The company now stands renamed to ITC Limited, where "ITC" today is no longer an acronym or an initialised form.
The company completed 100 years in 2010 and as of 2020, had an annual turnover of US$ 10.7 bn and a market capitalisation of US$ 35 bn.
It employs over 36,500 people at more than 60 locations across India and is part of the Forbes 2000 list.
For more details about the company, you can have a look at ITC's factsheet and ITC's quarterly results on our website.
You can also compare ITC with its peers.
To know what's moving the Indian stock markets today, check out the most recent share market updates here.
Ayesha Shetty is a financial writer with the StockSelect team at Equitymaster. An engineer by qualification, she uses her analytical skills to decode the latest developments in financial markets. This reflects in her well-researched and insightful articles. When she is not busy separating financial fact from fiction, she can be found reading about new trends in technology and international politics.