Here's Why Tide Water Oil Shares Are Rallying
Jun 2, 2021
Tide Water Oil shares have been rallying like the rally in the shares of Bombay Oxygen a few months ago.
The share price of Tide Water Oil has more than doubled in a matter of 15 days.
The sudden rally in Tide Water shares, a week before the company releases its quarterly and full year numbers, has come as a surprise.
In April 2021, investors had mistakenly pumped Bombay Oxygen shares, which is an NBFC.
According to the company's website, Bombay Oxygen's primary business was manufacturing and supplying of industrial gases, which was discontinued from 1 August 2019.
Back in April, shares of oxygen suppliers were in limelight amid increasing demand for oxygen following a surge in Covid-19 cases.
Due to the word 'Oxygen' in its name, Bombay Oxygen shares had surged 1.5x in less than a month.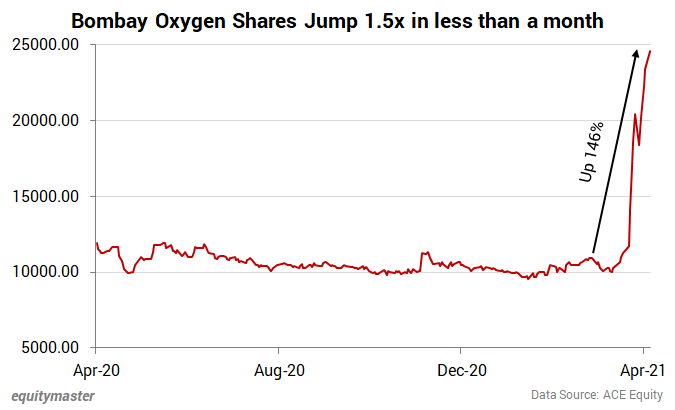 But this time around, it's different.
Tide Water Oil shares are rallying for at least three reasons.
Reasons Behind the Rally
Bonus Issue and Stock Split: Last month, the company had said it will consider a stock split and bonus issue in the forthcoming board meeting to be held on 10 June 2021.
A company usually undergoes a stock split to make the shares more affordable for small retail investors and increase liquidity.
--- Advertisement ---
Replay Available: The Great Indian Wealth Project

Watch Tanushree Banerjee reveal the details of first stock to potentially accumulate Rs 7 crore long-term wealth.




Watch Now
------------------------------
Back in March 2016, Tide Water Oil had issued bonus shares in the ratio of 1:1. The oil marketing and distribution company had also sub divided face value of equity shares from Rs 10 to Rs 5.
Dividend: The company had said its board of directors will consider the audited financial results of the company for the quarter and year ended March 2021 and will also consider recommendation of final dividend for the financial year 2020-21.
Tide Water Oil has a consistent track record when it comes to paying dividend, as can be seen from the chart below.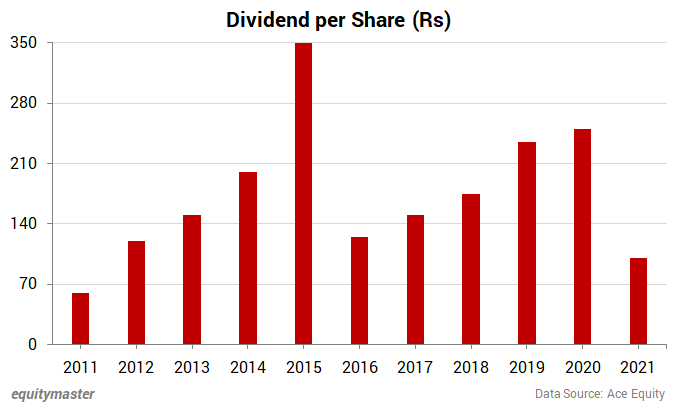 So far in financial year 2020-21, the company has already paid Rs 100 per share in the form of dividend.
Heavy Volumes: Stock of the company is hitting back to back record highs for the past few days.
The stock is locked in a fifth consecutive upper circuit limit today backed by heavy volumes.
The last five-day volumes were about three times higher compared to the one-month average.
Watch the Replay: The Smallcap Revival Summit
Similarly, the five-day deliverable volumes were also higher 2.9 times compared to the one-month average.
Stock exchanges asked for a clarification from the company for the price movement.
The company said there are no announcements at this point in time.
The company's financials
Let's have a look at the company's financials for the past 5 years.
Tide Water Financials at a Glance
| Consolidated (Rs m) | FY16 | FY17 | FY18 | FY19 | FY20 |
| --- | --- | --- | --- | --- | --- |
| Revenue | 9,736 | 11,298 | 12,747 | 13,795 | 13,166 |
| Revenue Growth | -6.1% | 16.0% | 12.8% | 8.2% | -4.6% |
| Net Profit | 864 | 1,083 | 1,068 | 970 | 1,221 |
| Net Profit Margin | 8.9% | 9.6% | 8.4% | 7.0% | 9.3% |
| Return on Equity | 14.5% | 17.2% | 15.4% | 13.4% | 16.1% |
| Earnings Per Share (Rs) | 248.4 | 318.4 | 314.2 | 285.2 | 359.0 |
Data Source: Ace Equity
The company is scheduled to announce its latest quarterly and full year results next week on 10 June.
Damage due to a fire incident
Tide Water Oil had informed last month that a fire broke out on 24 May 2021 at a company depot located at Raipur, Chhattisgarh.
A stock of lubricant worth about Rs 12.6 m was damaged. The entire stock was insured.
The company said the incident is expected to temporarily affect supply of materials to dealers located in Chhattisgarh.
How the Stock is Performing Today
Tide Water Oil share price are presently locked in the 10% upper circuit limit today.
Over the past 1 year, Tide Water Oil shares have rallied 225%
In the past 15 days, stock of the company has gained almost 150%, as can be seen in the chart below.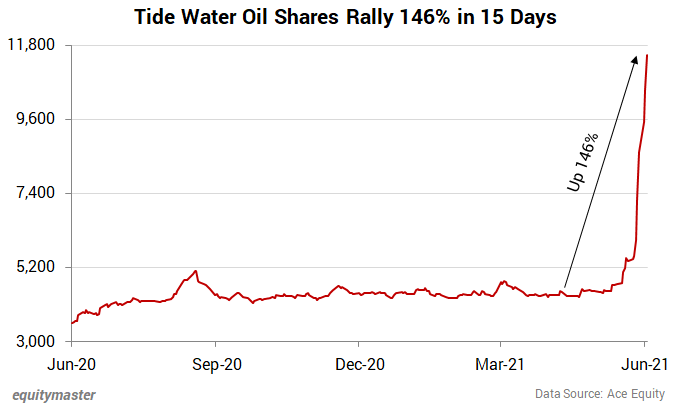 Tide Water Oil has 3.84 m outstanding equity shares with face value of Rs 5 each.
As on 31 March 2021, the promoters including Andrew Yule (26.23%) and Standard Greases & Specialities Private (29.35%) have collectively held 57.28% stake in the company.
Life Insurance Corporation of India (LIC) and United India Assurance held 4.22% and 6.88% holding, respectively.
At the current price of Rs 11,495, the company commands a marketcap of Rs 40 bn.
About Tide Water Oil
Tide Water Oil is a part of the multi divisional Andrew Yule group. The company manufactures and sells engine lubricants for the automotive and industrial applications in India.
The company offers various automotive oils such as diesel engine premium diesel engine PMCO and two wheeler dedicated engine gear and transmission and agri-engine oils as well as coolant and brake fluid.
The company's products marketed under the 'VEEDOL' brand name are well established. They are acknowledged for quality and variety.
Tide Water Oil has been one of the leading players in the Indian lubricant industry since 1928.
The company has tie-ups, for the manufacture of genuine oils, with several renowned original equipment manufacturers (OEMs) in the automotive and industrial equipment segment.
For more details about the energy sector, you can read the energy sector report on our website.
To know what's moving the Indian stock markets today, check out the most recent share market updates here.