Why Did Sugar Stocks Surge Today?
Jun 3, 2021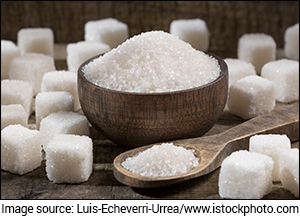 Shares of sugar companies rallied up to 8% intraday trade after the government brought forward the target for achieving 20% ethanol blending with petrol by two years to 2023 to help reduce India's dependence on costly oil imports.
In the current year, ethanol blending level has reached 7.2% with oil marketing companies (OMCs) contracted to procure 3 m lt of ethanol.
According to a leading financial daily, the target of 20% ethanol blending would be difficult to achieve by 2023 given lack of capacities and requirement of changes in engines by auto OEMs.
However, this depicts the seriousness of government to achieve blending levels of 10% and 20% quickly.
As per analysts and brokerage houses, this would encourage sugar companies to further add sugarcane juice and grain-based ethanol capacities.
Moreover, it's also setting up stiff timelines for auto original equipment manufacturers (OEMs) to comply with blending requirement.
This would be positive for sugar companies.
Other factors causing sugar stocks to rally
India's sugar industry is set to benefit from global and domestic factors.
Lower output from countries like Brazil, Thailand, and the EU would keep supplies tight, enabling India to increase exports.
Harvest trends are pointing at lower sugarcane yield this year in Brazil and other key sugar-producing countries are not expected to produce higher output.
According to reports, sugar output for April in Brazil was down 35% year-on-year (YoY).
A Reuters report quoting industry group Unica said: "Brazil's center-south sugar output was only 624,000 tonnes in the first half of April versus 971,000 tonnes in a similar period last year. Cane crush was seen at 15.6 m tonnes, 30% less than in 2020."
This bodes well for India as lower output from these countries will keep supply tight and global prices firm.
On the domestic front, favourable policies, rising ethanol demand aggressive ethanol capacity addition would drive an earnings by going forward.
The government's steps to ensure sugarcane farmers are paid without significant arrears has also boosted investor sentiment.
However, the sugar rally came to a grinding halt two weeks back. Some stocks even hit lower circuits.
On 21 May 2021, the government decided to cut sugar export subsidies for the current season, which ends on 30 September 2021.
The government subsidy on sugar exports now stands at Rs 4,000 per tonne.
The government had earlier approved subsidies of Rs 6,000 per tonne to encourage cash-strapped mills to export 6 m tonnes of sugar in the current season.
International sugar prices touch 4 year high in ay 2021
In May 2021 (up to 19 May), international sugar prices touched a 4 year high as white sugar prices in London and the raw sugar prices in New York averaged at US$461.8 per tonne and 17.4 cents per pound respectively.
Such high price levels for both these varieties were seen 4 years earlier in the initial months of 2017.
The price of white sugar in London and that of raw sugar in New York had averaged at USD 465.1 per tonne and 16.4 cents per pound in April 2017.
During this four-year period, international sugar prices saw the highest sequential monthly fall of 15%-20% in March 2020. It further declined 7%-14% in April 2020 due to Covid-19 disruptions.
The white sugar price in London averaged at US$326 per tonne and the raw sugar price in New York averaged at 10.2 cents per pound in April 2020.
After this, the sugar prices increased over the next few months with the unlocking of global economies and improvement in international sugar demand supporting the growth in prices in the initial months.
In addition to this, expected lower sugar output in the European Union (world's third largest sugar producer) and Thailand (second largest global sugar exporter) as well as uncertainty over Brazil's (the largest sugar producer and exporter in the world) diversion of cane crop towards sugar for the sugar season 2020-21, led to tight sugar supply in the global market.
This pushed up the international sugar prices to 4 year highs.
Has high international prices supported the Indian sugar industry?
Yes.
High international sugar prices have definitely augured well for Indian sugar exports amid the glut in the domestic market.
As per the Indian Sugar Mills Association's (ISMA) recent mid-May 2021 press release, about 5.7 m tonnes of contracts for sugar exports have already been entered into so far.
In terms of actual exports, about 3.7 m tonnes of sugar have been shipped out by end of April 2021 and another 0.7-0.8 m tonnes of sugar was expected to be exported by end of May 2021.
This brings the total sugar exports to around 4.5 m tonnes by May 2021.
The pace of exports has been favourable last month backed by a tight global supply situation which supported the rise in international prices.
Sugar production up 13% to 30.6 m tonnes during October 2020-May 2021
India's sugar production rose by 13% to 30.6 m tonnes in the first eight months of the current marketing year ending September.
This was mainly due to higher output in Maharashtra, according to trade data.
The sugar marketing year runs from October to September.
Sugar production stood at 27 m tonnes in the year-ago period.
As per port information and market reports, sugar mills have contracted about 5.8 m tonnes of sugar for exports against the 6 m tonnes quota fixed by the government.
On the ethanol front, against the total quantity of 3.5 bn litres, 3.2 bn litres have been contracted for and 1.5 bn litres have been supplied as on 24 May 2021.
Out of the total supply so far, about 77% comprises ethanol made from sugarcane juice /B-heavy molasses.
In the current 2020-21 ethanol marketing year (December to November) India achieved a blending percentage of 7.6% so far on average.
To achieve the target of 8-8.5% in 2020-21 and move forward to achieve 10% blending, it's important to increase blending level to at least 12% in the ethanol surplus states and adjoining states.
Meanwhile, the OMCs (oil marketing companies) have on 25 May floated fresh expressions of interest (EOI), inviting further bids from ethanol producers for about 260 m litres of ethanol in 2020-21, for supplies from June to November.
Equitymaster's Technical View on Sugar Stocks
We reached out to Brijesh Bhatia, Research Analyst at Equitymaster, and Editor of the premium monthly recommendation service Fast Profits Report, for his technical view on sugar stocks.
As per Brijesh, sugar stocks are looking positive.
Brijesh believes that sugar still has a huge upside when it comes to an investment for next 12-15 months. As per him, in the next 12-15 months, sugar stock could be a source of wealth creation.
In fact, last month Brijesh recorded a video explaining why sugar stocks are ready to soar higher.
Check out this video to find out more.
How sugar stocks are performing today
Sugar stocks are trading on a positive note today.
Here's the stock price details of India's top sugar stocks.
Source: Equitymaster
Within the sugar sector, the top gainers were Bajaj Hind. Sugar (up 4.9%) and Sakthi Sugars (up 4.9%).
On the other hand, Uttam Sugar (down 0.8%) was the top loser.
Out of all the above listed stocks, Dalmia Bharat Sugar share price has surged over 365.6% in the last one year.
We will keep you posted on the latest developments from this space.
Stay tuned!
To know what's moving the Indian stock markets today, check out the most recent share market updates here.