Tata Power's Major Contract from NTPC Puts Stock in Focus
Jun 3, 2021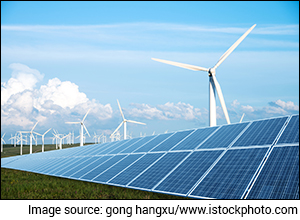 India's largest private power distribution company, Tata Power's wholly-owned subsidiary, Tata Power Solar has received a letter of award (LoA) to build 210 megawatts-peak (MWp) of solar photovoltaic (PV) projects for NTPC.
The total order value of the projects is Rs 6.9 bn. Its commissioning date has been set for November 2022.
The scope of work includes land, transmission, engineering, procurement, installation and commissioning of the solar projects.
The NTPC project site is located in Gujarat.
With this addition, the order pipeline of Tata Power Solar stands at about 2.8 gigawatts (GW) with an approximate value of Rs 130 bn. This cements its position as India's leading solar EPC (engineering-procurement-construction) player.
Tata Power CEO and MD Praveer Sinha said,
We are pleased to announce the new win of this large solar EPC contract from NTPC.

Tata Power Solar is the leader in producing solar energy across the country and this further validates Tata Power Solar's excellent execution skills in solar projects.
--- Advertisement ---
Like a Gold Mine for Investors?

Our co-head of research, Tanushree Banerjee, believes this is like a gold mine for investors.

Here's more...

Let's look at some of the most successful companies in the world today...

– Volkswagen Group, which owns Audi, Bentley, and
– Lamborgini
– Toyota
– Apple
– Samsung
– BMW
– Siemens
– General Electric
– Dell
– Boeing

What is common between them?

Well, the answer to this question is the key to finding multibagger stocks.

Tanushree revealed it all during our special event, The Great Indian Wealth Project.

If you missed this event for some reason, then you can watch the special replay of this event.

Click Here to Watch the Replay...
------------------------------
Why Tata Power Solar is India's leading solar EPC player
Over the years, Tata Power Solar has become India's leading solar rooftop EPC player due to compelling economics, especially for the commercial and industrial segments.
Favourable government policies and increased environmental awareness have been the key growth drivers.
Tata Power Solar comes with a successful background of executing large projects such as the 250 MW Ayana at Ananthapur, 50 MW Kasargod at Kerala, 56 MW Greenko, 30 MWp Solar Power Plant in Lapanga, Odisha, and 105 MWp of floating solar at Kayamkulam.
The company has a portfolio of more than 5.4 GW of ground-mount utility-scale, over 515 MW of rooftop and distributed generation projects, and installation of over 36,000 pumps across the country till date.
For the March quarter 2021, Tata Power said that it saw a significant revenue jump in solar EPC business with all three segments - utility EPC, rooftop solar, and solar pumps registering growth.
Solar EPC Business Showing Traction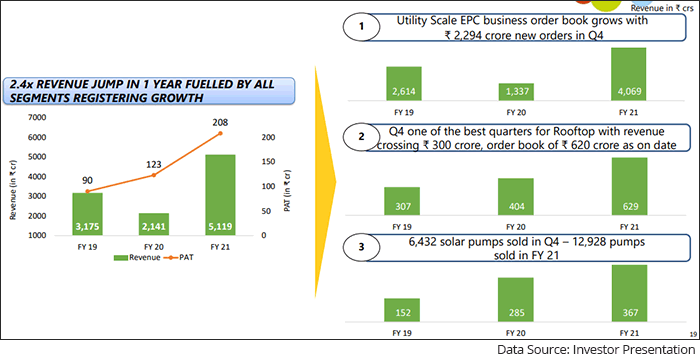 The company is anticipating a significant growth in the solar sector in line with the call for 'Atmanirbhar Bharat' and has planned various initiatives to grow the solar business.
Back in May, Tata Power Solar Systems inaugurated a state-of-the-art expansion of its manufacturing facility in Bengaluru, thereby, taking up the total production capacity of cells and modules to 1,100 MW.
Tata Power's subsidiary wins 250 megawatt project at solar auction
On 5 May 2021, Tata Power Renewable Energy secured the rights to develop a large solar power project.
According to media reports, a subsidiary of Tata Power Renewable Energy secured the rights to develop 250 megawatts of solar power projects in Maharashtra. This is part of a solar power park in the state.
A tender was issued by the Maharashtra State Electricity Distribution Corporation, a power distribution utility.
Apart from Tata Power, India's largest power generation company, NTPC, and hydropower generation company SJVN also participated in the auction.
Watch the Replay: The Smallcap Revival Summit
NTPC and SJVN submitted bids of Rs 2.82 and Rs 2.53 per kilowatt-hour, respectively.
However, the entire capacity was awarded to Tata Power Renewable Energy as it had submitted a bid of Rs 2.51 per kilowatt-hour.
This is 11.3% lower than the maximum tariff bid allowed as per tender conditions.
A shadow over solar power
India plans to impose new tariffs on imports of solar cells and modules from 1 April 2022.
Back in December 2020, the finance ministry said they will issue an order to impose a basic customs duty of 40% on modules and 25% on solar cells as part of the Atmanirbhar Bharat or self-reliant India strategy.
The customs duty will replace a 15% safeguard duty that is being imposed on imports from China and Malaysia.
Such a move will make solar cells and modules imported from China expensive.It's being seen as part of an economic response to the violent face-off held with China along the Ladakh border.
Along with leveraging its growing green energy market to boost manufacturing, India is looking to play a larger role in global supply chains.
Major investments and developments in the Indian power sector
In December 2020, the Asian Development Bank (ADB) and government of India signed a US$132.8 m loan.
This is to strengthen and modernise the distribution network and improve quality of power supplied to households, industries, and businesses in Meghalaya.
In March 2020, the central government signed virtual agreement to conclude strategic sales in Kamarajar Port, Tehri Hydro Development Corporation (THDC) India, and North Eastern Electric Power Corporation (NEEPCO). It will receive Rs 135 bn from these deals.
In December 2019, NTPC announced investment of Rs 500 bn to add 10 gigawatt (GW) solar energy capacity by 2022.
In September 2019, Adani Transmission acquired the entire stake in Bikaner Khetri Transmission.
In FY21, Adani Transmission also acquired Warora-Kurnool Transmission (WKTL) owned by Essel InfraProjects adding 1,750 ckt kms to its total transmission network of 17,276 ckt kms.
ReNew Power and Shapoorji Pallonji will invest nearly Rs 7.5 bn in a 150 MW floating solar power project in Uttar Pradesh.
Note that Indian power sector is undergoing a significant change. This has redefined the industry outlook. Sustained economic growth continues to drive electricity demand in India.
The power exchanged in India is about 4.5% of the overall power production, as can be seen in the chart below.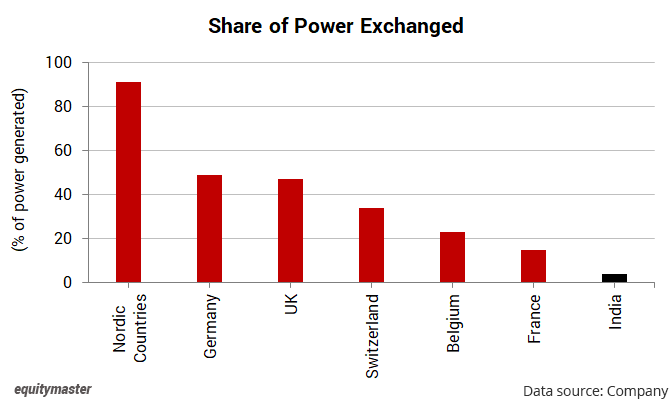 As per Tanushree Banerjee, Co-Head of Research at Equitymaster, India's power sector is currently in transition. It's driven by increasing reliance on short-term contracts and electricity spot markets.
This transition to the short-term market is happening due to quickly evolving industry dynamics.
Tanushree believes the Indian power sector will see a surge in spot power volumes due to certain factors.
In August 2020, Tanushree recommended a high-quality stock from this space. Subscribers can read the report here (requires subscription).
If you are not a StockSelect subscriber, here's where you can sign up.
How the stock market reacted to the Tata Power news today
Shares of Tata Power opened the day at Rs 110.3 on the BSE and Rs 110 on the NSE.
Tata Power share price closed at Rs 108.4 (up 0.3%) on the BSE and the NSE.
At its current price, it is trading at a P/E of 30.7.
The share touched its 52-week high of Rs 115 and 52-week low of Rs 38 on 15 March 2021 and 12 June 2020, respectively.
Over the last 30 days, the Tata Power share price is up 8.5%. Over the last one year, the company's share price is up 173.8%.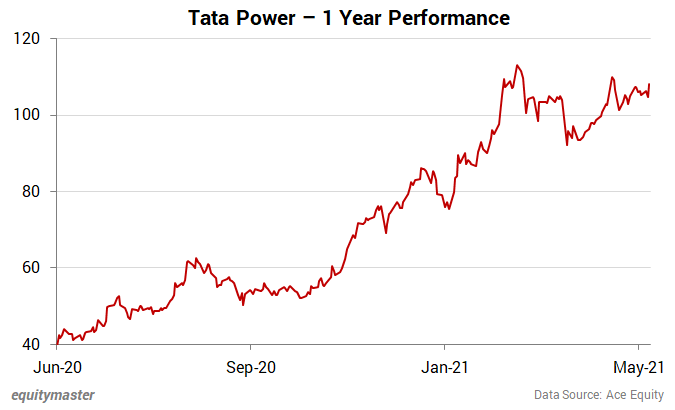 About Tata Power
Tata Power is one of India's largest integrated power companies, present across the entire power value chain of conventional and renewable energy, power services, and next-generation customer solutions including solar rooftop, EV charging stations and home automation.
Formerly known as Tata Electric, Tata Power has pioneered technology adoption in the utility sector with many firsts to its credit including setting up India's first hydroelectric power station in 1915.
Tata Power, together with its subsidiaries and joint entities, has 12,772 MW of generation capacity where 30% comes from clean and green sources.
From energy-saving power services, to making India EV ready with multi-city EV charging stations and being India's #1 rooftop solar provider, Tata Power is continuously delivering green technology for the smart consumer.
For more details about the company, you can have a look at Tata Power factsheet and quarterly results on our website.
For a sector overview, you can read our power sector report.
You can also compare Tata Power with its peers.
To know what's moving the Indian stock markets today, check out the most recent share market updates here.