Motherson Sumi Shares Fall 7% as Global Firms Cut Targets
Jun 3, 2021
A day after reporting its quarterly numbers, Motherson Sumi share price tumbled over 7% following downgrades from three global research firms.
Yesterday, shares of the Noida-based company scaled record highs, rising as much as 15% after it reported good earnings.
March quarter results
The auto component parts maker reported a 289% year on year (YoY) rise in its consolidated net profit to Rs 7.1 bn for the March quarter.
This was sharply higher than analysts' estimates.
Consolidated revenues of India's largest auto ancillary - which counts Audi AG, Daimler AG, and Volkswagen AG as its top customers, jumped 17.6% YoY to Rs 169.7 bn. This was also slightly higher than estimates.
Motherson Sumi's board also approved a final dividend of Rs 1.5 per share for the financial year ended March 2021.
Remote working beneficial for the company
The company's Chairman, Vivek Chaand Sehgal, in an interview said that work from home, working from the plant, and not travelling too much, has given team time to bring in cost efficiencies into real action.
The earnings recovery has been led by a strong traction seen in domestic as well as international markets.
However, uncertainties surrounding the Covid impact still prevail. This is evident as major auto companies posted a fall in their May 2021 sales.
You can check out the latest sales numbers here: Auto Sales Dampened in the Month of May. Will it Bounce Back?
Motherson Sumi said that going ahead, production shutdowns in India and semiconductor shortages globally, will be the reasons impacting OEM production in the near term.
The debt profile
Motherson Sumi pared its gross debt to Rs 107.6 bn from Rs 117.9 bn as of March 2020.
The company's net debt fell to Rs 48.2 bn from Rs 69.2 bn as of March 2020.
This has led to its lowest ever debt to EBIDTA ratio, the company said in a statement.
The management said they wish to reduce the debt on their books even more, to achieve their target of 40% ROCE in the next five years.
Commenting on demand, the management said they are witnessing a good recovery in global business.
The focus on electric vehicles (EVs) continues with 25% of new order book coming from pure EV.
On the ongoing raw material price surge, the company said it is hopeful on commodity price rise to stable out.
Why the stock fell despite stellar numbers
Motherson Sumi shares fell today after several global research firms downgraded its stock.
Jefferies, CLSA, and Nomura lowered their targets for the auto ancillary company, highlighting its expensive valuation due to the rally.
While solid results prompted the shares to rally the most in more than a year yesterday, the rating downgrades caused the stock to drop as much as 7%, the biggest fall since 19 April.
However, the downgrades are not the only reason why the stock corrected today.
Today's fall can be attributed to profit booking, given that the stock has surged 85% since the January lows.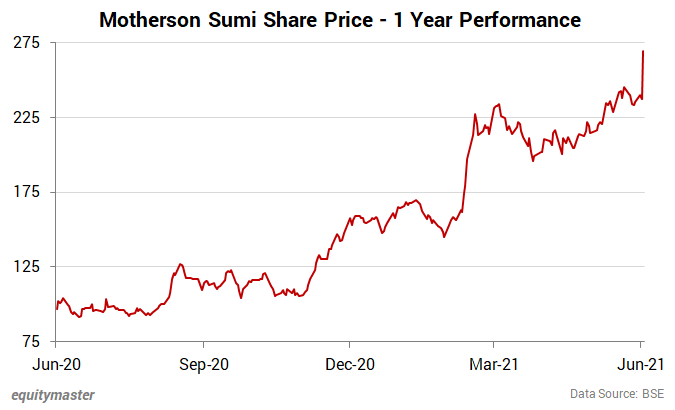 Motherson Sumi share price ended the day down by 6.9% today.
At the price of Rs 251, the company commands a marketcap of Rs 791 bn.
Equitymaster's View on the Automobiles Sector
We reached out to Brijesh Bhatia, Research Analyst at Equitymaster, and Editor of the premium monthly recommendation service Fast Profits Report, for his view on the automobile sector.
Here's what he has to say...
Auto Index is trading at 13-weeks high of 10,600 levels after breaking out of bullish head and shoulder pattern.

After testing the high of 11,093 in February 2021, index retraced by 27.6% of the move from March 2020 low of 4,452 to 11,093 high at 9,345 and resumed it bullish journey.

The medium to long term trend for auto sector looks bullish but stock selection would be the key for investors.

I believe the lockdown pain is temporary impact but the company which has proven record of coming back strongly from bad times should be on investors watchlist.
Financial Writer at Equitymaster, Aditya Vora also wrote about the automobile sector in a recent editorial.
Here's an excerpt:
After four years of underperformance, I expect the auto cycle to change for the better.

Also, valuations of auto stocks are fairly reasonable compared to certain pockets of market euphoria.

When market leaders are available at 30-35% discount from their all time highs, it certainly merits a look.

I do agree, the sector is down and is likely to stay that way for a few quarters mainly due to the softness in demand.

But it's during such tough times, the best companies can be found with reasonable valuations.
Aditya believes along with auto stocks, a bigger opportunity for investors would be in the auto ancillary space.
You can read his entire editorial here: Time to Press the Accelerator on Auto Stocks?
About Motherson Sumi Systems
Motherson Sumi is one of the world's leading specialised automotive component manufacturing companies for Original Equipment Manufacturers (OEMs). It's the largest auto ancillary firm in India.
The flagship company of the Samvardhana Motherson group was incorporated as a JV between Samvardhana Motherson International (SMIL) and SWS in 1986.
The company has over 165 subsidiaries with over 230 facilities across Asia, Europe, North America, South America, the Middle-East, Australia, and Africa.
For more details about the company, you can have a look at Motherson Sumi company factsheet and Motherson Sumi quarterly results on our website.
For a sector overview, read our auto ancillaries sector report.
You can also compare Motherson Sumi with its peers.
Motherson Sumi vs Suprajit Engineering
Motherson Sumi vs Amara Raja Batteries
Motherson Sumi vs Exide Industries
Motherson Sumi vs Swaraj Engines
To know what's moving the Indian stock markets today, check out the most recent share market updates here.