Why Did Rakesh Jhunjhunwala Decrease Stake in this Gaming Company?
Jun 3, 2022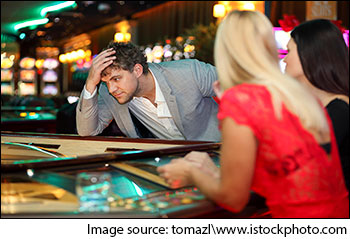 Yesterday, Delta Corp was among the most buzzing stock in the market.
You must be wondering what has made the mid-cap stock plunge over 19% in 2022 so far.
Well, the reasons are obvious...
Delta Corp yet again posted weak financial results in April 2022, starting the downward trend in the share price.
Adding fuel to the flame, seasoned investor Rakesh Jhunjhunwala sold 2.5 m shares nearly 0.9% stake through open market transactions from 27 May to 31 May.
With the recent selling, the ace investor has trimmed his stake in Delta Corp to 6.2% from 7.1%, according to an exchange filing.
A word about Rakesh Jhunjhunwala
Rakesh Jhunjhunwala is an Indian billionaire stock trader and investor.
He manages his own portfolio as a partner in his asset management firm, Rare Enterprises. He invests in both his own name and his wife's, Rekha Jhunjhunwala. He is a qualified Chartered Accountant.
Rakesh Jhunjhunwala is sometimes referred to as India's Warren Buffett.
According to Forbes, Jhunjhunwala is the 36th richest man in the country. He publicly holds 35 stocks with a net worth of over Rs 280.9 bn.
He is the chairman of Hungama Media and Aptech and sits on the board of directors of firms such as - Viceroy Hotels, Concord Biotech, Provogue India, and Geojit Financial Services.
Why did Jhunjhunwala decrease his stake in Delta Corp?
Jhunjhunwala has been reducing his stake in Delta Corp since 2017. In November 2018, the ace investor held 23.7 m equity shares which translated into 10.3% stake in the company.
Between October 2017 and May 2022, shareholding pattern of Delta Corp shows he reduced the holding by 7.3 m shares amounting to 2.7% of the total paid-up equity.
While we can't know for sure why the 'Big Bull' sold his stake, there are some reasons that we can guess.
Delta Corp recorded a 16.7% decline in its March 2022 net profit at Rs 481 m, dented by muted topline growth and weak operating performance.
Revenue grew 3.3% to Rs 2.2 bn from the year-ago period. Earnings before interest, tax, depreciation, and amortisation was down 12.8% at Rs 690 m and the margin contracted to 31.6% in the quarter.
Also, look at the key fundamental ratios that have seen a downward trend in the past few years.
| | 2018-2019 | 2019-2020 | 2020-2021 |
| --- | --- | --- | --- |
| Return on Assets (%) | 9.3 | 8.9 | -0.6 |
| Return on Equity (%) | 10.2 | 9.6 | -1.4 |
| Return on Capital (%) | 16.7 | 14.1 | -1.4 |
| Gross Profit Margin (%) | 53.3 | 47.9 | 3.9 |
| Net Profit Margin (%) | 31.9 | 30.8 | -7.9 |
| Net Cashflow (Rs m) | -497 | 206 | -342 |
Source: Equitymaster
As for industry outlook, earlier this month, some reports were stating that a council of ministers has recommended a 28% goods and services tax (GST) on horse racing, casinos, and online games, further putting downward pressure on the operating margins.
Another factor here is promoters and foreign investors.
Promoters and foreign institutional investors (FIIs) have been decreasing their stake in the company for the past year.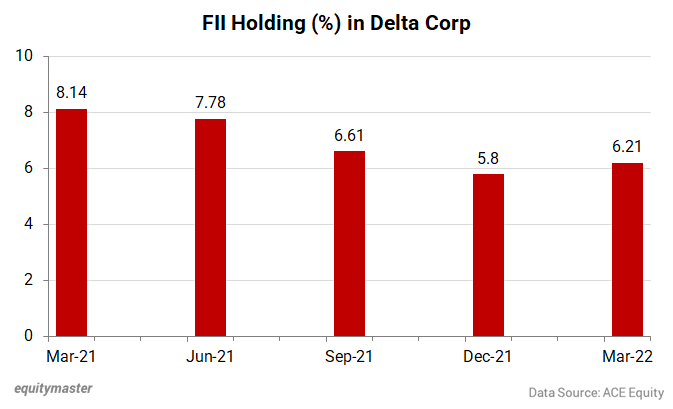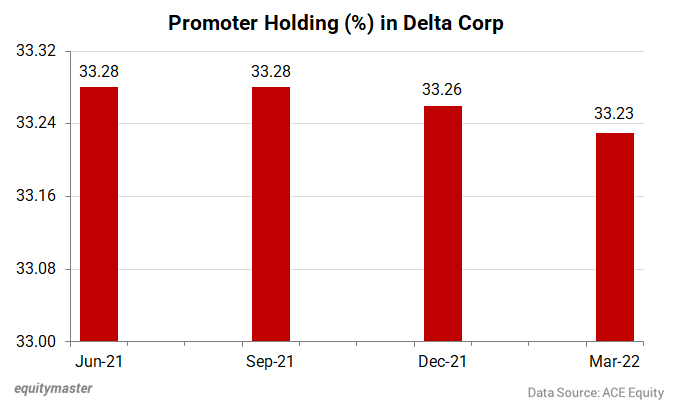 It's assumed that institutional investors have better analytical skills than an average retail investor. Thus, their actions impact the market sentiments widely.
Similarly, promoters are perceived to have greater insight into the company. So, when they sell their stake, it's presumed that something is not going well for the company.
While all these reasons may seem compelling, remember not to sell a company's stock in panic just because a market guru has sold some stake.
Investing is not that simple!
How the stock of Delta Corp has performed recently
Delta Corp share price has been in a downtrend since April 2022. The stock has been continuously falling over the last eight weeks.
It has plummeted over 20% in the past three months.
Although, over the past year the stock has given 19.4% return to its investors.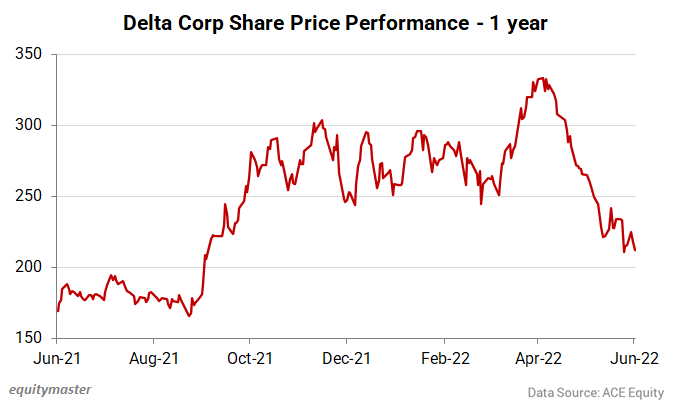 About the company
Delta Corp Limited is the only listed company engaged in the casino gaming industry in India.
Incorporated in 1990 as a textiles and real estate consultancy company and has evolved into diversified segments like casino gaming, online gaming, hospitality, and real estate.
The company's early-mover advantage has helped secure a leadership position in the Indian organised gaming and entertainment industry.
Delta Corp along with its subsidiaries owns and operates around five casinos in India in the states of Goa and Sikkim.
The company has expanded its footprint internationally as it joined hands with Nepal-based Everest Hospitality and Hotel Pvt. Ltd. to operate a casino in Nepal.
Delta Corp has also ventured into the fast-growing online gaming space through the acquisition of Gaussian Networks, which operates the online poker site 'Adda52.com'.
To know more about the company, check out Delta Corp's financial fact sheet.
To know what's moving the Indian stock markets today, check out the most recent share market updates here.
Disclaimer: This article is for information purposes only. It is not a stock recommendation and should not be treated as such. Learn more about our recommendation services here...