Nifty Bulls Rise to the Challenge
Jun 3, 2022
The May month was a tough trading month as the Nifty 50 index slipped from the high of 18,114 in April to the low of 15,735 in May. The sentiment on D-street turned bearish.
There was extreme fear but fear is an excellent opportunity for investors.
I put my neck out and did a video on how you can profit from this opportunity. You can watch it here in case you haven't already: Fear is an Opportunity on D-street.
The Nifty 50 index made multiple swings lows between 15,735-15,900 and finally reversed from a bullish harmonic pattern.
On the 2-hour chart, the index traded in the gap zone of 16,450-16,650 for last few trading sessions.
Nifty 2 Hour Chart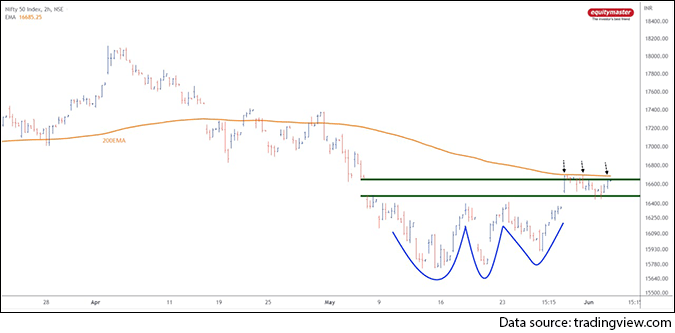 Additionally, it resisted at the 200 EMA on the 2-hours chart which is placed at 16,685.
As indicated by SGX Nifty, Nifty broke above the resistance zone of 16,700 and headed towards 17,000+ levels today.
Traders should grab this bullish opportunity. The bear attack can be expected on the break below 16,189.
At present, the Nifty 50 index is trading at around 16,760. Reliance and Infosys are the top gainers while Shree Cement and Grasim are the top losers.
If you're interested in being part of my charting journey as I share how to create wealth from the profitable trade setup, join my telegram channel - Fast Profits Daily. You'll get access to the best trading ideas in the stock market.
To know more about how the Nifty and Bank Nifty index are performing, please see the NSE Nifty Live Chart and NSE Bank Nifty long term chart.
Disclaimer: This article is for information purposes only. It is not a stock recommendation and should not be treated as such.
Brijesh Bhatia Research Analyst and expert chartist, is the editor of Alpha Wave Profits. Fully committed to his craft, Brijesh has mastered the art of making money by trading using technical analysis. Brijesh has an MBA from ICFAI and 16 years of experience in India's financial markets. He began his career on Dalal Street as commodities dealer and it wasn't long before he developed his own unique trading system. Brijesh worked on his trading system until it could be expected to deliver 5 units of return for every unit of risk.