Lupin Gains 16% in a Month. Here's Why it Could Rally More
Jun 4, 2021
Amid the ongoing second wave, Indian pharma companies are witnessing a rise in their volumes, given that they are the world's biggest bulk drug exporters.
India exports roughly 20% of the world's generic drugs.
For the month of April 2021, India's pharma industry witnessed a strong growth to 59% as compared to 16% year on year growth in March 2021.
This was due to the low base effect in April 2020 and sharp surge in Covid-19-related sales.
Amid all this, a pharma major in which Rakesh Jhunjhunwala holds stake, has caught investor's fancy.
Lupin enters digital healthcare business
On Thursday, Lupin announced that it has entered into the digital healthcare business.
The entry into the space is with a focus to provide a digital therapeutics platform for doctors and patients in India.
Recently, the company had incorporated a new entity in the name of Lupin Digital Health, as a wholly owned subsidiary, which will undertake this.
Lupin's vaccine partnership
Last month, Lupin CEO Vinita Gupta had said the company is working on acquiring licenses and partnerships for various Covid-19 drugs.
This vaccines after the drug maker missed out on launching drugs in the first wave of the pandemic.
The company is also exploring partnerships with Pfizer and Moderna for their Covid-19 vaccines, Gupta said.
The company recently entered a licensing pact with Eli Lilly for Baricitinib, a drug which can be used in the treatment of Covid-19.
But this is expected to take at least a couple of months to launch.
Recent Announcements
On Wednesday this week, Lupin announced that the United States Food and Drug Administration (USFDA) has accepted the Biologics License Application (BLA) for its proposed biosimilar to Neulasta (pegfilgrastim) through a filing using the 351(k) pathway.
Pegfilgrastim has estimated annual sales of US$3.66 bn in the US.
Last month on 27 May Lupin announced the achievement of key milestones for its MEK inhibitor compound.
This compound is planned for development by Boehringer Ingelheim in combination as potential targeted therapy for patients with difficult to treat cancers.
As part of the agreement, Lupin has received payment of US$50 m from Boehringer Ingelheim.
On the results front, Lupin turned profitable with a profit of Rs 12.2 bn for the financial year ended March 2021 against a loss of Rs 2.7 bn in the previous fiscal.
In the March quarter, its bottomline rose to Rs 4.6 bn against Rs 3.9 bn in the corresponding period of the previous fiscal.
Key Positives for Lupin
Lupin has been consistently reducing its debt for the past few years. This is evident from the chart below.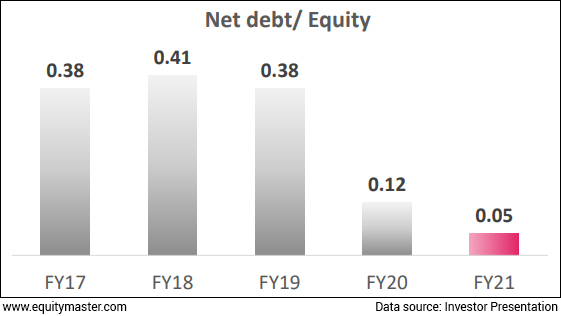 Lupin also has strong free cash flows to the tune of Rs 11,531 m as of March 2021.
Moreover, the company continues to consolidate its position in the US as well as India.
Robust India Business
As of March 2021, ace investor Rakesh Jhunjhunwala held 7.2 m shares or 1.6% stake in Lupin.
Mutual funds held 13.05% stake or 59.2 m shares while foreign portfolio investors (FPIs) held 17.87% stake or 81 m shares.
Promoters stake stood at 46.58%.
Equitymaster's View on the Pharma Sector
We reached out to Tanushree Banerjee, Co-Head of Research at Equitymaster, and editor of the premium stock recommendation service StockSelect, for her view on the pharma sector.
Here's what she has to say...
The second Covid wave has given a new lease of life to pharma stocks. As the sector continues to invest in capacities for new drugs, the profitability will depend on the companies' ability to seek USFDA approval for the plants.

Or their ability to tie up with MNC pharma for producing variants of their vaccine.
How Shares of Lupin are Performing Today
Lupin share price pared early gains of 1% and settled the day on a flat note.
Lupin shares have a 52-week high quote of Rs 1,268 touched earlier this week on 2 June and a 52-week low quote of Rs 829 touched on 27 July 2020.
Over the last 30 days, Lupin shares are up 16%. Over the last one year, the shares have gained 42%.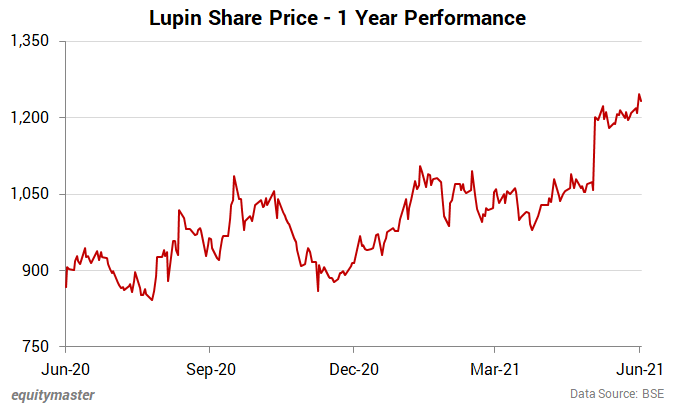 The stock is on a rise amid expectations of healthy growth in the near term.
The rise can also be attributed to several brokerages raising targets for the stock after Lupin's 18% growth in net profit.
However, one thing to note is that the stock is still much below its all-time high levels of Rs 2,100, even after the second wave of Covid-19.
Going forward, analysts believe that its margins are expected to improve as the company's business in generic drug segment in the US and Europe increases.
At its current price, it is trading at a P/E of 44.5.
The company commands a market-cap of Rs 560.3 bn.
About Lupin
Lupin was founded in 1968 by the late Dr Desh Bandhu Gupta, the father of the current managing director, Mr Nilesh Gupta, when Dr Gupta had bought the Lupin trademark from Charak Pharmaceuticals.
Set up originally as a proprietary concern, Lupin was converted into a private limited company in 1972 and became a public limited company in 1992.
In June 2001, it was merged with Lupin Laboratories, following which the merged entity was renamed as Lupin. The amalgamation was aimed at leveraging the strengths of the two companies.
Lupin is an integrated pharma company with a presence across research, manufacturing and marketing of formulations and APIs.
The company's business mix can be broadly divided into two segments - formulations and APIs.
For more details about the company, you can have a look at Lupin company factsheet and Lupin quarterly results on our website.
For a sector overview, read our pharmaceuticals sector report.
You can also compare Lupin with its peers.
To know what's moving the Indian stock markets today, check out the most recent share market updates here.