Why TCI Express Share Price is Rising
Jun 4, 2022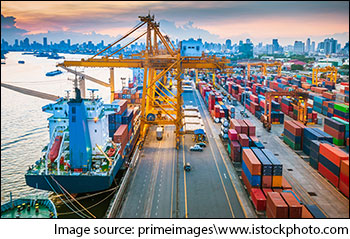 2021 was a good year for the stock markets. The share price of almost all companies was skyrocketing. Investors were sitting on huge gains.
For investors, this scenario was perfect. But perfection is an illusion. It won't last long, and it turned out to be true for share markets too.
The sentiment changed and the market has become highly volatile. One day, the equity markets are falling like there's no tomorrow, and the next day markets are up significantly.
As things stand now, volatility has started to ease.
Till May, markets were bleeding red but, the scenario is changing. Companies are coming out with good Q4 results, and this has had a positive effect on the market.
In this chaotic market, how has TCI Express performed? Has it moved with market movement or gone against it?
Read on to find out...
Share Price Movement
2021 was a fantastic year for Travel Corporation of India (TCI) Express. The share price started rising in May 2021, and it only went higher from there.
October - December 2021 can be described as the peak point of TCI Express's share price. The stock reached its 52-week high price of Rs 2,570 on 23 December 2021.
But after 2021, things changed for TCI Express. The share price fell rapidly in January, and then it remained in a range.
Over the past few days, shares of the company have started to rise significantly.
But this time, the rise in TCI Express's share price is not based on market sentiment. The movement is backed by facts.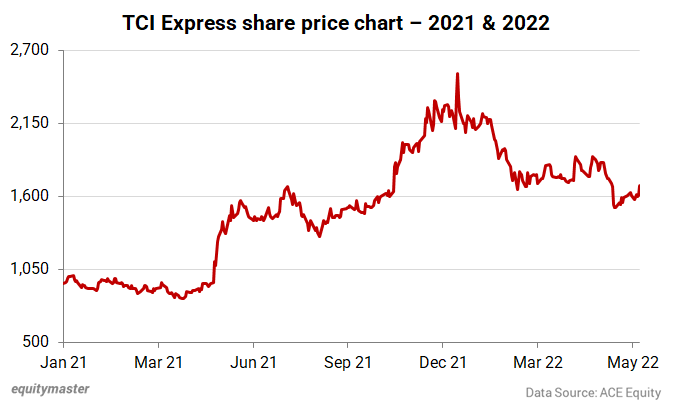 The reasons behind the rally:
#1 Good Financial results
For 21-22, TCI Express reported a total income of Rs 10.9 bn. This is 28% higher compared to the previous year's income of Rs 8.5 bn. A corresponding 28% rise can be seen in expenses too.
It reported a profit of Rs 1.2 bn which is also 28% higher than last year's profit.
However, if we consider quarter-wise profits on a YoY basis, the profit has fallen. Q4's profit was Rs 359.3 m, which is 16% lower compared to previous year's Q4 profit of Rs 425.7 m.
The quarterly profit fell because TCI Express faced some regional restrictions in January. However, it managed to get business back on track because of the high demand in the SME sector.
The company has also issued a dividend of Rs 2 for fiscal 2022.
TCI Express is also a debt-free company.
So while its quarterly profit trend decreased, yearly growth is on the rise it seems.
Financial Snapshot
| (Rs m) | FY17 | FY18 | FY19 | FY20 | FY21 |
| --- | --- | --- | --- | --- | --- |
| Net Sales | 7,502.70 | 8,850.80 | 10,237.90 | 10,319.60 | 8,439.90 |
| Sales Growth (%) | | 18% | 16% | 1% | -18% |
| Operating Profit | 632.7 | 927.4 | 1,221.80 | 1,256.70 | 1,419.70 |
| Operating Profit Margin (%) | 8% | 10% | 12% | 12% | 17% |
| Net Profit | 565.1 | 837.7 | 1,118.70 | 1,169.80 | 1,322.20 |
| Net Profit Margin (%) | 8% | 9% | 11% | 11% | 16% |
Data Source: Ace Equity
#2 Buyback of shares
TCI Express announced a buyback of shares on 27 May 2022 of Rs 750 m from the open market. The buyback price is Rs 2,050 per share.
A company's share price increases when a buyback is announced because the buyback will reduce the number of outstanding shares. Hence the earnings per share (EPS) will increase.
The shares are generally bought back at a premium. Hence, investors are motivated to buy shares at the existing price to make benefit from the buyback price.
When a company announces a buyback it indicates the company's capability to operate successfully in the future.
Hence, due to the above reasons, TCI Express' share price is rising.
#3 Brokerages Bullish
Global brokerage house Jefferies has said that TCI Express' stock is in a sweet spot. It said the company has experienced management, the right space, and the right time.
The brokerage firm said that TCI Express is way ahead in the logistics curve. Hence, it an edge over its new competitors like Delhivery, Rivigo, and Ecomm.
Jefferies mentioned that TCI Express has a high Return on Equity (ROE) and strong compounded growth in earnings.
While brokerage recommendations is to be taken with a pinch of salt, the share price usually rises when a brokerage house initiates coverage or ups the target price.
Investment Takeaway
Buying a business at a bargain price is great. However, buying a good business at a bargain price is even better. - Warren Buffett
Buying shares of a company is as good as buying a business. Hence an investor should pay attention to this advice, especially when the markets are falling.
When markets fall, all businesses are available at cheaper rates. But one should look out for good businesses. Falling markets are a perfect opportunity to scoop up those businesses.
TCI Express seems to be a good business.
However, it is noteworthy that TCI Express has moved with the market. Hence, if markets fall again, TCI Express's share price may experience volatility.
Hence, an investor should carefully analyse his risk and reward appetite before he invests in stock of any company.
Stay tuned to this platform to know more about such stories...
To know more about the company, check out TCI Express financial factsheet and its latest quarterly results.
Happy Investing!
Disclaimer: This article is for information purposes only. It is not a stock recommendation and should not be treated as such. Learn more about our recommendation services here...