ONGC Hits 52-Week High: Key Triggers that Drove the Stock This Week
Jun 5, 2021
Continuing the momentum this week, Oil & National Gas Corporation (ONGC) share price rose 2.2% yesterday to close at Rs 125.40.
Shares of the state-owned company have gained 12% this week following the rally in global crude oil prices amid rising hope for recovery in demand.
Rising crude impacts the average realisation of every barrel of oil sold by ONGC as it produces around two-third of country's crude oil.
The stock has rallied 14% in the last one month and 40% in the last six months.
This is because of gradual increase in crude oil prices in the international markets.
Rising crude oil & natural gas supporting ONGC
Earlier this week, brent crude futures, the international benchmark for crude oil prices, traded at US$71.35 a barrel.
Prices got a boost as the Organization of the Petroleum Exporting Countries (OPEC) and its allies in the grouping known as OPEC+ predicted demand will exceed supply in the second half of 2021.
--- Advertisement ---
This is a Powerful Mega Trend Playing Out in India

We have uncovered a powerful mega trend that is playing out in India right now.

It could potentially generate immense wealth for early movers.

Our co-head of research Tanushree Banerjee has also zeroed in on one specific stock riding this mega trend.

It's her #1 stock pick right now.

And she believes, this could be one of the top stocks to get to potential Rs 7 crore wealth over the long term.

Tanushree will reveal all the details about this mega trend and her #1 stock at her special online event on July 29.

At the event Tanushree will also show you, how to potentially accumulate Rs 7 crore in wealth over the long term.

What you learn at the event could possibly change your financial fortunes forever.

Click here to reserve your FREE seat.
------------------------------
On Thursday, OPEC+ agreed to continue with supply restraint through July, lifting prices.
On Friday, crude oil prices dropped as concerns about the patchy roll-out of anti-coronavirus vaccinations around the globe tempered optimism earlier in the week that demand for fuels was recovering from the depths of the pandemic.
At one moment, brent crude slipped below US$71 per barrel mark.
For the week, it gained 2%.
In the past one year, crude oil prices have climbed from US$40 a barrel, to US$71.31 a barrel.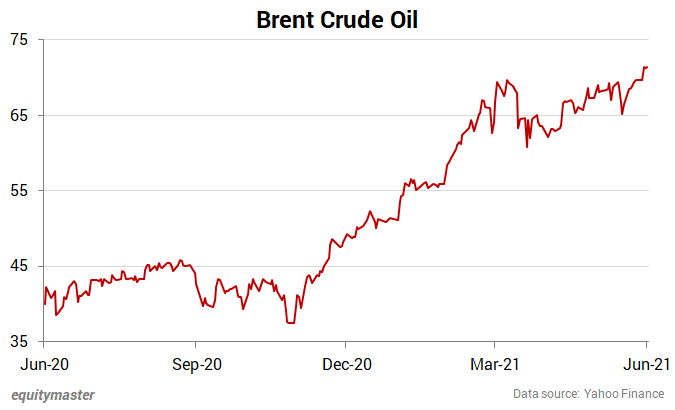 Rising crude oil prices have contributed to the recent hike in petrol and diesel prices, which have risen to record high levels across the country.
The price of petrol has been hiked by Rs 10.8 per litre since the beginning of the year while the price of diesel has been hiked by Rs 11.5 per litre in the same time period.
However, officials at oil marketing companies (OMCs) have noted that current record-high prices are lower than what refiners should be charging in line with international prices.
Free Signup: The Smallcap Revival Summit
And unless there is a cut on levies on autofuels or a fall in crude oil prices, prices are set to rise further.
Since we are on the topic of crude oil, many are wondering if prices will continue to go up or the rally is about to end.
India's #1 trader, Vijay Bhambwani recorded a video explaining why oil prices won't go to US$100 a barrel.
Vijay thinks the price is being artificially help up and the bull market in energy won't last.
Coming back to reasons behind ONGC's gains, another factor supporting the company is natural gas price.
Explorers such as ONGC, Oil India and GAIL (India) benefit from rising gas prices.
International gas prices are rebounding on recovering demand. The average price of the natural gas benchmark - Japan Korea Marker - surged more than 45% in May over the average price of March, according to a report.
The comes after prices declined from all-time highs between January and March.
Japan Korea Market Gas Price (US$/MMBtu)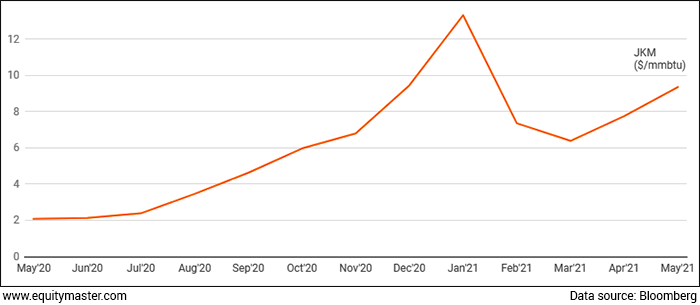 The report added that prices are likely to sustain due to the gradual tightening of the global LNG market, driven by recovering demand and minimal supply growth.
Demand from China, Japan, and Korea due to restocking of the inventory for the next winter, a decline in European gas storage and plant outages in Russia and Australia will help keep LNG prices high in the next few quarters.
Another reason why the stock has rallied is because brokerage housed have turned bullish on the stock.
JPMorgan retained its positive stance on the oil explorer, citing it sees a large consensus earnings upgrade cycle ahead for ONGC as three key parts of its business - India operations, overseas assets in ONGC Videsh, and India gas are all linked to crude oil prices.
Is ONGC rallying due to change in management?
ONGC is scheduled to select its new full-time chairman and managing director (CMD) this week.
Sources in the government said that public enterprise selection board (PESB) is holding interviews to select a replacement for Shashi Shanker who retired in March this year.
The appointment process for ONGC is delayed as the selection board PESB did not have a chairman till April this year when Mallika Srinivasan, chairman and managing director of Tractors and Farm Equipment (TAFE), was given the position.
In normal times, the selection process of the head of a PSUs begins much before the retirement of sitting CMD so that there is continuity in the succession plan at the helm of a company.
Tata Steel to replace ONGC in Sensex
Last month, it was announced that Tata Steel will replace ONGC in the benchmark BSE Sensex.
The change will become effective from 21 June.
Media reports suggest that the rejig will result in inflows of US$119 m in Tata Steel and selling of US$58 m from ONGC by passive funds benchmarked to the Sensex index.
Back in December 2020, Dr Reddy's Lab had replaced Tata Steel in Sensex.
ONGC Videsh's gigantic oilfield
Vijay recently recorded a video on an important geopolitical event.
ONGC Videsh, which is a subsidiary of the listed company ONGC, recently lost a very critical oilfield in the Farsi development area. It's called Farzad B oil well.
ONGC Videsh discovered this gigantic oilfield in the Farsi exploration block in 2008, and the company has spent along with a consortium, approximately US$400 m in developing the fields.
How big this field is can be gauged from the fact that it holds 23 tn cubic feet, of which 60% of the gas is easily recoverable.
In the video, Vijay explained what implications this event will have on natural gas.
How ONGC has performed recently
ONGC share price ended the day up by 2.2% on Friday. For the week, the stock rose 12%.
Stock of the company touched a new 52-week high of Rs 126.70 on Friday.
ONGC was the top performer in the Sensex, for the week gone by.
Over the past one year, shares of the company have gained 48% owing to rise in crude oil prices.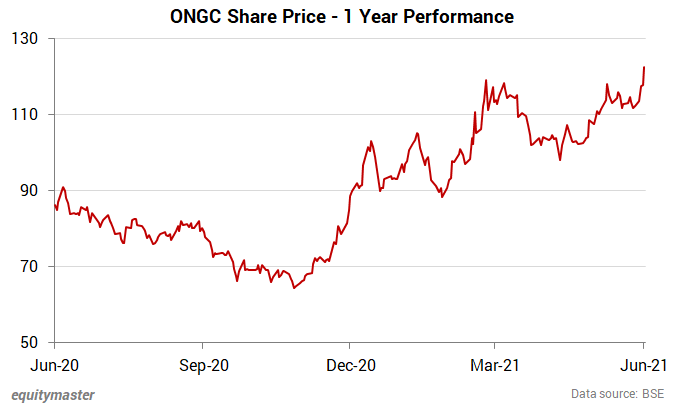 At the current price of Rs 125.40, the company commands a market-cap of Rs 1,577.6 bn.
About Oil & Natural Gas Corporation
Maharatna ONGC is the largest crude oil and natural gas company in India contributing around 75% to Indian domestic production.
Crude oil is the raw material used by downstream companies like Indian Oil Corp (IOC), BPCL and HPCL (subsidiary of ONGC) to produce petroleum products like petrol diesel kerosene naphtha and cooking gas-LPG.
The company's subsidiaries also include ONGC Videsh, MRPL, and ONGC Mangalore Petrochemicals.
The company's oil and gas reserves are located internationally in Russia, Colombia, Vietnam, Brazil, and Venezuela.
For more details about the company, you can have a look at ONGC company factsheet and ONGC quarterly results on our website.
For a sector overview, read our energy sector report.
You can also compare ONGC with its peers.
To know what's moving the Indian stock markets today, check out the most recent share market updates here.