Defence Sector Stocks Are Rising. Does the Rally Have Enough Steam?
Jun 6, 2023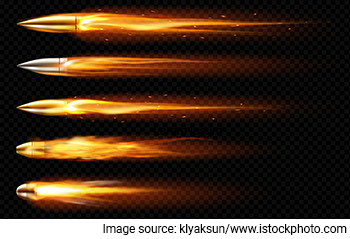 On Monday this week, the share price of all maritime defence sector stocks went through the roof. Cochin Shipyard share price soared 11%, while Mazagon Dock Shipbuilders rallied around 17%.
Investors are bullish on defence shipping stocks as India and the US have finalised a roadmap for defence technology transfer.
This week, India and US concluded an ambitious roadmap for defence industrial cooperation to fast-track technology tie-ups and co-production of military platforms such as air combat and land systems.
The move came in the wake of Chinese aggression in the Indo-Pacific region and Russian aggression against Ukraine that seeks to redraw borders and threatens national sovereignty.
Indian defence minister Rajnath Singh and American counterpart, Lloyd Austin held talks to finalise the co-operation. Austin also talked with national security advisor Ajit Doval.
Reports stated that both the secretaries also touched upon General Electric's proposal to share technology with India for fighter jet engines and New Delhi's plan to procure MQ-9B armed drones for over US$ 3 billion (bn) from US defence major General Atomics Aeronautical Systems Inc.
The jet engine deal is likely to be announced during Prime Minister Modi's visit to the US.
In the last few years, the defence sector bond between India and the US has deepened significantly. The two countries have inked key defence and security pacts over the past few years, including the Logistics Exchange Memorandum of Agreement (LEMOA) in 2016 that allows their militaries to use each other's bases for repair and replenishment of supplies.
The two sides also signed COMCASA (Communications Compatibility and Security Agreement) in 2018 which provides for interoperability between the two militaries and provides for the sale of high-end technology from the US to India.
In October 2020, India and the US sealed the BECA (Basic Exchange and Cooperation Agreement) agreement to further boost bilateral defence ties. The pact provides for sharing of high-end military technology, logistics, and geospatial maps between the two countries.
Monday's rally was out of the blue and new. But even before that, best defence sector stocks were on an upward trajectory. The bandwagon of defence stocks was pulled by multiple factors including...
#1 Government's focus on the Make-in-India drive
India was heavily dependent on imports for the defence sector. Increasing tensions on the India-China border led to the need for self-dependency in the defence sector.
The need was further amplified with the beginning of the Russia - Ukraine war. Russia was a major supplier of defence supplies and technology transfers. However, Russia is facing a huge setback with global sanctions due to its invasion of Ukraine.
Thankfully, the Indian government had already taken proactive steps to make India Atmanirbhar in the defence sector.
To boost the make-in-India drive the government allocated a big amount of money to the defence sector.
The Indian government is likely to spend a massive US$ 130 billion (bn) (about Rs 10,741.7 bn) over the next 7-8 years on the modernisation of the armed forces.
This will give a big boost to the indigenisation of defence procurement.
Increasing Budget Allocation to Defence (in US$ billion)

In this year's budget, India announced around Rs 5.94 trillion (tn) to the defence sector, an increase of 13% from the past year.
Thus, the Atmanirbhar Bharat drive gave a major thrust to the Indian defence sector.
#2 Improved quarterly results
On the back of increased orders and strong demand, Indian defence companies have posted robust quarterly numbers in the most recent quarter.
For the March 2023 quarter, Hindustan Aeronautics sequential profit increased 146% while Bharat Dynamics reported an 82.6% rise. Bharat Electronics also reported a massive spike of 127% in its quarterly profit.
The substantially growing order book was the chief reason responsible for the massive jump.
The growth doesn't seem to be stopping as defence stocks have strong order books.
#3 The need to be prepared
The Russia-Ukraine war is one threat that turned into reality and the results of that were gruesome. But the threat of war is far from being over.
Hunger for power, political issues, etc. have created many war-like situations all around the world. Little wonder countries all around the globe are preparing themselves to be war ready.
Thus, the defence budget all around the world will increase even after the Ukrainian war finishes because the war just highlighted the importance of being well prepared where frictions exist.
Asia is packed with friction, India with Pakistan, India with China, Japan and South Korea with North Korea.
China feels completely encircled now, not only by their next-door neighbours but also by the US. If we consider Europe, there is the Ukraine war. Russia still has open sore wounds with Georgia and Moldavia. Greece and Turkey have been at each other's throats for a very long time.
All these warlike situations are a grave concern for humanity but for defence companies, they are opening the floodgates of big opportunities.
Investment Takeaway
There is a need for peace and harmony is around the world but also a need to be prepared for the worst situation. India is no exception.
Hence, the defence sector is set to bloom in India on the back of multiple sectoral tailwinds.
However, investors have to be careful while picking stocks. The sector as a whole is booming but investors should not pick up just any defence company for investment.
You need to look out for a fundamentally strong defence company to make the most of the current opportunity.
Get started by using Equitymaster's stock screener to filter the best defence stocks in India.
Happy investing!
Investment in securities market are subject to market risks. Read all the related documents carefully before investing
Want to Grow Your Wealth With Safe Stocks?
If you want a simple, safe, and hassle-free approach to long term wealth building...
Without having to worry about negative news or every little downswing in the market...
And without having to worry whether your investments will actually "deliver"...
You must read our note on Blue Chip Stocks now.
Details of our SEBI Research Analyst registration are mentioned on our website - www.equitymaster.com
Disclaimer: This article is for information purposes only. It is not a stock recommendation and should not be treated as such. Learn more about our recommendation services here...