Financial Markets Are Promiscuous and So Should Be Your Trading Style
Jun 7, 2019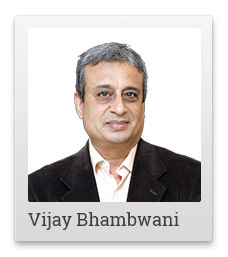 The definition of monogamy - one man, one woman
The definition of polygamy - one man, many women
The definition of polyandry - one woman, many men
The definition of a mixed orientation marriage - many men, many women
Before you jump to conclusions, no this is not about some rave party! I am talking about our financial markets. Apart from the headline, there is no sensationalism here.
Now that I seem to have got your attention, let's proceed. Craig Ballantyne of Agora feels you get a rush of ideas if you share, communicate, and teach those ideas to others. I concur.
I have been teaching at colleges, commodity and stock exchanges, broking firms and even one-to-one with serious traders.
And I gained a lot of insights from it all. Most participants in professional institutes have a unifocal agenda - get a certificate / degree, get a job and get the monthly cheques coming.
---

Advertisement

---

FACT: India Was Destined To Prosper Regardless of Whether Modi Won Or Not…

The question on the minds of a lot of our readers until a few days ago was – "Who's going to come to power this time? And will India's growth, and more importantly my gains, be affected by who wins the election?"

Well, in the short term, may be.

But the fact of the matter was – in the long term, we have always believed India was destined for a potential MASSIVE upsurge regardless of whether Modi won or not.

Yes! It's all thanks to the once-in-2000 years economic phenomenon we call the Rebirth of India that could transform our country from developing to developed, take the Sensex past 100,000 and potentially making regular investors a LOT of money.

In fact, the Rebirth of India is actually MUCH bigger than the opening up the economy in 1991 too.

And Modi's re-election could actually act as a catalyst and help accelerate the entire thing.

That's why our Co-Head of Research, Tanushree Banerjee, has identified 7 specific stocks that she believes are potentially best placed to benefit from this coming surge.

But these stocks may not remain in the BUY range for long.

So hurry, just click here for full details now...
------------------------------
In their eagerness to learn, some students or traders display a major flaw in their thought processes - specialization.
Traders, both experienced and newbies feel they can "specialise" in one segment of the market, live a blissful life with blinkers on and still make tons of money.
How little do they know! Let me explain...
Have you seen the movie Titanic? The seemingly unsinkable ship, because of its hermetically sealed steel doors in the hull, that could contain a leak in the ship by cordoning off the water using those doors.
What was the result? The ship sank like a stone in its maiden voyage itself.
The reason? Water or rather its uncontrolled flow. Money is calculating and understands only the language of profits. It's ruthless and cold. Just like the icy cold water flowing through the Titanic.
Many mechanisms have been experimented with, to curb the flow of money out of some markets, but they have invariably failed. The flow of money is like a speeding train. Anyone standing in its path will get steamrolled immediately.
But what does money do after exiting a market or an asset class? It does not sit idle, it finds some place to go to work. A savvy trader therefore keeps his ears to the ground and monitors outflow of money from a market and where it is headed towards. The game plan thereafter becomes relatively simple.
Short sell the market where the money is exiting from and go long in the market which is receiving these inflows.
Money does not discriminate between equities, commodities, currencies bonds or real estate. It fraternizes with any asset class that offers the best returns in short possible time frames with control risks.
This means money is promiscuous. It practices no loyalty and is extremely opportunistic.
To make money you must play by its rules. Broaden your canvas to include all asset classes even if you do not trade all of them. Make it a point to monitor them.
The benefits will be immediate and profound. Suppose you see the price of gold shooting up on the MCX, do you know how to trade a jewellery company's stock? Go long because the company gains on valuation of the existing stock of gold.
Similarly, loan against gold finance stocks will also go up because the worth of the collateralised security (gold) with them just goes up.
For that matter note how the bond yields impact banking sector stocks. With banks holding bonds as a statutory requirement (it can be in tens of thousands of crores) if bond prices fall, banks suffer mark-to-market losses on that portfolio. This will impact the stock.
Do you need any more convincing about this multiple orientation marriage between different asset classes? The next time someone asks you the oft repeated question - "what do you think of the markets?" ask a question in return, "which market please, because money moves across many markets".
And so should you.
Have a profitable day.
Warm regards,

Vijay L Bhambwani
Editor and Research Analyst, Weekly Cash Alerts
Vijay L Bhambwani, is the editor of Weekly Cash Alerts and Fast Income Alerts. He is a professional trader, author, trading mentor, and lifelong student of the markets. He has been an active trader since 1986. Financial markets are his life and passion. Everything else in his life revolves around his main objective - trading. Vijay believes that no matter how much a trader has lost in the market, it is possible with hard work and smart work to get it all back over time. Understanding the method behind the madness of the markets interests him more than the profits. He specialises in predictive style of technical analysis, in the commodity, currency, and equity markets. That is the foundation stone of his style of trading - Neuro Behavioural Technical Analysis. Vijay trains other professional traders. He is empaneled with the BSE & NSE as a visiting faculty for various finance market courses. He created the early course content for the Diploma in Commodity Markets (DICM), certified by the Forward Markets Commission. He was a training mentor at the MCX between 2005-2009. He is the first author to have his book - A Traders Guide to Indian Commodity Markets published by CNBC Publishing 18, in 2009 - approved and sponsored by the NCDEX. Vijay has done over 8,000 TV shows in the last 17 years and has written over 4,000 columns/articles in the print and electronic media. He is one of the first columnists to write a weekly column in the English language print media after the commissioning of the MCX, via his columns in the DNA Money, Business Standard and others.