MOIL Hits 52-Week High as Net Profit Soars Over 700%
Jun 7, 2021
Shares of MOIL jumped as much as 10% in intraday trade today. The stock hit its 52-week high on the BSE after the company reported a manifold jump in net profit for the quarter ended March 2021.
The net profit of the manganese miner soared 761.5% year on year (YoY) to Rs 1.2 bn against Rs 134.7 m for the quarter ended March 2020.
This was on the back of gains in the earnings before interest, tax, depreciation and amortisation (EBITDA) margins from the mining and manufacturing business, resulting in a huge jump in profits.
The company also gained from static input costs and an increase in revenue.
Net revenue of the company during the quarter surged 81% YoY to Rs 4.5 bn vs Rs 2.5 bn in the same period last year.
For the year 2021, the PSU company posted a 14.1% decline in net profit at Rs 2.2 bn. It had posted a net profit of Rs 2.5 bn in the year ended March 2020.
However, net sales rose 13.4% to Rs 11.7 bn for the year as the company reported better volumes and price realisations in its manganese mining business.
The board of directors of the company also recommended a final dividend of Rs 4.9 per equity share for 2021.
--- Advertisement ---
This is a Powerful Mega Trend Playing Out in India

We have uncovered a powerful mega trend that is playing out in India right now.

It could potentially generate immense wealth for early movers.

Our co-head of research Tanushree Banerjee has also zeroed in on one specific stock riding this mega trend.

It's her #1 stock pick right now.

And she believes, this could be one of the top stocks to get to potential Rs 7 crore wealth over the long term.

Tanushree will reveal all the details about this mega trend and her #1 stock at her special online event on July 29.

At the event Tanushree will also show you, how to potentially accumulate Rs 7 crore in wealth over the long term.

What you learn at the event could possibly change your financial fortunes forever.

Click here to reserve your FREE seat.
------------------------------
MOIL to shut JV with SAIL
Earlier this year, in February, MOIL announced the closure of its joint venture company SAIL & MOIL Ferro Alloys (SMFAPL).
SMFAPL was formed in 2008 under a 50:50 joint venture (JV) with the Steel Authority of India (SAIL).
The objective of the JV was to set up a ferroalloys/manganese plant at Nandini, Bhilai, in Chhattisgarh.
With respect to this closure, the company said...
Due to reasons including an increase in power cost, the operations are not expected to be viable. Hence, the operations were not started in SMFAPL and as such it has been a dormant company since its incorporation in 2008.
It added that since the objective of the JV could not be attained, it has decided to close SMFAPL.
Accordingly, the board of directors and the shareholders of SMFAPL have decided to strike off the name of SMFAPL from the register of the Registrar of Companies under the provisions of section 248 of the Companies Act, 2013.
Since there is no operation in the JVC, there will be no impact on the performance of MOIL on account of closure of JVC, it added.
Free Signup: The Smallcap Revival Summit
How the stock markets reacted to MOIL's March quarter results
Shares of MOIL opened higher at Rs 191.25 on the BSE and Rs 193 on the NSE and rallied over 10% in early trade today.
The scrip also touched its 52-week high of Rs 201. It had touched its 52-week low of Rs 119 on 14 November 2020.
At its current price, it is trading at a P/E ratio of 24.67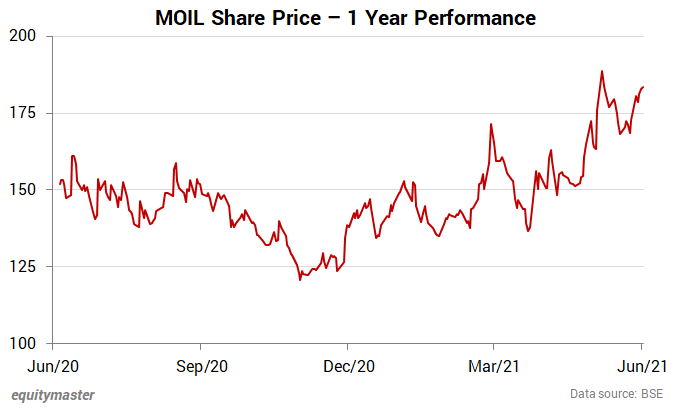 About MOIL
MOIL (earlier known as Manganese Ore India Limited) is a miniratna state-owned manganese ore mining company headquartered in Nagpur, India. With a market share of 50%, it's the largest producer of manganese ore in India.
MOIL operates eleven mines in adjoining districts of Maharashtra and Madhya Pradesh.
Eight of MOIL's eleven mines are underground mines and three are opencast mines. Its Balaghat mine is the largest of the eleven mines and the deepest at 383 metres.
In December 2010, the government divested about 20% of its equity through an initial public offering (IPO).
Of the 20%, the government of India divested 10% while the governments of Maharashtra and Madhya Pradesh each divested 5% of the total equity.
The central government now holds 54% and the two-state governments hold about 11% shares in MOIL. The public holds about 35% of the total shares.
For more details about the company, you can have a look at MOIL's factsheet and MOIL's quarterly results on our website.
You can also compare MOIL with its peers.
To know what's moving the Indian stock markets today, check out the most recent share market updates here.
Ayesha Shetty is a financial writer with the StockSelect team at Equitymaster. An engineer by qualification, she uses her analytical skills to decode the latest developments in financial markets. This reflects in her well-researched and insightful articles. When she is not busy separating financial fact from fiction, she can be found reading about new trends in technology and international politics.