Bajaj Finance Shares Tumble 5% amid Asset Quality Concerns
Jun 7, 2021
Shares of NBFC major Bajaj Finance fell over 5% in early trade today after the company said it may see higher non-performing assets (NPA) in the first six months of financial year 2021-22 due to the Covid-induced lockdowns.
The company had reported a 42% year on year (YoY) increase in the March quarter profit to Rs 13.5 bn against a profit of Rs 9.4 bn in the same quarter of the previous year.
Asset quality fears
Last week on Friday, Bajaj Finance said it will likely witness higher gross and net NPAs in the first six months of the ongoing financial year amid disruptions by the second wave of the Covid-19 pandemic.
In a mid-quarter update, Bajaj Finance said,
Forward flows across overdue positions were higher due to constraints on collections amidst strict lockdowns across most parts of India.
According to the update, average bounce rates in monthly installments during the quarter ended June are higher by approximately 1.08x over the preceding quarter.
Bajaj Finance said it expects incremental credit costs worth Rs 11-13 bn in the ongoing fiscal, compared to the estimate at the start of the year.
As of March 2021, the NBFC's gross NPA ratio and net NPA ratio stood at 1.79% and 0.75%, respectively.
The company expects its gross NPA to range between 1.4% and 1.7%, and net NPA within 0.4-0.7%, in the long term.
--- Advertisement ---
One Stock for Potentially Life-changing Gains

This stock comes from a high-growth industry.

An industry which is growing exponentially.

Our co-head of research, Tanushree Banerjee, believes...

This growth is likely to continue for many years and perhaps even decades.

Tanushree's past recommendations from such high-growth industries have offered triple and even quadruple digit gains in just a few years. (* Past performance in no guarantee of future results)

And the stock which Tanushree has discovered now could potentially offer such gains.

This is Tanushree's #1 stock pick right now.

She will reveal details of this stock at a special online event she is holding on July 29.

Since there are limited free seats, we would recommend you to sign-up at the earliest.

Click here to sign-up. It's free.
------------------------------
Segment performance
Business to business (B2B) financing and auto financing were among the worst hit segments.
Business volumes across these two portfolios dropped to 70% of planned volumes in April and further fell to 40% in May.
Other business segments were less effected during the pandemic, delivering 85% of the estimated business volumes in April.
The company leveraged its digital capabilities, which helped in 60% of planned business volumes in May, for businesses other than B2B and auto financing.
The company has estimated an impact of Rs 40-50 bn to its AUM (assets under management) growth plan for the ongoing financial year.
Impact in the first quarter will be more severe than the rest of the year.
Bajaj Finance's AUM rose 4% year on year (YoY) to Rs 1.53 lakh crore as of March 2021.
It had guided an AUM growth rate of 25-27% in the long term, while announcing the fourth quarter results.
Portfolio update
The second wave has caused a marginal increase in EMI bounce rates in the April-June 2021 quarter.
Average equated monthly installment (EMI) bounce rates were approximately 1.08x. This will lead to higher delinquencies.
As a result, the company has estimated its GNPA and NNPA for the first and second quarter of this year to be higher.
FREE Event: How to Profit from the Massive Ongoing Revival in Smallcaps
Bajaj Finance ended financial year 2020-21 with GNPA of 1.8% and NNPA of 0.75%, close to pre-Covid-19 levels.
It's carrying an additional provision of Rs 8.4 bn for covid related disruptions on its balance sheet as of March 2021.
The company follows ECL (expected credit loss) methodology of provisioning and accordingly, majority of incremental credit cost will get accounted in the first quarter.
Bajaj Finance surpasses Kotak Mahindra Bank
Last week on Wednesday, Bajaj Finance surpassed Kotak Mahindra Bank in terms of market capitalisation, following a surge in its share price.
At present, Bajaj Finance is at eighth place in the overall market-cap ranking on BSE.
It's ahead of Wipro, Bharti Airtel, ITC, Asian Paints, and HCL Technologies.
How the stock is performing today
Following these developments, analysts have cut earnings estimates for the company.
Brokerages including JP Morgan, Citi, CLSA, and Morgan Stanley have cut targets after the company voiced concerns over asset quality issues.
Shares of Bajaj Finance tumbled over 5% on the back of above news.
Bajaj Finance shares have touched a 52-week high of Rs 6,009 last week on 4 June and 52-week low of Rs 2,199 on 12 June 2020.
Over the past one year, shares of the company have gained over 150% as compared to 53% gains in BSE Sensex.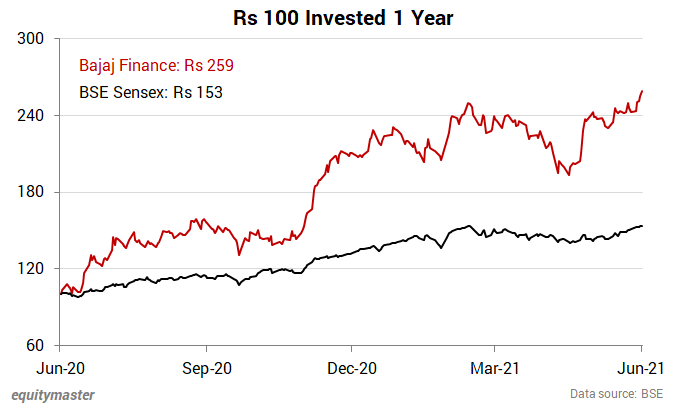 At the current price of Rs 5,727, the company trades at a PE of 85.6.
About Bajaj Finance
Set up in 1987, Bajaj Finance is a subsidiary of Bajaj Finserv (52.8% ownership), the financial services arm of the Bajaj group.
Bajaj Finance has a diversified product suite comprising key businesses such as vehicle loans (2- and 3-wheelers manufactured by Bajaj Auto), consumer durable loans, personal loans, mortgage loans, small business loans, loans against securities, commercial finance, and rural finance.
Bajaj Finance is the largest financier of 2-wheelers and consumer durables in India.
For more details about the company, you can have a look at Bajaj Finance company factsheet and Bajaj Finance quarterly results on our website.
For a sector overview, read our finance sector report.
You can also compare Bajaj Finance with its peers.
Bajaj Finance vs Cholamandalam Investment
Bajaj Finance vs Repco Home Finance
Bajaj Finance vs Edelweiss Financial
To know what's moving the Indian stock markets today, check out the most recent share market updates here.